Bid software gives busy piling and drilling firm strong foundations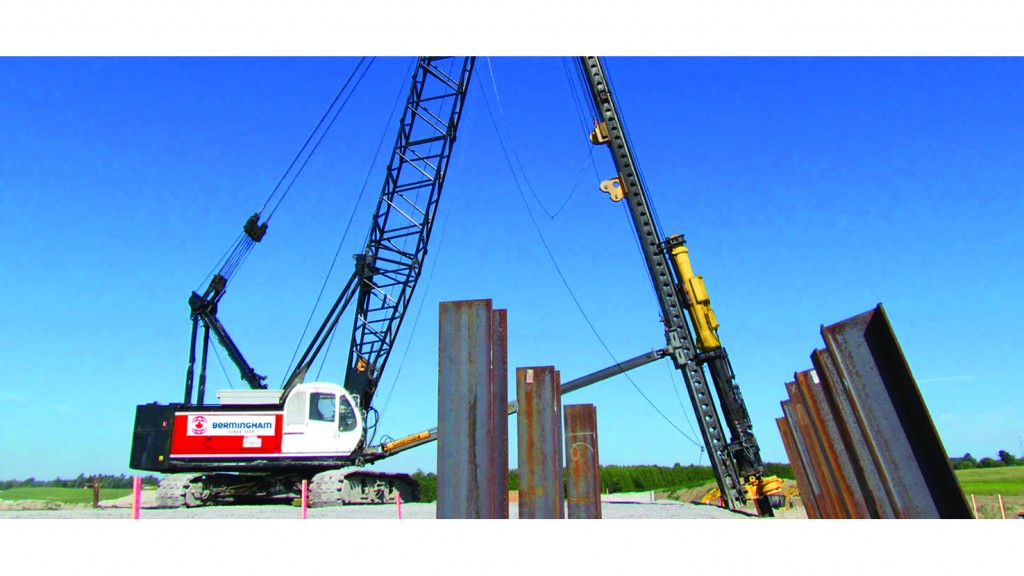 Soletanche Bachy Canada (formerly Bermingham Foundations) engages in pile foundations, excavation and shoring, marine construction and specialized foundation work. The family owned company has been building the foundation of Canada's infrastructure since 1897 and now completes projects throughout North America.
Soletanche Bachy also has a long history of developing innovative strategies, techniques and equipment for specialized marine and foundation requirements. A separate division manufactures, sells and rents "Berminghammer" drilling and pile driving equipment used throughout the world.
When Soletanche Bachy went looking for a new estimating solution, their requirements were that it needed to:
• Manage larger and more complex bids
• Integrate with accounting
• Increase repeatability
• Save time and effort
• Scale to accommodate growth
"We were relying on intense Excel macros, and every time we refreshed an estimate to rebalance it, we'd see a slowdown. This could be on the order of several minutes, because there was so much going on in the background. That doesn't happen with B2W Estimate," according to Sean Firth, Senior Estimator and Business Development Manager.
During the selection process, B2W Software stood above the competition, the company said. Soletanche Bachy Canada took four months to review vendors, taking input from all company stakeholders, and doing its due diligence on several options.
The company narrowed it down to two major competitors and settled on B2W. Features, scalability and support were among the key factors in their decision, along with the ease of use and ability to get the solution up and running easily within the company.
The implementation of B2W Estimate was a smooth process. Soletanche Bachy worked with B2W on its database and templates, and after one month of testing with select users, and one day of B2W on-site training, the company rolled it out to the entire team a day later.
According to Firth, "B2W has been through it thousands of times. They know what they're doing and helped us from beginning to end. What could have been a very tedious process was done efficiently and 100 percent properly within a couple months of us purchasing B2W Estimate."
Support was a major factor in choosing B2W Software. B2W always has someone waiting to help, and the people that answer the phone know the software inside and out, according to Firth. "I've been in the midst of closing a job – even on a Sunday – and they have helped me work through an issue. You don't need much support with B2W, but if you do, it's critical. In estimating, time deadlines are immovable. Missing a deadline could mean millions of dollars in lost opportunity, and we can't afford that."
"We have a team of five people in the estimating department and we work closely with the project managers and operations teams. With B2W Estimate, multiple people can work on an estimate at the same time. We can work on different parts of the bid or try different scenarios without confusion or interference," Firth continued.
Enhanced analytics a bonus

Firth also likes the enhanced analytics he gets with B2W Estimate, "We typically work as a subcontractor and negotiate reductions or increases in scope. With a tight marketplace, every general contractor wants to peel the onion and see as many options as they can. The speed and flexibility to constantly run live evaluations drew us to B2W Estimate. We can run five or six alternative scenarios in minutes, or for extremely complex bids, just hours. That is very important to us."
Soletanche Bachy also added B2W Track for field tracking along with B2W Estimate – a combination that drives collaboration and breaks down the knowledge vaults that used to exist between estimating and operations. According to Firth, now it's easier for the operations team to plan the work according to how the estimate was developed, and they can review and incorporate actual performance data from Track to improve estimates.
"Soletanche Bachy Canada, with the help of B2W software, has been able to secure large, complex projects over the past year and increase our hit-rate," according to Firth. The award application also described how the ability to generate and analyze multiple bid scenarios in minutes and present options to general contractors is extremely valuable.
For subcontractors, an original RFQ and estimate may only be a starting point. General contractors frequently want to see several options for how subcontractors could perform and price work, says Firth. That's a key reason his company switched from spreadsheets to specialized estimating software.
"What we can do easily now that we couldn't do with Excel is run different scenarios – run duplicate estimates," Firth explains. "We can easily run an alternate scenario or five or six alternate scenarios, adding or removing items and seeing our margins and risk live. We now do this in minutes or, for extremely complex bids, just hours."
Similarly, Firth say that adapting original bids to reflect changes in the job scope is also an everyday requirement. Replacing spreadsheets with specialized estimating software has allowed them to do that faster and more efficiently.
Company info
99 Bow Street, Suite 500
Portsmouth, NH
US, 03801

Read more