Topcon 3D is time-saving stakeless solution for residential road project
Contractor completes Saskatchewan subdivision job five weeks ahead of original goal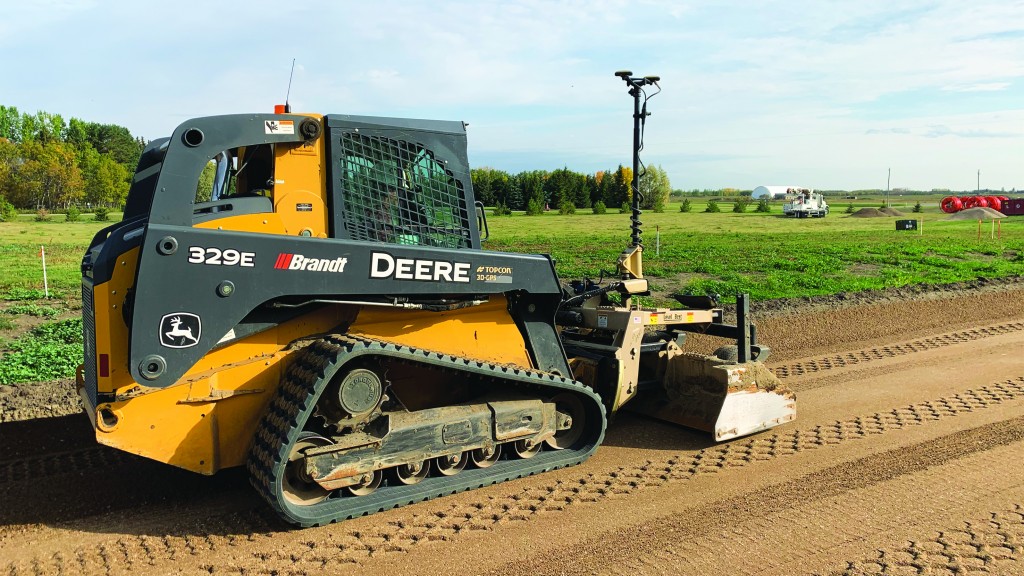 Many are attracted to the yin and yang lifestyle of having a cozy country home with easy access to the excitement of a vibrant city. That sense that seemingly opposite or contrary forces can actually harmonize in a way that provides a richer life is very appealing to a good number.
A Saskatchewan residential subdivision seems to capture that spirit perfectly. Nestled in rolling prairie and among tranquil ponds, the Grasswood Estates development is located in Corman Park, a suburb of Saskatoon. The subdivision is located in the country literally 10 minutes away from downtown Saskatoon.

The 150-acre residential subdivision was created two years ago on vacant farmland with 42 of the planned 180 homes being constructed almost immediately. A scenic winding 10-kilometre (6-mile) road connects the properties and provides ingress and egress to the subdivision. Additional homes are continuing to be built from the initial surge.

Investor Darren Hagen is the owner and developer of the $2.8 million project. Residents have quiet living with easy access to the diversity and activity of the city.

For the first two years, the home owners living in the new subdivision have been driving on temporary and in some cases rutted roads that wound through the subdivision leading to their houses.

In June 2018, Hagen brought in Warman Excavating & Trenching Ltd. to build a permanent, paved road where the temporary road is located. Started in 1993, Warman Excavating offers the Saskatchewan market road building, site prep, trenching, and water/sewer services with principal concentration in the Saskatoon and Prince Albert areas. The company has 45 employees during peak season; 20 employees all year long. A recently acquired asphalt paving company makes them now a solidly medium-size contractor.

"Initially, our biggest challenge on the project was winning the confidence and cooperation of the homeowners who had been patiently waiting for their approximately 10-km road to be paved," stated Jean Poirier, project manager with Warman Excavating & Trenching Ltd. "We went out of our way to assure the residents that we'll do what we can to accommodate their needs while working hard to complete the road quickly.

"For the first two weeks of the project we used layout stakes, which proved to be a cumbersome mistake. With the amount of resident traffic going in and out of the subdivision, we had to spend an inordinate amount of time re-staking all the ones that were run over, pulled up, or relocated because a frustrated resident wanted them out of the way."

Poirier also learned fairly quickly that there are 38 engineers living in the subdivision, which provided an extra challenge.

"I'm an engineer too, so I know what a pain we can be in terms of wanting to know exactly what's going on in a project," said Poirier. "There was one engineer resident who would measure our progress each day using his own instruments. It took him a few days before he accepted that we know what we're doing. I wasn't angry or insulted since that engineer and I are alike in needing to know and the desire to make certain work is completed accurately."

To move away from a staked jobsite, Poirier contacted Muaz Sheriff with Brandt Tractor, the local Topcon Positioning Systems dealer for help to create a stakeless jobsite.
3D site plan central to success
Sheriff helped Warman Excavating create a 3D site plan which could be used by the heavy equipment for GPS-guided machine control. The digital site model was created using Topcon Magnet Office and P3D software. Warman Excavating then had all the points and the site plan governing the progress in the field displayed in the cabs of the GPS-governed machines.

For the project, Warman Excavating used its Komatsu D-65EX crawler dozer and a John Deere 329 compact track loader (SSL), both equipped with Topcon 3D-MC2 machine control, acquired from Brandt Tractor. The 3D-MC2 system uses MC2 inertial measurement units (IMU) sensors, which eliminates the need for receiver posts mounted on heavy equipment blades.

"The MC2 system is designed to reduce downtime, increase productivity, reduce machine maintenance and lower fuel cost, thus making it a good fit for the Grasswood project," Sheriff said. "It's intended to be a dozer system, but works well on compact equipment like a compact track loader."

The project required 20,000 cubic yards of fill, 39,000 tons of sand, and 46,000 tons of chipped stone.

"Production flexibility was crucial considering residents were coming and going at any time during a 24-hour day," Poirier said. "We needed to stop what we were working on with a moment's notice and then pick up again after the homeowner had passed without missing a beat."

Sheriff was instrumental in steering them to a compact piece of equipment. A compact track loader, as one of the principle pieces of production equipment, made sense to accommodate the stop-and-start traffic flow as well as the road's configuration which contained elevation changes, tight radiuses, and twists and turns through the picturesque subdivision.

Shortly after the Grasswood Estates project began, the owner altered the production timeline – changing the completion deadline to a full month earlier than the original plan.

"This meant our work week became seven days," stated Poirier. "We had to work harder and smarter; because there was no way we would miss the deadline – our reputation has been built on quality results completed on time."

For the Warman Excavating crew, their hard work – and some might say insane production schedule – paid off. The work was completed a full week before the deadline – essentially five weeks ahead of the original goal.

When asked if the owner is happy with the new paved road that serves the residents in his new residential subdivision, Poirier said: "He's very happy. In fact, he likes what we did so much that he's hired us to do the same thing on his next residential subdivision project. Hopefully, the schedule will not be as intense."

Jeff Winke is a business and construction writer.