GOMACO makes diecast debut with slipform paver and curb and gutter machine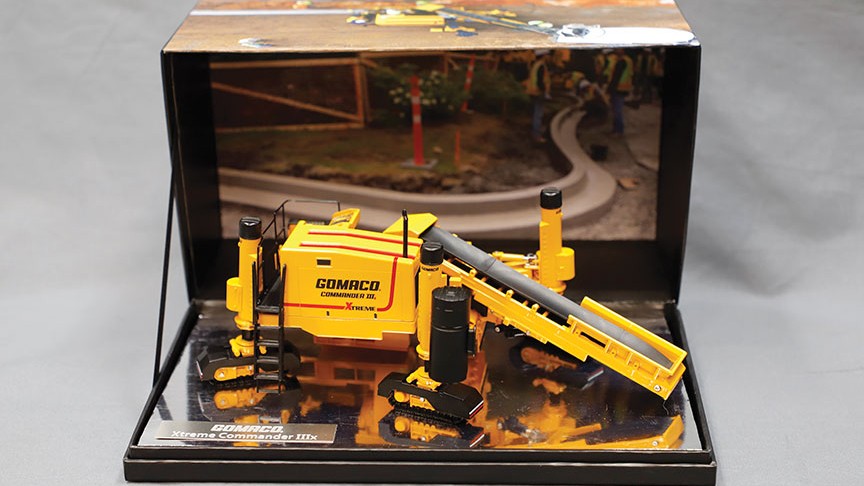 The first two GOMACO concrete slipform pavers chosen to be diecast are the three-track Xtreme Commander IIIx curb and gutter machine and the four-track GP4 slipform paver. The models are 1:32 scale and feature several moveable parts and breath-catching details.
The Commander III has always been GOMACO's iconic curb and gutter machine and the workhorse of any contractor's fleet. It has gone through several upgrades and redesigns throughout its long history. Its latest version, the Xtreme Commander IIIx, was chosen to be one of the first two GOMACO diecast models. The actual size of the 1:32 scale model is 10.55 inches (268 mm) long, 3.86 inches (98 mm) wide, and 4.49 inches (114 mm) tall. It has a curb and gutter mold, trimmer, and several movable parts. The front track leg swings, the right track telescopes, the rear track slides, the tracks can travel and turn for tight radii, the trimmerhead and mold sideshift, and the trimmerhead turns. It is available for $165.00 USD.
The GP series, the GP3 and GP4, are GOMACO's newest line of intelligent slipform pavers. The four-track GP4 was chosen to be GOMACO's first paver diecast model. The GP4 model is equipped with a 5400 series mold with a detachable spreader plow and auger/strike-off. It is 10.43 (265 mm) inches long, 12.83 inches (326 mm) wide, and 5.82 inches (148 mm) tall. Like the Commander IIIx model, it features several moving parts. The spreader plow moves laterally and all four tracks travel, are moveable, and pivot to put the model into transport mode. It is available for $198.00 USD.
Company info
Related products