LiuGong 1.8-metric-ton mini excavator for North America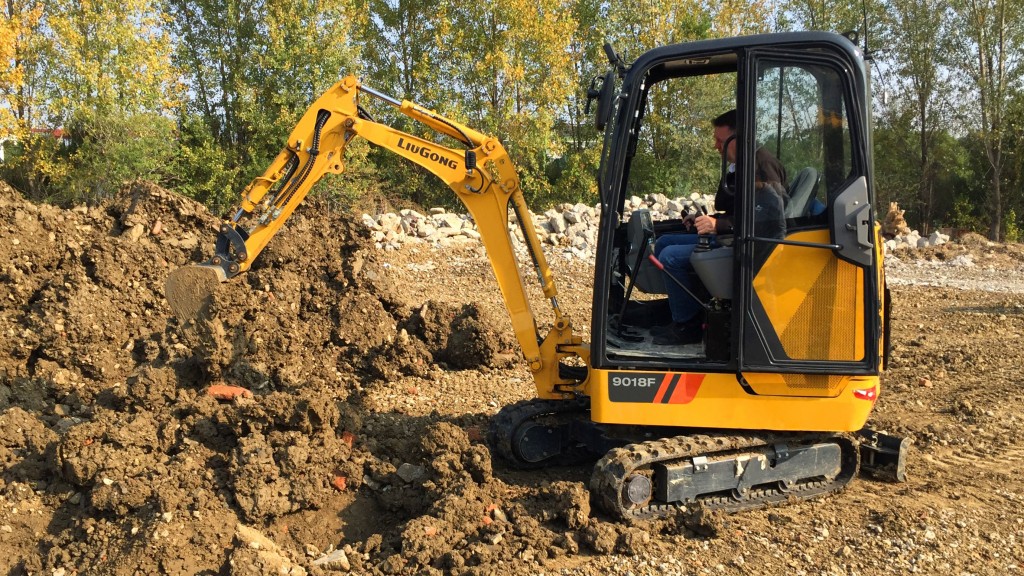 LiuGong North America's first new F-series excavator for North America is the 9018F. This 1.8-metric-ton model offers reduced tail-swing.
The 9018F is the smallest of LiuGong's 6th generation F-Series excavators.

It is offered with either a closed pressurized cab, featuring heater and window defroster, or a canopy. The closed cab 9018F version stands just 7 feet 9 inches tall, resulting in a lower height that all but eliminates headspace concerns while travelling through tunnels and beneath overpasses.
The 9018F unit's short stature combined with a retractable undercarriage give its operator access to the most restrictive workspaces. Its 51-inch outside tread to outside tread measurement retracts to just 39 inches, allowing it to easily pass between onsite obstructions and through almost any bay door.
LiuGong says that the 9018F is a powerful, robust base unit for a variety of attachments and aftermarket add-ons.
According to Mike Watt, product manager for LiuGong NA excavators, "Right now we're working toward 2D control on our full-size excavators, and in the future this technology will be available to our compact excavator line. Additional technology will be made available later, pending customer review."
The upgrades may include electronic monitoring of bucket trajectory and operator assist for better efficiency of the excavator on work sites.
This excavator is compatible with aftermarket installation of most third-party grading technologies such as those offered by Trimble. Telematics will also be available as an aftermarket add-on.
Standard features include a low-speed, high-torque Tier 4 Final Yanmar engine rated at 18 gross hp (17 net hp). Better fuel consumption is achieved through a more efficient hydraulic system using 15 to 20 percent less engine power than that of its predecessor. An improved load-sensitive hydraulic system with 14.5 gpm main pump displacement utilizes a proportional control valve for better management of flow distribution for all attachments.
9018F Specifications
• Operating weight (with cab): 4,189 pounds
• T4F Yanmar engine: 18 hp (gross), 17 hp (net)
• Max pump flow rate: 14.5 gpm
• Max pressure: 3,046 psi
• Standard bucket capacity: 0.06 cubic yards
• Bucket/cutting width: 19.5 inches
• Bucket breakout force: 3,597 lbf
• Arms stick force: 2,023 lbf
• Digging depth: 7 feet 6 inches
• Swing speed: 9.5 rpm
• Arm length: 3 feet 6 inches
• Max dump height: 7 feet 9 inches (digging height 11 feet 1 inch)
• Horizontal reach: 10 feet 11 inch (at 3 feet 3 inches height)