New John Deere shovel logger designed for work in tough terrain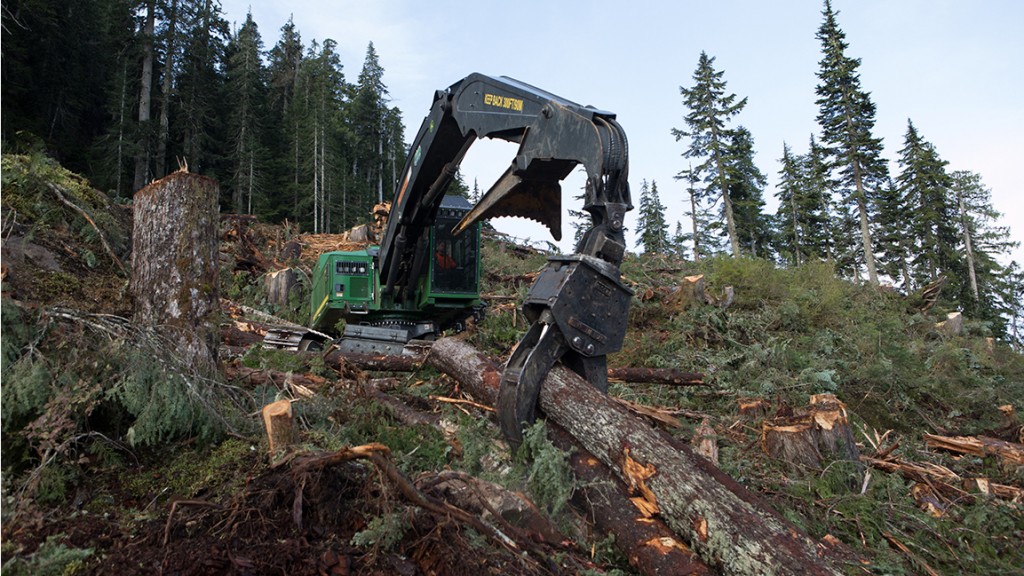 A direct result of the continued growth of the steep slope logging market, the new John Deere 959ML Shovel Logger is designed for felling and log handling in difficult terrain.
Available in one of two configurations from the factory - shovel logger or directional feller - the 959ML machine boosts productivity, even in the most challenging of applications.
"We are continuing to see loggers moving into steeper terrain, and, understanding the demands and unpredictability of these conditions, we want to provide them with equipment that is specifically designed for this challenging application," said Jim O'Halloran, global product marketing manager, John Deere Construction & Forestry. "The new 959ML Shovel Logger leverages the top features from our M- and MH-Series models, including the best-in-class leveling control system, to produce a new machine specifically designed for steep slope operations. We are excited to bring a new solution to the market that helps our customers be more productive, regardless of where they work."
One of the key features of the 959ML machine is the boom geometry. Available in two configurations, the 11-meter (36 foot) live heel shovel logger boom and the 9.12-meter (30 foot) and 10.34-meter (34 foot) directional feller booms are specifically designed to ensure high performance in challenging steep slope applications. All boom options have excellent downhill reach capability, ensuring that each boom configuration can reach the downhill side of the ground, even at a full leveler tilt. Equipped with a strong, purpose built live heel, the 11-meter shovel logger boom is designed to incorporate grapples up to 1.5 meter (60 inches) or mid-sized directional felling heads. There is also an option available to quickly switch between the two. The directional feller booms, available in either 9.12-meter or 10.34-meter reach, is specifically designed to support any large directional felling head applications. "Providing multiple solutions for steep slope felling and log handling is key to helping our customers become more efficient in these challenging applications," says Jim O'Halloran.
The patented leveling control system uses sensor technology, maximizing the forward tilt angle (26 degrees forward), while electronically preventing any possible mechanical interference when tilting to the side. The leveling envelope boundaries are set automatically and the patented system provides a smooth transition when approaching the leveling limits.
The 959ML Shovel Logger is equipped with a powerful 9.0-liter, John Deere Final Tier 4 engine, boasting 330HP and lower Diesel Exhaust Fluid consumption. A proven solution, the John Deere engine results in lower daily fluid costs. The cab on the 959ML machine was designed with the challenges of the steep slope environment in mind. The roomy operator cab includes a large, upward viewing skylight and downward viewing window for increased visibility and awareness in challenging terrain. The high leveling capability of the patented system increases overall operator comfort and productivity, especially in severe downslope, tethered conditions.
The 959ML machine offers increased durability and reliability. The industry-leading, best-in-class, serviceability design features full opening enclosures and walkthrough access. Additionally, standard walkways allow access to all areas of the enclosure without climbing down. With these features, maintenance is easier and faster, and there is no need to take the machine off the hill for service.
The 959ML machine can be equipped with a variety of optional add-ons specifically designed for steep slope applications, including a weld-on, tether-ready hitch field kit, slope indicator, and four-point seat harness.
Company info
Related products
More from Forestry
The all-new CASE TR340B compact track loader — operating at 90 horsepower with a 3,400-pound rated operating capacity — is the most powerful radial-lift CTL in the CASE lineup. Its all-new 8-inch LCD display improves on industry-leading CASE visibility with a new backup camera that is viewable in both forward and reverse operation. The display also showcases critical operating information and "trip" details. All-new electro-hydraulic controls, managed through the display, make it easier than ever for operators to dial CASE CTLs into specific application demands. All new cab controls and joysticks make the new TR340B easy to own and operate.
Industries such as construction, mining, energy, utilities and forestry, face many challenges when it comes to tracking assets and employees. Equipment often has to be transferred between locations, or monitored while it is dormant during off seasons. Lone workers may have to travel long distances or visit multiple sites during the course of their activities. And, all of this is further complicated today with shifting supply chains and economic realities putting further strain on the bottom line.