Top of the stack: new developments in aggregate stackers and conveyors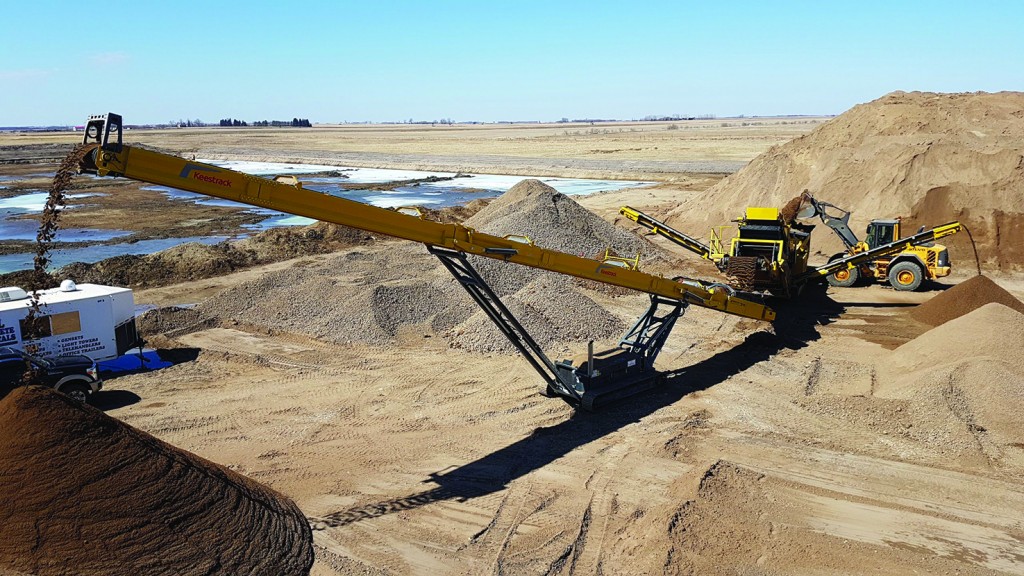 Aggregates operators are always looking for efficiencies in the quarry to help reduce their costs and those of their customers. When that involves moving and stockpiling a wide variety of materials, it's important to have machines that are able to keep up with production.
Reliable and durable stackers or conveyors are essential to stockpiling work in gravel and sand pits, as well as for various recycling jobs. While they may seem very straightforward – material goes on one end and off the other – there's more to these machines than one might think.

According to experts from Metso, which has built conveyors and stackers for mining and aggregates operations for more than 50 years, customers are searching for equipment that is reliable, long-lasting and durable. Easy to operate and maintain equipment at a reasonable cost, delivered quickly, is also important.

For customers of Frontline Machinery, which represents Keestrack and Edge material handling equipment, efficiency is also top of mind when selecting conveyors or stackers.

"Conveyors can operate at a maximum efficiency every hour of operation. Traditionally, sites employed wheel loaders to move material, effectively handling finished products at least twice," said Royden Todd, vice president of operations for Frontline. "With the utilization of stacking conveyors on site, operators can leave crushers and screens running, moving the product just once with the wheel loader straight to the delivery trucks. This eliminates double handling of material and cuts operators' cost per tonne."

There are other benefits that come with the use of conveyors, including an increase in safety; it's far safer for employees when there are less wheel loaders running from one stockpile to another, or shuffling material back and forth as needed. In addition, conveyors and stackers cut down on maintenance costs.

"Wheel loaders require additional maintenance and scheduled services to ensure efficiency and productivity, compared to stacking conveyors," Todd noted. "Studies have shown that maintenance costs are reduced by 95 percent on an annual basis compared to wheel loaders."

Different design directions
When it comes to the design and operation of a conveyor or stacker, there are a number of different approaches that provide a variety of benefits to the customer. Metso, for example, works with clients to ensure that advanced design work goes into their elevated steel belt conveyor structures, said Bob Kaib, vice president, Bulk Products. Working in collaboration with TEKLA software that creates, combines and distributes highly detailed 3D buildable models, Metso generates models that allow for control of production and project management in an integrated manner. That boosts productivity, allowing constructions and structures to be more sustainable and realistic. Metso also works with customers to ensure that design, precise sizing, quality manufacturing, modularization and standardization are included in their products.

Custom engineering is also important for Frontline customers, especially when it comes to specific sectors of industry making use of their products. Todd pointed to producers of compost, who use conveyors like the Edge FTS Mulch Master to deal with issues surrounding compaction, contamination, material bridging and risk of combustion.

"By combining the three functions of flipping, rotating and constant conveyor flow, the Edge FTS Mulch Master prevents unwanted material friction and compaction," Todd explained. "The hydraulic variable working angle allows operators to control material discharge heights. By maintaining a minimum discharge height, operators can eliminate the age-old problem of compaction that other conventional conveyors create."

Vertical hopper wall inserts also help for difficult materials, Todd noted. "A variable speed feeder conveyor enables an even spread of material, which is further regulated via the double-screwed forward/reverse auger. The auger screw pattern pulls material toward its centre point of transfer from feeder belt to the main incline conveyor, and further prevents material bridging at the transfer point."

Other additions are being made to conveyors and stackers depending on the needs of the customer. Metso has incorporated a number into its machines, including booster drives – intermediate drives located on the carry side of the conveyor belt that bring better belt tension distribution, make starting up of equipment easier and reduce the size of components.

Shaftless pulleys are another addition that Metso has taken advantage of on its machines, according to Kaib. Replacing conventional pulley construction, the new system uses turbine blade shaped discs that protrude from the shaft ends; these discs are made of forged steel and are welded to the pulley body. The result, Kaib says, is a strong but lighter pulley that resists high belt tensions.

Track-mounted conveyors are a good choice for many operators today, who need to reposition their machines regularly in their operations.

"A track conveyor is a self-propelled, independent unit that can be easily and quickly maneuvered across rough terrain with increased operator handling," Todd described.

Radial track mounted stackers are an even more efficient solution, he added. "The Edge RTS series has packaged all the advantages of a mobile radial stacker and tracked stacker into one product. Combining the ability to self-propel and the capacity to create massive radial stockpiles, this stacker provides operators with a product that is independently powered, has excellent on-site maneuverability and the ability for 360-degree continuous rotation."

Consideration has been given to both loading and transfer aspects of conveyors. On the loading end, Edge's Low Feed Tracked Stacker provides an easy approach for wheel loaders on three sides of the hopper; there's no need to build ramps, which many conveyors require. Meanwhile, Metso has considered the transfer discharge chute design through use of simulations - the company investigates how material flows at those points using Discrete Element Method (DEM). Kaib said this ensures that the discharge chute design is efficient and will avoid plugging and spillage of material.
Technology advances
Technology has been playing a part in the development of new stackers and conveyors, adding a number of new approaches that benefit customers. Hydraulic control systems, for example, offer operators an opportunity to manage material flow more completely.

"Built-in hydraulic load sensing correction systems automatically control flow of material to prevent damage - if the radial conveyor pressure is too high, the feed conveyor will automatically back off," described Todd. "The system will also act as a safeguard against component damage – for example, if material gets jammed and spikes the hydraulic pressure, the unit will automatically shut down."

Conveyors are also designed to shut down automatically if they run empty for a certain period of time, improving fuel economy and reducing other running and maintenance costs.

Self-greasing systems, motorized head pulleys, engine sensor inputs for total protection, and automatic shutdown in the case of critical fault alarms are several other advances that Todd pointed to as being key for buyers to consider.

The use of electric power solutions on mobile units is becoming popular among customers, though not all manufacturers offer that option, Todd said.

"Electric-powered equipment can significantly reduce operating and maintenance costs, while providing unbeatable dependability and uptime," he explained. "Electric systems are more efficient than their hydraulic equivalents and more reliable regardless of the operating climate."

Energy savings can be a big boost to the bottom line for aggregates producers. In its efforts to cut down on energy consumption, Metso has developed the ESI – energy saving idler. "The goal of this development is to cut down friction between the belt and material, as well as between the belt and rotating parts that resist movement of the conveyor," Kaib said.

According to Metso, the ESI has in the most favourable cases shown a power saving of about 30 percent. With many quarries far from industrial centres, reducing energy consumption is both important for the bottom line and for the environment.

Other environmental considerations when buying a conveyor or stacker may involve concerns for dust control; both Metso and Frontline's teams point out that properly designed and enclosed conveyors can manage dust compared to busier quarries with many machines running around. At the same time, there is a noise reduction benefit to using conveyors compared to wheel loaders and other equipment.
Buying tips
When it comes time to buy a new stacker or conveyor, Kaib offered several points to consider: "Optimize the installation as much as possible; buy a reliable, durable and efficient piece of equipment; and keep in mind that lower cost should not be the main driver for making a decision."

For Frontline and Todd, the top tips start with ensuring that the end goal of buying the machine be nailed down first.

"There are many benefits to stacking conveyors with different designs to choose from, all offering various pros and cons. By determining your critical objectives in the onset of the purchase, it will streamline your purchase process by refining the applicable equipment types to consider," Todd said.

He also recommended that buyers consider the requirements for the job, such as site conditions, repositioning schedule, the amount of throughput required, how large the material size will be, how best to configure the conveyor for the jobsite and needs, and whether the machines can multi-task if necessary. Ensuring that the equipment purchased matches the needs of the job is key.

"Just because a machine can carry out a task doesn't mean that it should," Todd said. "Select machines best suited for each task, so you don't put the unit and its components under unnecessary stress. This will help avoid unscheduled downtime and save the operator money."
Related Articles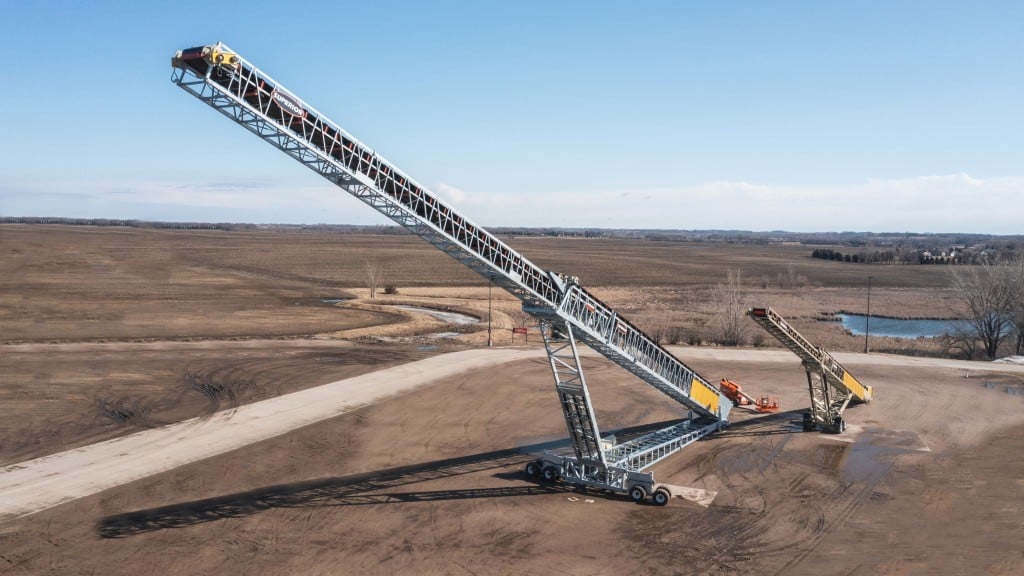 Ault Equipment becomes new dealer for Superior equipment in Ontario, Quebec, and Maritimes