MOBIREX mobile impact crusher provides high performance for Fireclay Recycling
English recycler using a MOBIREX MR 110 Z EVO2 impact crusher from Kleeman to recycle mixed rubble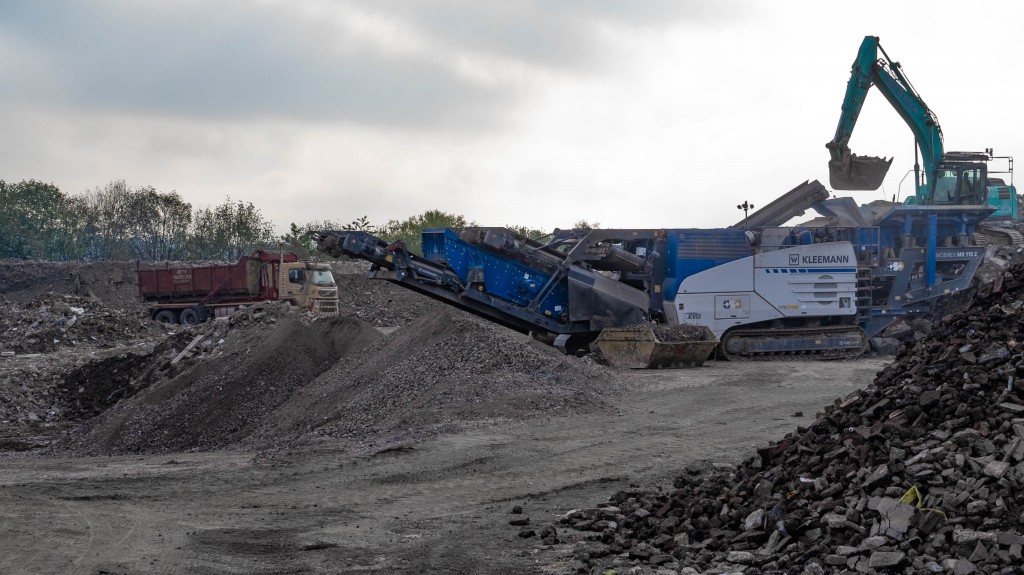 Mone Bros. operates the Fireclay recycling centre located near Leeds, England. On site, a MOBIREX MR 110 Z EVO2 impact crusher from Kleeman is being used to recycle mixed rubble, changing quickly between brick and concrete.
With several quarries and recycling centres around Leeds, Mone Brothers Ltd. has a long tradition in mineral recycling. Since it was founded in 1965, the organisation quickly developed from a simple plant hire company into one of the principal providers of construction materials and recycling services in West Yorkshire.
In minute intervals, dumper trucks drive into the roughly 2.5 hectare Fireclay recycling centre, bringing mixed rubble from demolition work and construction sites and take back crushed and cleaned material. On average, more than 300,000 tons of this material are processed here every year. While broken bricks are recycled into hardcore according to British Standard 6F2 and used primarily as a capping layer in road construction, the recycled concrete is used as a higher quality Type 1 layer for sub-base purposes.
Furthermore, Mone Bros. Ltd. works a great deal with the local utility industry and supports the expansion of the electricity, water and gas network with its material. The companies deliver their mixed rubble and drive away again with recycled Type 1.
The different feed materials and required quality standards have an impact on the production process. Thanks to a higher permissible oversize grain content, it is possible to dispense with a closed circuit for 6F2 and in doing so increase the feed capacity. In this way, the MR 110 Z EVO2 of Mone Bros. Ltd. has a capacity of 280 tons per hour.
For the recycled Type 1 material, the system changes its location in just a few minutes and the secondary screening unit is mounted in approx. 15 minutes just as quickly. With the integrated oversize grain return conveyor, the capacity for this classified product is still 250 tons per hour while also meeting the highest standards in British road construction.
These products are typically produced in the United Kingdom with jaw crushers, of which Mone Bros. Ltd. also have one from KLEEMANN in quarry operation - the decision to opt for an impact crusher was nevertheless made for a good reason.
On one hand, according to Michael Coleman, Managing Director at Mone Bros. Ltd., the product quality has significantly increased. The impact crusher achieves a grain shape in one crushing stage that a jaw crusher could not come close to without a second crushing stage. The slightly higher fine content helps to bind the material during later use and therefore also equates to the required quantity.
In addition to product quality, the higher performance of the MOBIREX is also a highlight. While jaw crushers offer a recommended crushing ratio of 7:1 in recycling, impact crushers can achieve a ratio of 15:1 and thereby a greater feed size, which facilitates significantly higher performance.
"The output is truly mesmerizing and it has been a real benefit to the business"
Michael Coleman, Managing Director, Mone Brothers Ltd.
It is therefore easy to work out why Mone Bros. Ltd. Replaced two of its jaw crushers with just one impact crusher. Thanks to the diesel-direct-electric drive concept of the KLEEMANN EVO crusher, this reduces the already low operating costs by another 15%.
Despite many years of cooperation and positive experiences with the After Sales service, the decision in favour of KLEEMANN was not a matter of course. "We did try other machines but actually they could not produce enough of the product at the right speed and they were much more expensive to operate" confirms Michael Coleman.
Company info
Related products
More from Aggregates & Quarries
The all-new CASE TR340B compact track loader — operating at 90 horsepower with a 3,400-pound rated operating capacity — is the most powerful radial-lift CTL in the CASE lineup. Its all-new 8-inch LCD display improves on industry-leading CASE visibility with a new backup camera that is viewable in both forward and reverse operation. The display also showcases critical operating information and "trip" details. All-new electro-hydraulic controls, managed through the display, make it easier than ever for operators to dial CASE CTLs into specific application demands. All new cab controls and joysticks make the new TR340B easy to own and operate.
Industries such as construction, mining, energy, utilities and forestry, face many challenges when it comes to tracking assets and employees. Equipment often has to be transferred between locations, or monitored while it is dormant during off seasons. Lone workers may have to travel long distances or visit multiple sites during the course of their activities. And, all of this is further complicated today with shifting supply chains and economic realities putting further strain on the bottom line.