Atlas Copco updates two generators to run on John Deere engines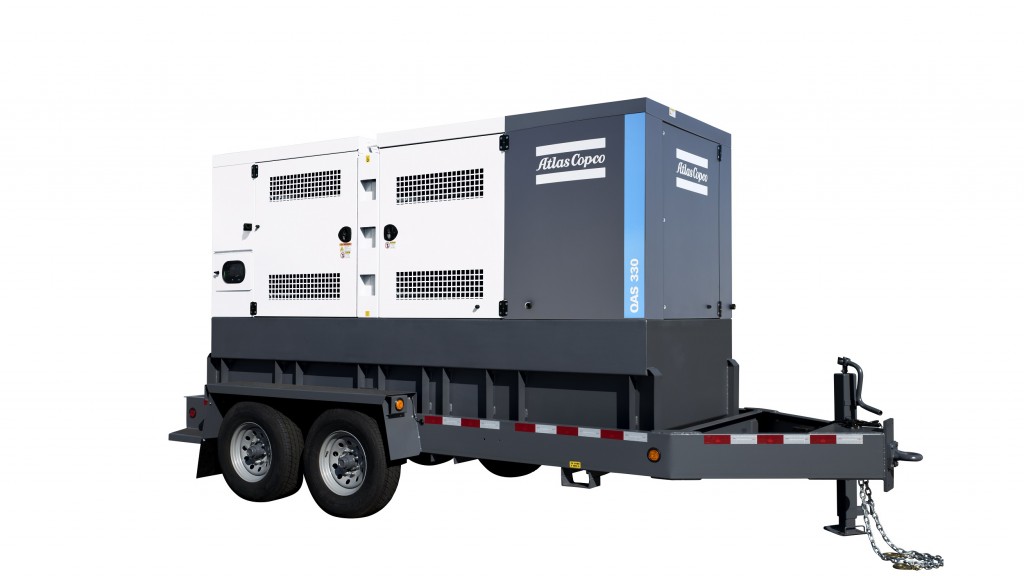 Atlas Copco Power Technique has updated its QAS 250 and QAS 330 generators to run on a more powerful John Deere 6090 engine.
The generators are ideal for construction, the oil and gas industry, and special events.
These compact machines feature corrosion-resistant powder-coated steel. A unique foam and layering system inside the doors ensures water-tightness and improved sound attenuation. Additionally, the units offer 110 percent fluid containment.
The units come in two different configurations: a dual axle trailer (standard) or a skid-mounted unit with forklift pockets (option). This allows flexibility for the user in matching the machine to the correct applications.
Both generators feature a John Deere 9-litre, 6-cylinder Tier 4 Final diesel engine. The QAS 250 runs at 290 hp, while the QAS 330 operates at 399 hp.
Atlas Copco says that the motor starting capability is outstanding thanks to the AREP alternator excitation system. This provides startup power with 300 percent overcurrent starting capabilities coupled to the engine's capacity to stand a 100 percent load step.
The internal 385-gallon fuel tank runs for 34 hours at 75 percent load on the QAS 250 and nearly 26 hours at 75 percent load on the QAS 330.
Wire routing is neat, clean and service friendly and allows for easy access through large access doors and panels. Heavy-duty oil, air and fuel filters extend the maintenance interval to 500 hours and reduce the total cost of ownership.
These generators are equipped with an emergency stop for increased safety. A remote signal start and stop allows connection as a critical backup unit via a two-wire dry contact connection in the distribution panel.
Equipped with a DeepSea 7310 control module, the controller is fully diagnostic and has a three-inch display.
An optional paralleling controller includes a unique touchscreen display and can link up to 32 generators of any size, working in Power Management Mode.
More from Light Equipment
The all-new CASE TR340B compact track loader — operating at 90 horsepower with a 3,400-pound rated operating capacity — is the most powerful radial-lift CTL in the CASE lineup. Its all-new 8-inch LCD display improves on industry-leading CASE visibility with a new backup camera that is viewable in both forward and reverse operation. The display also showcases critical operating information and "trip" details. All-new electro-hydraulic controls, managed through the display, make it easier than ever for operators to dial CASE CTLs into specific application demands. All new cab controls and joysticks make the new TR340B easy to own and operate.
Industries such as construction, mining, energy, utilities and forestry, face many challenges when it comes to tracking assets and employees. Equipment often has to be transferred between locations, or monitored while it is dormant during off seasons. Lone workers may have to travel long distances or visit multiple sites during the course of their activities. And, all of this is further complicated today with shifting supply chains and economic realities putting further strain on the bottom line.