Canadian wins Western Final of Caterpillar's Global Operator Challenge, will compete at ConExpo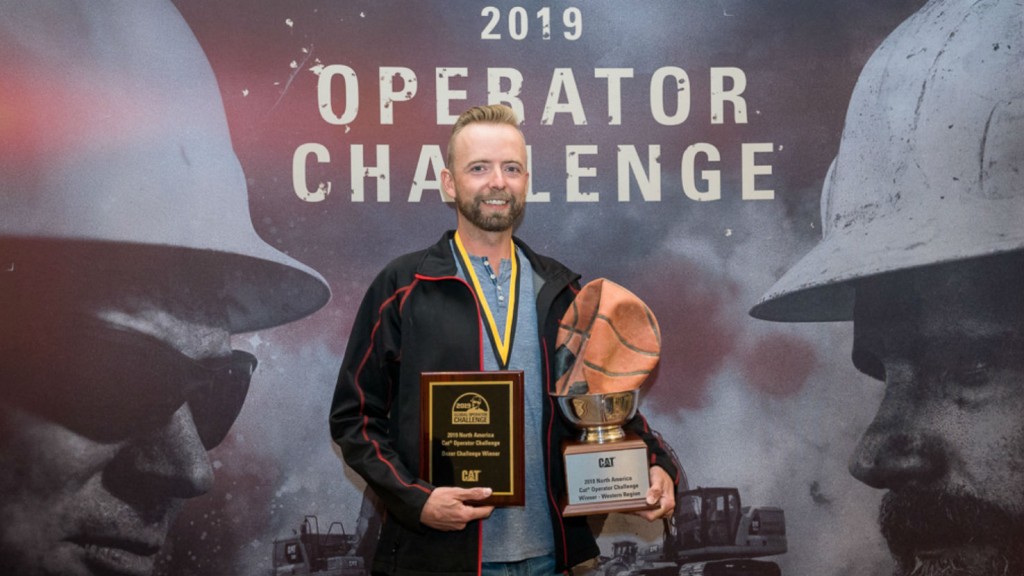 The Canadian Western champion took home the North American Western Final trophy at the second round of Caterpillar's Global Operator Challenge held in Clayton, North Carolina, last week.
Jaus Neigum competed in several challenges on a range of equipment to emerge victorious from the pack of 14 competitors including two other Canadians.
Equipment used in the challenges included a 320 excavator with Grade 2D, a 302 mini excavator, a 926M aggregate wheel loader with payload scale, and a D6XE dozer.
Neigum sealed his victory with an outstanding run on the dozer challenge, which he said is not a piece of equipment that he has much experience with. His equipment of choice is the excavator, followed by the backhoe. Finning Canada helped him out with getting practice time on a new Cat excavator using new technologies in preparation for the competition in Clayton.
Neigum has spent his whole life around construction equipment. His uncle and dad started the family excavation business 45 years ago and summers were spent on the equipment with his dad.
"It was awesome to meet all the operators," Neigum said at the Western Finals. "We all came from the same background. If it wasn't their parents owning the company, they were just doing it at such a young age."
Neigum now owns the company Industrial Backhoes, based in Medicine Hat, Alberta. Industrial Backhoes does general excavation, underground utility installation, site grading and prep, demolition, and more.
"To get here was an accomplishment on its own," Neigum noted. He added that he looks forward to the final competition in Vegas – and hopes to up his game with some help from Finning.
The Global Operator Challenge finals will be held in March at ConExpo.
Company info
Related products