How Skyjack will meet Euro Stage V engine compliance
Skyjack has released a white paper outlining the key changes in its equipment for Stage V compliance. The manufacturer began production on smaller booms earlier this year, and its final model has just entered production. The European Stage V Emission Standards were implemented in early 2019, leaving many manufacturers to find appropriate engines for their equipment, both large and small.
"The option for large booms was fairly straight forward, but many companies found it nearly impossible to meet Stage V requirements on <16m booms and maintain a reasonable price point," explained Malcolm Early, vice president of marketing at Skyjack. "By leveraging our AXLDRIVE capabilities, and taking a similar approach to how we achieved T4F on our telehandlers in North America, Skyjack found a way."
The leading manufacturer goes on to explain that their solution for their <16m booms requires no Diesel Particulate Filter (DPF), and no active regeneration cycle. This means no idling on-site waiting for the cycle to complete and no costly consequences of ignoring those regeneration cycles altogether.
"Many companies started stocking up on existing engines from suppliers to extend the production life cycle of their current machines, but Skyjack chose to face this change head-on rather than prolong the process," explained Corey Connolly, product manager at Skyjack. "This decision was made in part to speed up our compliance timeline, as well as position Skyjack as the equipment of choice as we've already started delivering Stage V booms to rental companies looking for a compliant option in 2019."
Skyjack's SJ46 AJ, SJ51 AJ, and SJ45 T CE booms will now feature a Deutz D2.2 diesel engine and we found, through investigative efforts outlined in the white paper, that the only significant trade-off was to drive speed. Function speeds have been maintained and performance while rough terrain driving utilizing Skyjack's AXLDRIVE four-wheel drive system has stayed optimal. In addition to these improvements on the smaller booms, noise on all Stage V compliant models will also see a noise reduction of up to 8 percent.
"The main driver for choosing the 18.5kw engine over an >19kw one was that we're now mitigating the ripple effect caused by choosing the significantly less expensive engine," Connolly said. "The savings associated with using an 18.5kw engine are financially sensible for Skyjack, its customers, and end users."
The full white paper outlining Skyjack's Euro Stage V changes and testing information can be found at www.skyjack.com/en-eu/ whitepapers.
Company info
Related products
Related Articles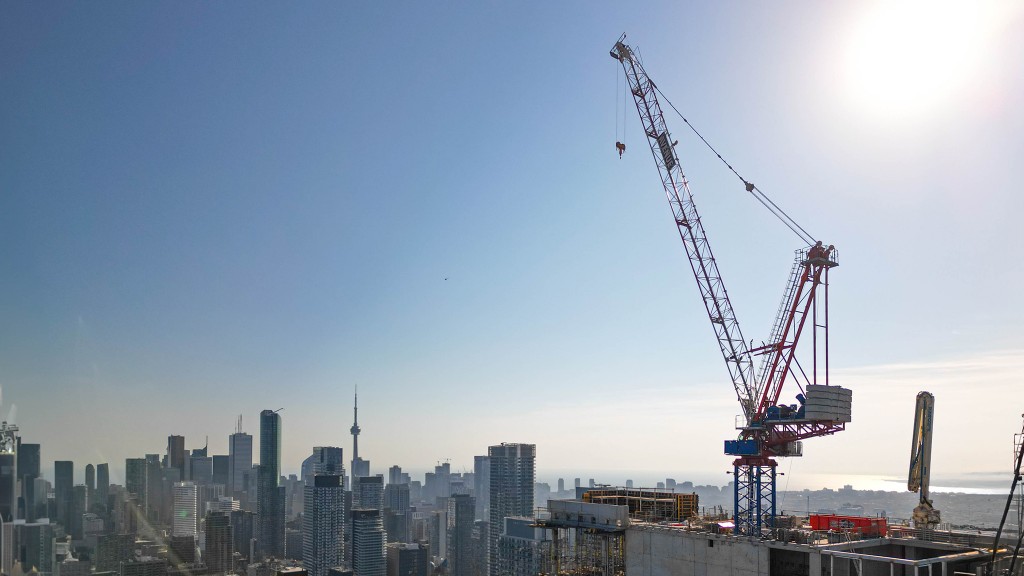 Tight squeeze in Toronto skyline is the right fit for Raimondi luffing jib crane