Paving train targets million-ton goal
Cat pavers and rollers aid crew with one-year, one-million-ton hot mix target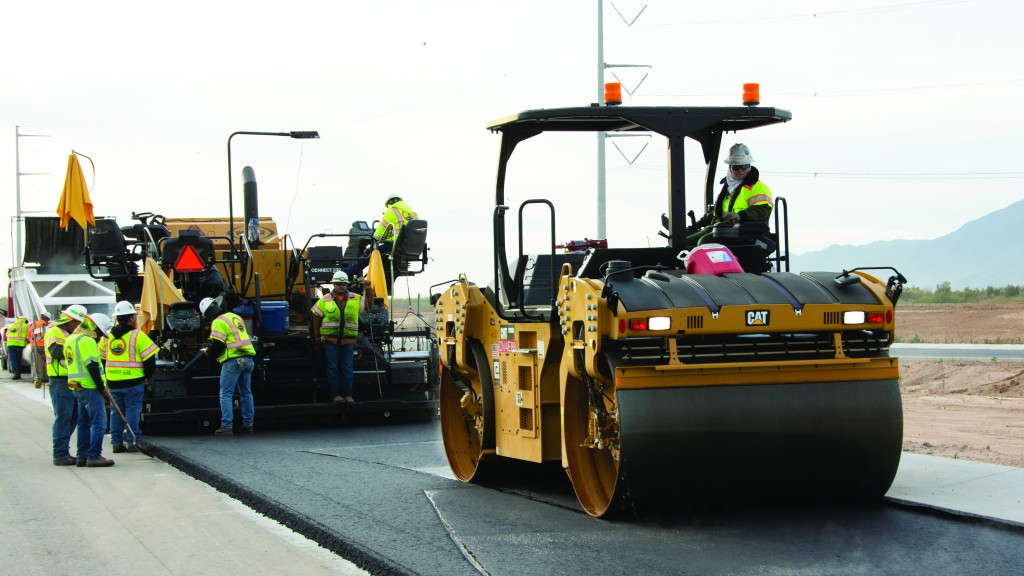 Phoenix, Arizona, is one of the fastest growing metropolitan areas in the United States; the 4.7 million metro population is expected to reach 6.3 million in 2030, according to the U.S. Census Bureau.
To keep pace, the Loop 202 (South Mountain Freeway) will add 22 miles of freeway to the existing Phoenix metropolitan transportation system. The freeway will connect the east and west valleys, while providing relief to existing freeway corridors and local streets.

Connect 202 Partners, LLC, (C202P) has been awarded a design-build and maintain contract by the Arizona Department of Transportation (ADOT) to complete work on the $1.77 billion job, the largest highway project in state history.

Construction began in November of 2018, and is expected to be complete sometime late in the fourth quarter of 2019. Granite Construction will place approximately one million tons of asphalt as part of the job. To meet that need, the company added a second paving crew and had plenty of long days to work, according to Stan Jernigan, asphalt paving manager. "We own two Cat AP1055F pavers, and have the rollers and other equipment we need."

The paving crew is placing a standard ADOT 416 mix. "In our main line production, we're running belly dumps with a windrow elevator and then running it in through a Cat AP1055F paver," Jernigan notes.

Asphalt thickness varies, depending the soil and the amount of aggregate placed. "In this particular area, we're on about 16-1/2 inches of aggregate base, so we're putting down nine inches of asphalt," notes Jernigan in a December 2018 interview.

The bottom six-inch lift is a standard ADOT 416 with 3/4-inch aggregate and PG 70-10 binder. The driving surface is a three-inch lift of ADOT 416 with 3/4-inch aggregate and PG 76-22 binder and an SBS modifier.
There are no density specs on the job. "With ADOT 416, it's in-place voids. The mix goes down loose, and there's rock oil in the mix. As we squeeze it out, we're trying to leave a little bit of air void. The target for us is a seven percent air void," Jernigan says.
Versatility important for good compaction
With approximately 2,500 bridge tie-ins, ramps and shoulders, and mat widths ranging from 12 to 18 feet, versatility is key to successful compaction. "We vary what we do. We place lifts of five inches, and thinner stuff at two inches, three inches," Jernigan says. "We need versatility in our amplitude settings and our frequency settings. We need rollers that are capable of covering all of the widths, and keeping up with the rate of paving."

With approximately one million tons of mix being placed within one year, the paving crew's goal is 3,000 tons per day, says Jesus Sanora, paving foreman.

To meet the challenge, the crew carries five Cat rollers – a pair of CB66B Tandem Drum Rollers, a CB44B Tandem Drum Roller, CW34 Pneumatic Roller and a CB24B Utility Roller.

The CB66Bs are used primarily as breakdown rollers; the CB44B Tandem Drum Roller's jobs include finishing, the CW34 Pneumatic Roller provides versatility, and the CB24 Utility Roller is handy cross rolling joints at bridge decks.

Rollers are on the mat before the temperature dips below 285 degrees F. "We typically have two breakdown rollers. They're running a pattern of three passes, then one with a static setting," Sanora says. "A rubber-tired roller is right behind him, and there's a finish steel drum roller after that. The rubber-tired roller hits it at 180 to 190 degrees, and then the finish roller at 140 to 160."

Work is being done with the understanding that C202P is responsible for the maintenance of the freeway after completion. "We're the joint venture who maintains the project for 30 years. Smooth pavements last longer, so pavement smoothness is one of our big things," Jernigan says.

Pavement must achieve an IRI rating of 50. Belly dumps place hot mix in a windrow, and a windrow elevator moves material to the paver. This helps minimize paver stops.

Paver automation simplifies operation
The AP1055F Paver utilized a Trimble 2D system. "We run on skis, and try to even the road on each lift. If we need to adjust, we can do it right away with the Trimble system," Sanora notes. "And it provides a lot of accuracy. We can make adjustments to one-sixteenth of an inch."

Sometimes the crew runs the 2D system off a string line, says Shane Leivdal, paving mechanic. "We run off of the distance between the sensor and the string, so we are more specific. We do that for some of our cross streets and bridge takeoffs."

The AP1055F paver's automation simplifies operation. "There's not a whole lot of manual adjusting we need to do anymore. That definitely makes it convenient, quicker and you get a lot truer grade at the end," Leivdal says.

Day-by-day, the crew progresses toward placement of one million tons of asphalt, and the opening of Loop 202.
Seeing is believing: cutting the time for machine maintenance
The Cat AP1055F Paver helps simplify and reduce the amount of time spent on machine maintenance.

For starters, access points are easily accessible. "Everything is visible so that you can see if from the outside, even the points where you drain fluids or take samples," says Shane Leivdal, paving mechanic.

"They actually have remote hoses that come out to the side of the equipment. There's no more trying to reach a plug that's buried inside the machine."

The machine features a convenient built-in hose reel, so the paver can be cleaned without the need for buckets or a second machine to pressure wash. "At the end of the day we might take 15 to 20 minutes to give it a good wash down, depending on what kind of mix we're using," Leivdal says.
Related Articles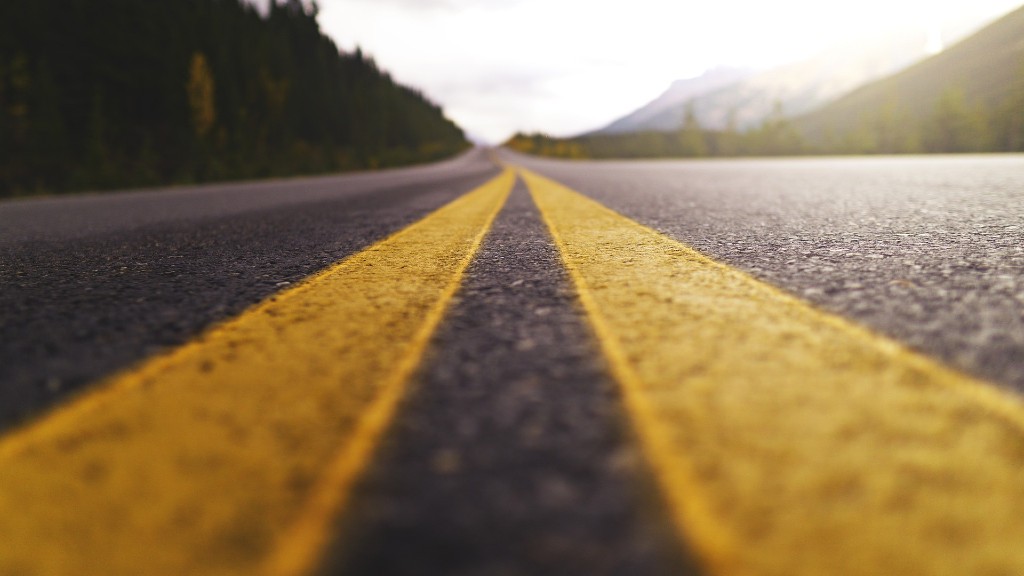 Volvo CE starts down a new road to achieve net zero carbon emission asphalt pavements