Ammann continuous plant can produce mix consisting of more than 60 percent RAP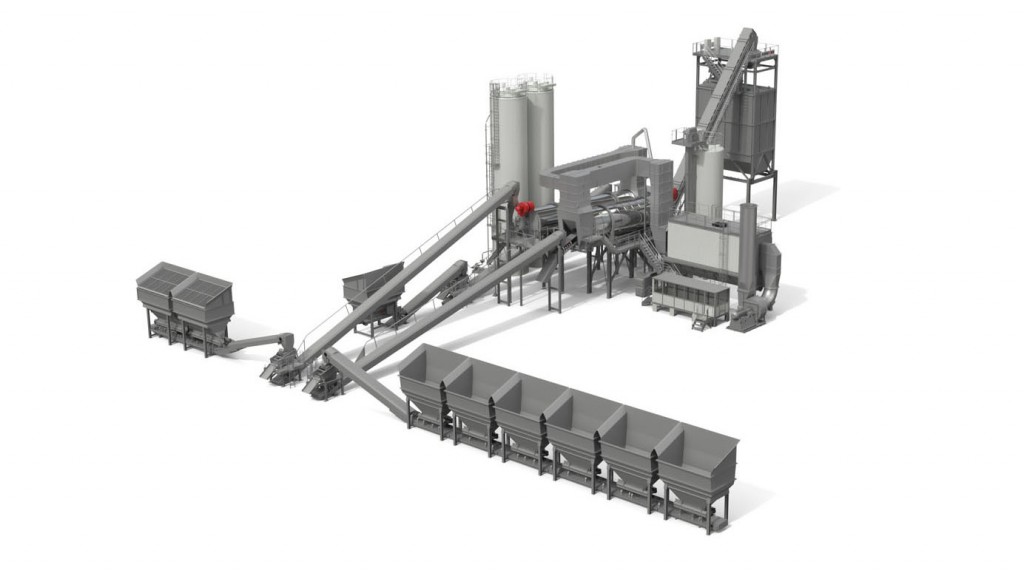 Ammann is introducing the ACP 300 ContiHRT Asphalt-Mixing Plant to the North American market. This continuous plant is capable of producing mix consisting of more than 60 percent RAP. Ammann says that this rate is unrivalled by comparable competitive products In North America.
"We have been in the North American market for several years, learning what the customers need and then creating a product that delivers it: the Ammann ACP 300 ContiHRT Asphalt-Mixing Plant," said Gilvan Pereira, Region Director Americas.
The new continuous plant features Ammann's unique recycling technology, already proven worldwide, which maximizes RAP utilization and meets the world's most stringent emissions guidelines. The gentle pre-heating of the RAP, compared to traditional cold feed to superheated virgin aggregates, prevents thermal stress on the asphalt concrete (AC) content and ensures a highly homogenous final mix.
"The process secures a high-quality mix – even with higher RAP rates," Pereira said.
The plant incorporates a RAP dryer for the addition of recycled materials and a separate cold recycling feed. "Separate drying and mixing processes ensure the highest quality and versatility – even with complex designs utilizing RAP and additives," said Gunter Tesch, Commercial Support Manager Plants.
The High Recycling Technology (HRT) plant's gentle preheating prevents AC oxidation, enabling both the aggregate and the coating to be reused – a significant cost saver. The preheating process also minimizes fuel consumption and dramatically reduces the levels of CO2 and other pollutants.
The plant is capable of incorporating shingles, liquid additives, fiber granulate and foam AC. It can access a recycling system for RAP utilization up to 60 percent; a separate cold recycling system for 30 percent; or a combination of the two.
The ACP 300 ContiHRT can also produce high amounts of mix without any RAP. Warm mix can be produced with or without RAP. Continuous production capacity is 330 U.S. tons per hour.
Most owners are likely to leverage the plant's recycling capabilities.
"It's highly sustainable, and that leads to cost savings," Pereira said. "It's the best of many worlds. The high recycling technology creates a very sustainable mix. You're essentially turning waste into aggregate. The low temperatures reduce fuel costs – and minimize emissions, too. This provides value on many levels. You're developing a green product and reducing costs in the process."
The proprietary as1 Control System, the brains of the ACP 300 ContiHRT, is operating in hundreds of plants around the world. The system is highly regarded for its intuitiveness, quality and cost-saving efficiency.
A unified service platform and stairway concept allows effortless ergonomic access to the major asphalt components – especially Ammann core parts such as burners, drums, filters and the twin-shaft mixer.
Installation and relocation is quick and uncomplicated. The horizontal design ensures fast and easy assembly and disassembly. Optional quick cabling and steel skids further speed the relocation process.
A wide range of optional equipment is available. It includes burners for light oil, natural gas and LPG; storage silos of 330 tons in two compartments or 660 tons in four compartments, which are available as long-term storage solutions; and AC tanks with superior insulation, a filling pump and tank-to-tank pumping and circulation. Cold feed system options include additional feeders, vibrators and gravimetric dosing.
Company info
Related products
More from Roadbuilding
The all-new CASE TR340B compact track loader — operating at 90 horsepower with a 3,400-pound rated operating capacity — is the most powerful radial-lift CTL in the CASE lineup. Its all-new 8-inch LCD display improves on industry-leading CASE visibility with a new backup camera that is viewable in both forward and reverse operation. The display also showcases critical operating information and "trip" details. All-new electro-hydraulic controls, managed through the display, make it easier than ever for operators to dial CASE CTLs into specific application demands. All new cab controls and joysticks make the new TR340B easy to own and operate.
Industries such as construction, mining, energy, utilities and forestry, face many challenges when it comes to tracking assets and employees. Equipment often has to be transferred between locations, or monitored while it is dormant during off seasons. Lone workers may have to travel long distances or visit multiple sites during the course of their activities. And, all of this is further complicated today with shifting supply chains and economic realities putting further strain on the bottom line.