Washington State bridge goes up in shorter span thanks to Manitowoc MLC300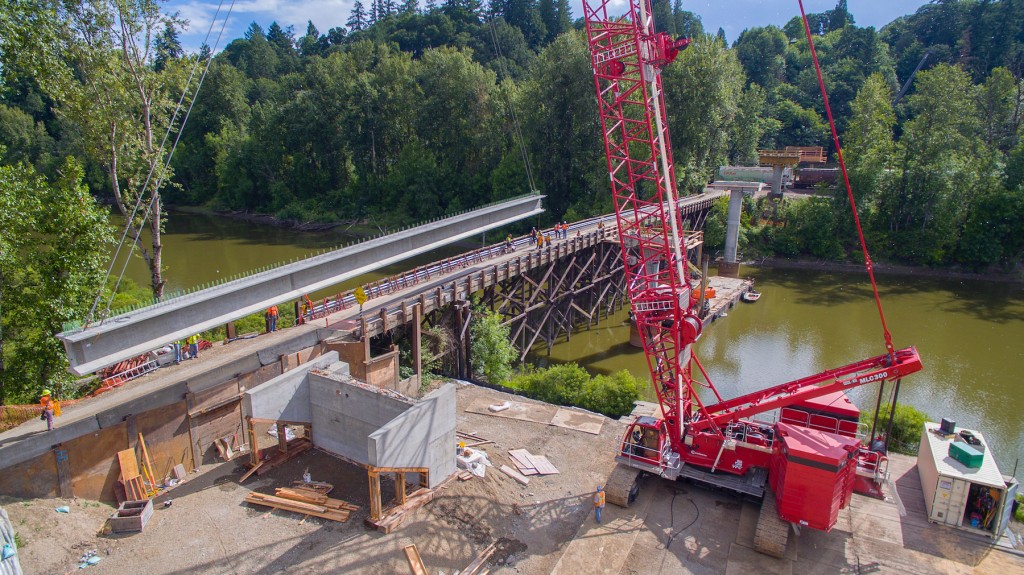 Ceccanti, a Tacoma, Washington-based construction company, needed a crane with superior maneuverability that could handle heavy loads at great heights to assist with the replacement of an old wooden bridge in Ridgefield, Washington. The contractor found the MLC300 crawler crane had the right features to get the job done in the shortest time possible.
"We chose the MLC300 because of its superior capacity at radius and its maneuverability when compared to similar cranes in its range, and even larger cranes," said Jake Brockmoller, project manager at Ceccanti. "This crawler crane's radius allowed service of 75% of the job with help from the derrick barge. We would have certainly lost time and money if we had deployed other equipment."
The work in Ridgefield started last February. Initially, the contractor had the job scheduled to take 14 months to complete, but now it is going to wrap up approximately five months ahead of schedule, in November. By then, the single-lane wooden bridge will be replaced by a two-lane concrete bridge that will pass over railroad tracks on the opposite riverbank.
Brockmoller explained that the MLC300 was positioned on a bulkhead built on the shore of the river. From there, the crane enabled Ceccanti to set shaft cages, position casings, place girders and all other construction support to take place without moving. The MLC300 lifted girders as heavy as 66.5 USt to heights of 65 ft and rebar cages as heavy as 61 USt to as high as 125 ft.
The MLC300 features a 386 USt capacity and 334.6 ft boom, which can also be fitted with a 315 ft luffing jib. It comes standard with Manitowoc's CCS (Crane Control System) that offers a user-friendly interface, two full-graphic displays mounted horizontally for better visibility, a jog dial for easier data input and ergonomic joysticks.
Company info
Related products