Sandvik introduces new premium cone crusher series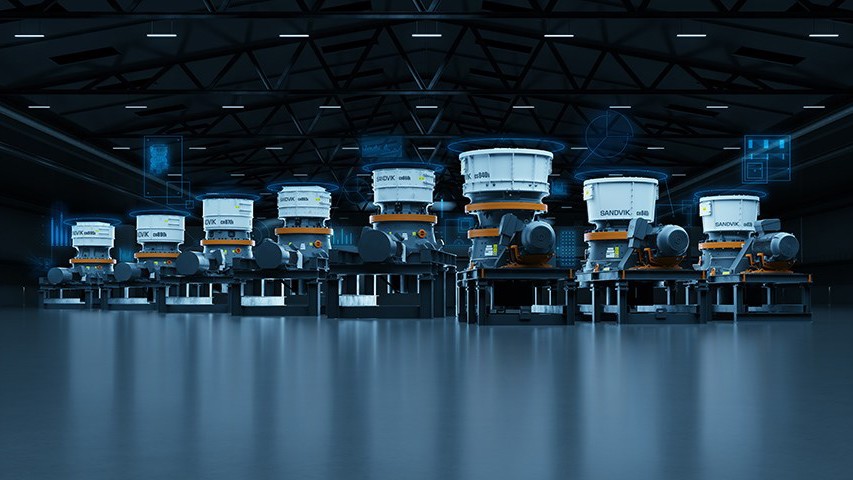 The Sandvik 800i series of connected cone crushers is expanded to include three new high-performing crushers. Each crusher comes with the new Automation and Connectivity System (ACS) as standard
The new Sandvik 800i series of premium cone crushers features mechanical upgrades, connectivity, advanced automation and rebuild possibilities to predict performance, maximize uptime and offer the best in sustainability at the lowest possible cost.
Including three new models, Sandvik CH830i, CH840i and CS840i; the 800i crusher series has been improved and extended to offer reliable, intelligent crushing to any mining or aggregate application. Connected to My Sandvik, Sandvik 800i crushers enable managers and operators to make decisions based on facts, and see areas for improvement directly, increasing uptime and availability.
Smarter automation
Sandvik 800i connected crusher series features the new generation Automation and Connectivity System (ACS) as standard. The system continuously monitors and optimizes crusher performance and controls the complete lubrication system, increasing uptime and reliability.
Stronger than ever
Sandvik 800i series has been toughened and improved to offer greater reliability, higher availability and a low risk of critical failure.
Connected cone crushers
All 800i crushers come with the new generation ACS, and are connected to the My Sandvik portal. This allows managers and operators to access and manage all the vital information they need to make informed decisions. My Sandvik can be accessed using a smartphone, tablet or computer.
Safer, more sustainable crushing
Bolted rather than welded top and bottom shell liners make changing 90% faster. The over-pressure system keeps dust out, and the standard offline filter keeps oil cleaner, extending oil life by up to 5 times. More power output from less energy and more uptime through intelligent crushing make the 800i series a safer, more sustainable choice.
All new or as new
Sandvik 800i crusher series can be purchased as a completely new crusher, or you can choose a Sandvik REBORN solution, replacing an existing crusher and reutilizing existing auxiliaries and infrastructure. This plug and play installation minimizes disruption and maximizes productivity, while offering up to 40% cost savings compared to a complete crusher system.
Sandvik 365
Our service agreements provide customers with safer operations, low operating costs and long service life, unlocking the full potential of their crushing plant 365 days a year. It increases productivity by up to 10%.
"New, digital technologies will transform the way mines and quarries work. My Sandvik is the first major step in gaining insights into productivity and predictive maintenance that will drive our industry forward. It's great to offer our customers a service that will truly make a difference to their profitability."
Related Articles
Searching for the best-performing excavator? Your search ends here. We tested the Volvo EC350E and EC380E against a leading competitor in three different tests: trenching, truck loading and lifting capacity at reach. The results show a 20% difference in cost-per-ton, a 15% difference in tons-per-hour and a 12% difference in both operating costs and lifting capacity. See the results and put an end to your search for the best excavator.