Atlas Copco Power Technique offering three new electric submersible pumps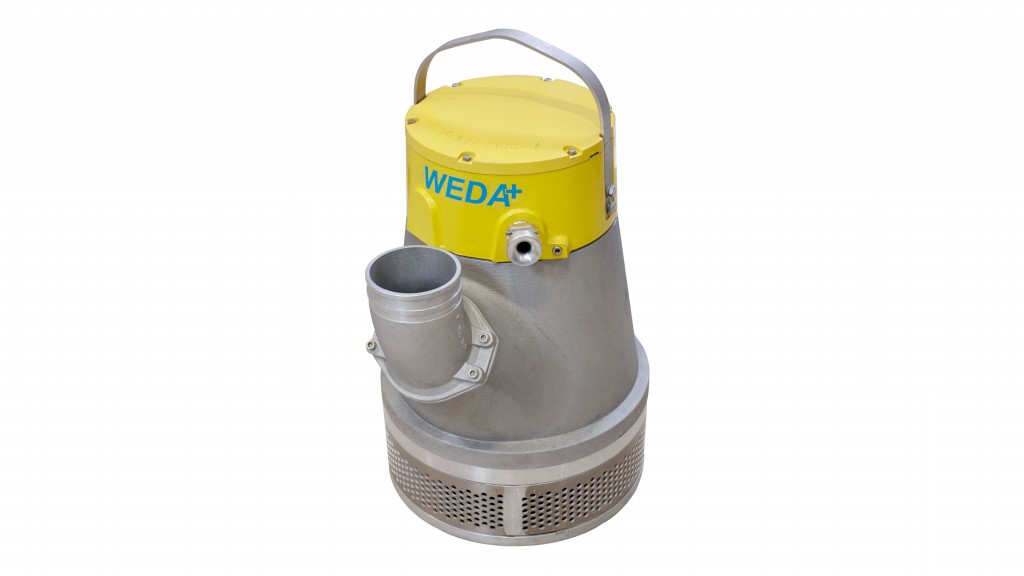 Atlas Copco Power Technique is introducing three new electric submersible pumps to the market. Designed specifically for drainage and sludge pumping applications are two sludge/trash pumps, the WEDA S30 and S60, in addition to a drainage pump, the WEDA D80.
WEDA pumps provide users a fast and effective dewatering solution. The pumps are compact, lightweight and easy to maintain, making them ideal for many industries, including construction and rental.
These pumps are built with the same established characteristics of the WEDA lineup. This includes:
Handling and transportability: 15 to 30 percent lighter than comparable models and up to 15 percent more compact
Better build: rotation and phase failure protection, efficient motor covering a wide range of voltages, high-quality chrome clog free impeller, reinforced cable entry, adjustable wear-resistant rubber diffusors, built-in starter and motor protection system
Simple service: adjustable discharge connections, external plug for lubrication filling and providing higher corrosion resistance is an improved aluminum alloy
Performance: consumes up to 20 percent less energy than comparable models
"WEDA pumps are not only durable, but also built for ease of use and service. The unique sealing system and modular design make them among the most flexible pumps on the market," said Joe Moser, director of business development pumps at Atlas Copco. "These can be used on a multitude of jobsites and guarantee optimal performance."
WEDA S30, S60 Sludge/Trash Pumps
The WEDA S30 and S60 sludge pumps can handle thick, soft, wet mud in addition to other similarly viscous mixtures of liquids and solids, especially the product of an industrial or refining process.
Handling pH values from 5 to 8 of the pumped liquid, particles and debris of up to two inches can pass through the pump housing with minimal wear. The robust design of the pump base ensures stability while enabling passage of large solids.
The WEDA S range also includes improved cable sealing for protection against water leakage from cable entry. An improved rib design offers external cooling to motor for extended running time.
The WEDA S30 features a rated power of 3 horsepower (hp) with a weight of 55 pounds. The pump has a discharge of 3 inches. The WEDA S60 has a rated power of 9.2 hp with a weight of 143 pounds. It has a discharge of 4 inches.
WEDA D80 Drainage Pump
The WEDA D80 drainage pump is designed to handle clean or dirty water on construction sites, in manholes and industrial pits with very low risk of clogging. The pump can also handle pH values between 5 to 8 and is able to pass through small solids up to nearly a half inch.
The WEDA pump is flexible by allowing discharges to be mounted either vertically or sideways. The pump design ensures all-round motor cooling for increased performance and an improved cable sealing protects against water leakage from cable entry.
The drainage pump features a rated power of 31 hp and a weight of 400 pounds. It has a discharge of 4 and 6 inches and comes with a cartridge seal solution to simplify service activities and increase productivity.
All drainage and sludge pumps are available with WEDA+ features, which include phase failure protection, rotation control, thermal switches and a 65-foot power cable.