First Demag AC 45 City deployed in North America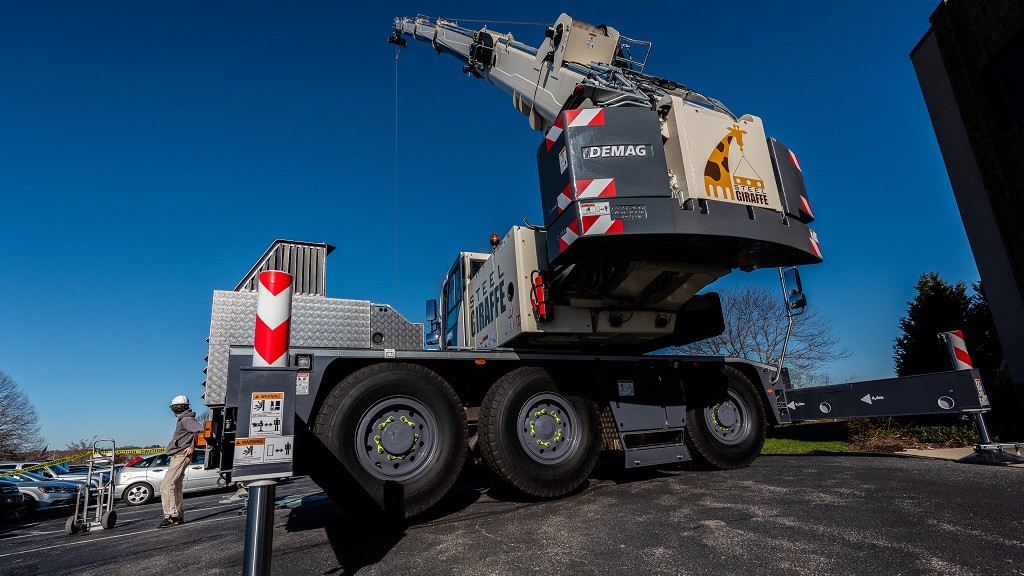 "Large lifting companies with multiple cranes have options to get jobs done. I don't have that luxury," comments Steve Kelly, owner/operator of Steel Giraffe LLC. The Portsmouth, R.I.-based "boutique" crane company doesn't search out the typical residential and commercial construction projects. Rather, Steel Giraffe completes specialized lifting projects, and 90 percent of its lift jobs fall within a 30-mi (48-km) radius of the headquarters location.
Many lifting projects last less than a half-day, so Steel Giraffe needs a flexible crane that can get in, quickly finish and get to the next job. However, the company's 25-U.S.-ton (22.7-t) carry deck crane previously used didn't quite fit, and the transport costs were cutting into profits.
Steel Giraffe needed a different type of crane, one that better fit its needs. While Kelly had a 35-U.S.-ton (31.8-t) crane in mind, Justin Melvin, general manager for Empire Crane, an authorized Demag Mobile Cranes distributor says, "His business model needed the 50-U.S.-ton (45-t) class Demag® AC 45 City crane. It was built for companies who need mobility and work in crowded metropolitan areas."
A great fit
Kelly worked with Empire to get a preview of the AC 45 City. It has a single cab from which the operator both drives the crane to the project and operates the boom. "For our work, a second cab is just wasted space and time," he adds.
The crane's capacity chart and boom design were what sold Kelly on working with Empire Crane to purchase the AC 45 City. The three-axle crane offers a maximum main boom of 102.4 ft (31.2 m) and a maximum 145-ft (44.2-m) system length. Boom extension is fully hydraulic, allowing Steel Giraffe to extend or retract the boom with a load and without the need for pinning a boom section.
Melvin explains that pinned boom designs are commonly found on larger cranes for strength but limit the versatility of smaller city-class cranes. Kelly adds, "We handle a lot of pick-and-carry loads, and the ability for us to fully extend or retract the boom under load is critical."
Tight quarters
Steel Giraffe took delivery of the Demag AC 45 City crane in late March. The crane's versatility and capacity chart were instrumental in helping the company land a tricky project on the Mt. Hope Bridge connecting the Rhode Island towns of Portsmouth and Bristol. The 90-year-old structure that predates the Great Depression is currently in the midst of a10-year, $52 million restoration project.
The current construction phase consists of repairing the bridge pier anchors' degraded concrete. Work crews needed to have construction materials and containers transferred to the work platform at water level. "One option was to position a crane on a barge in the water to transfer the materials, but this would have been costly," explains Kelly.
Steel Giraffe quoted the project using its AC 45 City crane positioned on the bridge deck to lower materials more than 100 ft (30.5 m) to the work platform below. The first challenge was to ensure the deck could hold the weight of the crane with load. "The planning software was helpful in determining the weight, radius and outrigger setting to provide printed proof the bridge deck had the capacity," he adds. "Both Empire Crane and Demag worked with us to help prepare the plan."
The next challenge for Steel Giraffe was to hoist the materials without blocking both traffic lanes. Melvin explains, "The Mt. Hope Bridge only carries two lanes of traffic, and each lane measures only 11-ft (3.4 m) wide, so this was a perfect test of the AC 45 City's compact design." From counterweight to boom to jib, everything rides on the crane's trim 28.4-ft-long by 8.3-ft-wide (8.7- x 2.5-m) carrier.
The plan called for the AC 45 City crane to be positioned in one lane, leaving the other open to traffic. Steel Giraffe devised a plan using a 26-ft (7.9-m) boom radius with small outrigger basis. The night lift also helped to minimize traffic disruptions.
Steel Giraffe drove the AC 45 City approximately 6 mi (9.7 km) to the project site and arrived by 9 p.m. The crew had the crane rigged and hook-ready to by 10 p.m. Kelly appreciated the ability to drive and operate the crane from the same cab without needing to exit.
IC-1 Plus - a game changer
A plus for companies like Steel Giraffe, especially on a tight-quarters project like the Mt. Hope Bridge, are the crane's IC-1 Plus control system and asymmetric outrigger positioning. The system automatically determines the available lifting capacity, based on outrigger set-up and slewing angle, so it does not limit lifting capacity to a 360-degree load chart.
"This is a game-changer for me," says Kelly. "If we cannot fully extend one of the outriggers, we are not limited to the 360-degree load charts." Melvin continues, "This allows companies to plan their lifts for maximum available capacity over the outriggers, which can enable them to complete heavier lifts with less counterweight, as it was the case with the 360-degrees load charts."
Kelly also noticed significant differences with the IC-1 Plus display compared to other crane models in this class. He compared the black-and-white displays with pushbuttons found on other cranes to an old hand-held video game. "The AC 45 City has a nice full-color screen and intuitive touchscreen control to easily navigate," he says.
Ease of crane operation helped Steel Giraffe to complete nearly 20 picks in less than five hours, where crew members lowered a variety of equipment from compressors and generators to paint and tools to the work platform. The heaviest lifts consisted of two, 10-ft (3.0-m) steel shipping containers loaded with equipment, weighing 6,000 lb (2.7 t) each. Finishing all lifts by 2:30 a.m., the crew then derigged the AC 45 City to make its 10-minute trip back to headquarters.
Kelly believes it might have been possible to complete this project with the company's old carry deck crane, but it would have been much more time consuming and cumbersome for transport and prep. "We would have needed a lowboy to move the carry deck crane. Transport limited us to completing only one half-day job per day with the carry deck crane," he explains. "It was so quick and easy to get back to the shop driving the AC 45 City. We are now completing two to three jobs per day with the AC 45 City."
Navigating the AC 45 City crane through the crowded Portsmouth streets is getting Steel Giraffe noticed, not only for the crane's unique giraffe decaling but also for the crane's capabilities. "We are now receiving calls from larger crane companies to handle their overflow work. We did not get those calls in the past," explains Kelly.
Steel Giraffe finally has the crane it needs to match its small "boutique" lifting company business model in the Demag AC 45 City. "With its capacity and boom length, I know the AC 45 will give me the flexibility to handle many lift jobs," he says. "If I could design a crane for what we do, this is the crane I would design."
Company info
Related products
Related Articles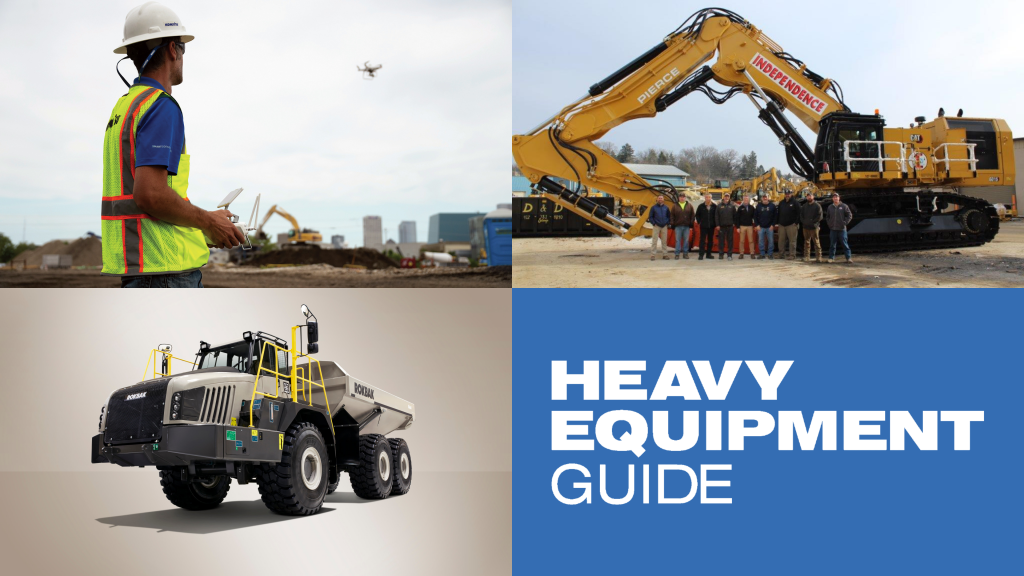 Weekly recap: exploring the connected job site, Rokbak at CONEXPO-CON/AGG 2023, and more