Glasvan Great Dane's better equipment and better service wins global award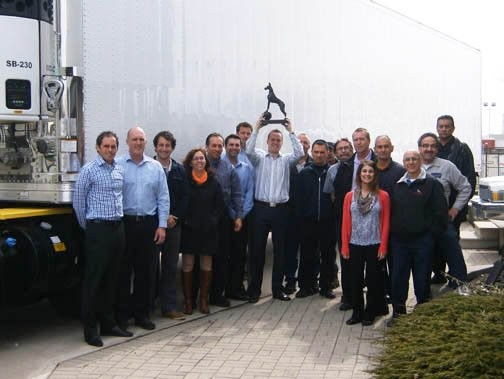 Glasvan Great Dane has been recognized with Great Dane Trailers' International Dealer of the Year award for top sales and customer service excellence. This award reinforces a very successful 2012 year for Glasvan, seeing significant sales growth for their dry vans and reefer trailers.
"Our customers recognize the quality of our products, our industry-leading service standards and the exceptional knowledge of our team who help keep their equipment on-the-road," said Glasvan CEO, George Cobham Sr. "We appreciate the recognition from Great Dane and most importantly, the support of our customers and employees."
Great Dane also recognized Glasvan's sales professionals, Adam Stevens who was named King Pin award winner. It was Stevens' fourth consecutive win, which highlights his achievements in new trailer sales, prospect conversions and exemplary customer service. Tom Pepper was also recognized as a Life Time King Pin member having won the award seven times in the past.
"Our commitment to better equipment and better service has always been embraced by our customers," said Cobham. "Our pledge to ensure our customers obtain rapid access to parts, service and can purchase the type of equipment that best meets their needs has been the cornerstone of helping our customers operate successful businesses."
Glasvan is one of 250 dealers worldwide that sell Great Dane's products, which are known for their temperature-controlled refrigerated trailers, heavy-duty dry vans, and all-steel and combo flat beds and stepdecks. Glasvan also sells and services other best-in-class equipment including Etnyre live bottom and heavy haul detachable trailers, Landoll hot dipped galvanized tilt-beds, Doonan Specialized and Chaparral all aluminum flats and stepsdecks, and Autocar shunt tractors.
The company has five southern Ontario locations that offer new and used trailers, shunt trucks, parts, service, sandblasting, painting and all types of repairs. Great Dane also recognized Glasvan as their International Parts Dealer of the Dealer. Glasvan is currently renovating the parts department at its Mississauga location to further enhance their customers' experience. The renovation will also provide the company with additional warehouse space to stock even more of what its customers require.

Company info