Manitowoc to exhibit three cranes from Grove and National Crane lines at ICUEE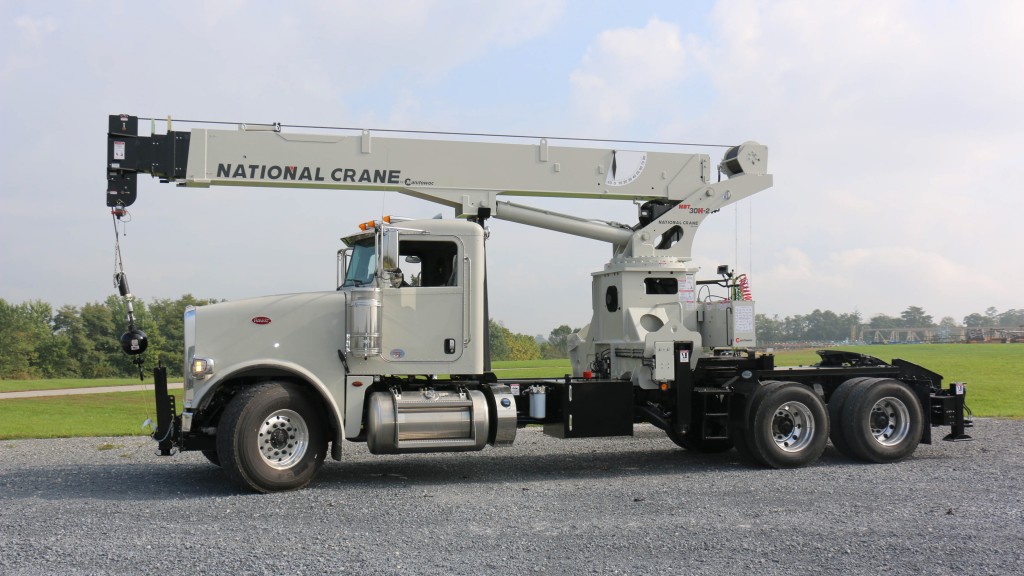 Manitowoc Cranes will showcase a trio of cranes that thrive in utilities applications at the International Construction and Utility Equipment Exposition 2019 (ICUEE). At outdoor booth N2021, the company will highlight the Grove GHC30 telescoping crawler crane and a pair of National Crane boom trucks: the NTC55L and NBT30H-2 TM.
This year's ICUEE will be held in Louisville, Kentucky, at the Kentucky Exposition Center from October 3 to 5. The event will cover more than 25 acres of indoor and outdoor exhibits, and will host several product demonstrations and educational seminars throughout the grounds.
ICUEE gives manufacturers the opportunity to meet with utility contractors and learn about their needs firsthand. The three cranes on display at Manitowoc's booth are a testament to The Manitowoc Way of listening to its customers in the utility sector and putting their needs into manufacturing practice. The cranes' maneuverability and up-and-over reach are beneficial for customers in the utility sector.
Grove GHC30 with pole claw and auger
The Grove GHC30 is one of Manitowoc's most popular models in its line of Grove telescoping crawler cranes. With its full-power, three-section 83 ft telescoping boom, operators can easily handle a variety of lifts at various radii, and because of its use of crawler tracks to maneuver, users don't have to set outriggers for lifts, saving time on the jobsite.
"The GHC30 boasts excellent gradeability, low ground-bearing pressure and multiple attachment options, such as the pole claw, auger and personnel basket," said JJ Grace, Manitowoc's product manager for GHC cranes. "All of these features – paired with class-leading boom length and capacities – make this a powerful and versatile crane that will improve efficiency on utility jobs and provide our customers with a great return on investment."
The GHC30 on display at ICUEE will be outfitted with pole claw and auger attachments, which are especially useful for the utility industry. These attachments are particularly effective when working with electrical substations and surrounding distribution lines, for example. When equipped with the auger and pole claw, the crane is adept at off-loading, lifting and installing the poles needed for these projects.
National Crane NTC55L
Also on display at the Manitowoc booth will be the National Crane NTC55L. Featuring a 55 USt capacity and 151 ft boom, the truck crane "replacement" can maneuver into the tight working quarters typically reserved for a truck crane, but it has the added roadability of a boom truck that in many cases can increase efficiency and versatility for utility workers. In addition to the utility sector, the NTC55L is ideal for a wide variety of applications, such as commercial construction, steel erection or HVAC installation.
The NTC55L is a popular configuration of the new NBT50L series, providing this evolutionary boom truck with even more versatility. The key to the NTC55L's versatility is its ability to set up with a reduced 20 ft outrigger span typically seen in truck crane applications. This combination provides the best of both worlds, with a smooth and solid truck crane-like operation while maintaining the comfort and flexibility that mounting on commercial chassis allows. Furthermore, the NTC55L boasts standard features, such as hoist and rear-facing cameras for increased job site visibility, and a wireless windspeed indicator integrated into the crane cab display.
"The NTC55L is the next evolution of the NBT50 series with a pinpoint focus on the operator," said Bob Ritter, product manager of boom trucks at Manitowoc. "With a 151 ft boom there is less of a need to swing a jib, enabling an operator to get more jobs done per day. The redesigned superstructure provides the operator with confidence in making any pick, even at the farthest extents of the chart, with one of the most solid feeling National Crane models ever built."
The focus on the operator does not stop there. The NTC55L comes standard with more operator-centric features, such as the deluxe operator's tilting cab with heated seat, an easy to use color graphical display and real-time diagnostics for simplified troubleshooting without the need of a laptop.
National Crane NBT30H-2 TM
The National Crane NBT30H-2 TM will also be at Manitowoc's booth. It is one of the latest in a long line of boom trucks from National Crane. The 30 USt boom truck has a 69 ft boom and is designed for use on a short wheelbase "tractor" style chassis. This boom truck configuration allows for hauling a trailer to and from the job site for delivering various materials to be used in utility applications. Additionally, the NBT30H-2 TM is viable for everyday taxi crane service due to the Federal Bridge Law compliant chassis configuration.
"The NBT30H-2 TM was engineered specially for utility applications while maintaining the versatility of everyday taxi crane work," Ritter said. "It was built thanks to a winning combination of speed of engineering and focus on the customer. Based on direct customer input, we've designed this machine to suit their rigorous working requirements, be road legal in all 50 states without special permitting and provide superior ROI. That's the Manitowoc Way."
The NBT30H-2 TM offers 360° stability, with and without the trailer attached, thanks to the out and down main outriggers and stabilizers, as well as a fully integrated heavy-duty front outrigger; all of which can be used with full, mid and retracted span chart configurations. The hoist features a two-speed, high-performance planetary winch with a 390 ft, 9/16 inch rotation-resistant wire rope that has a 7,700 lb single line pull.
Company info
Related products
Related Articles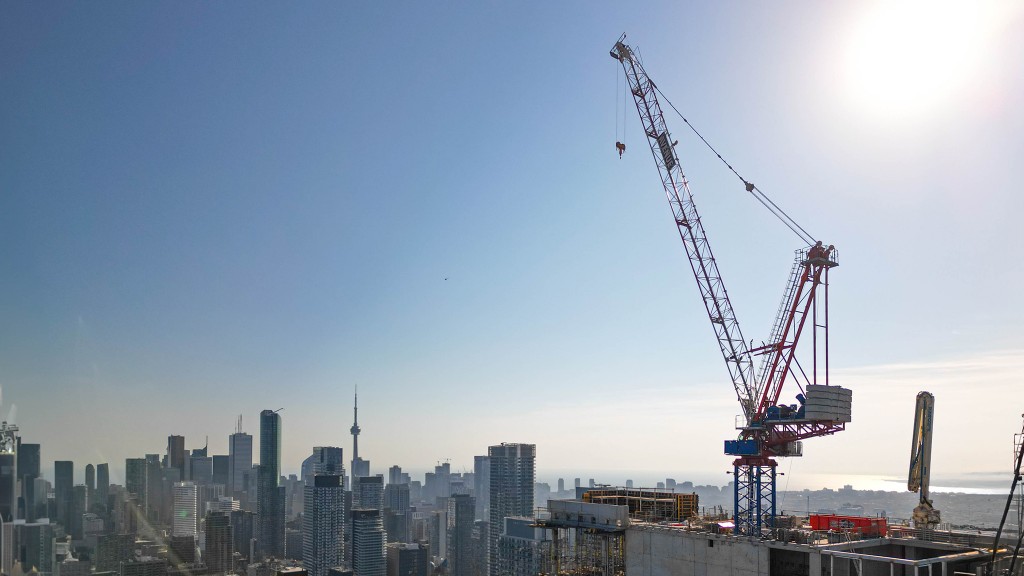 Tight squeeze in Toronto skyline is the right fit for Raimondi luffing jib crane