Aquajet Systems offers three aqua power packs for efficient hydrodemolition operation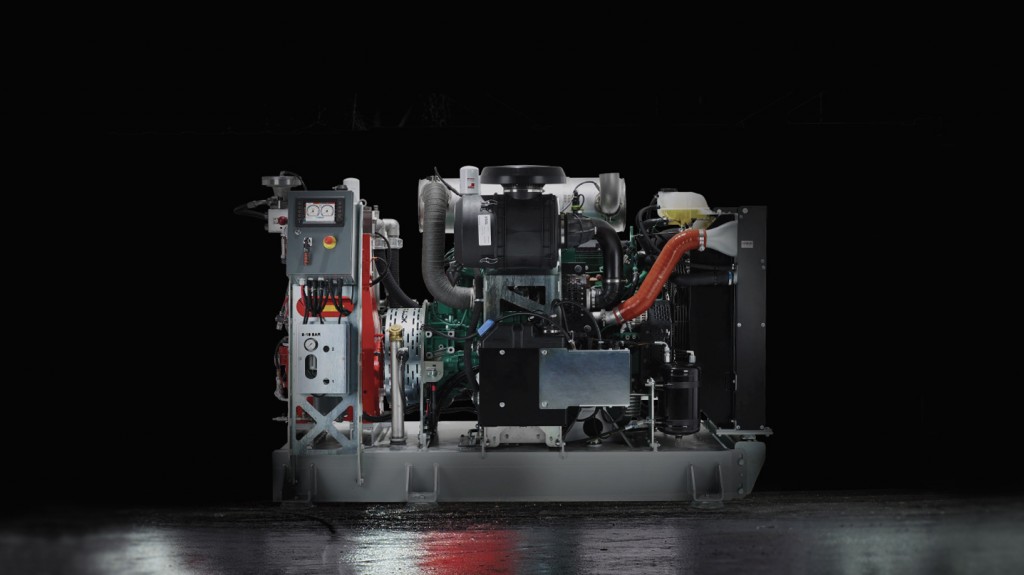 Aquajet Systems AB, a global leader in manufacturing hydrodemolition machines, offers three power packs for powering Aqua Cutters, their range of hydrodemolition robots: the standard Aqua Power Pack, the Ecosilence and the Aqua Skid. The power pack is a combination diesel engine and high-pressure pump, necessary for hydrodemolition.
"We understand that not all projects are the same, which is why we have developed a series of power packs to best meet your operation's requirements," said Roger Simonsson, Aquajet Systems managing director. "The Aqua Packs are designed to accommodate a wide range of projects, whether they require a standard pack, a compact footprint or a quieter alternative."
Power packs are cost effective and easy to transport and set up. The standard Aqua Power Pack contains more than just motors and pumps to power the Aqua Cutter; the container also serves as storage for machine accessories and tools. A built-in workbench with a vise provides contractors a space for jobsite maintenance and a place to store spare parts. Operating at as high as 43,500 psi, Aquajet's standard Aqua Power Packs are available in multiple versions: Aqua Power Pack 270, 400 and 700.
Similar to the Aqua Power Pack, the Ecosilence provides everything contractors need in a quieter package. Both the standard and Ecosilence measure 23 feet by 8 feet by 8.5 feet (7 metres by 2.4 metres by 2.6 metres). The container's sound-absorbing design features insulated walls and double doors, as well as seals on all doors and hatches. The Ecosilence offers noise levels less than half that of competitive high-pressure units on the market. With an average of 57.5 dB, the unit is ideal for use in urban areas that have high noise restrictions. In addition, users will see an improved fuel consumption of as much as 10 percent compared to alternative high-pressure units. The Ecosilence can be equipped with a roll-off frame for simplified on/off truck loading and transport. Maintaining the same dimensions of the standard power pack, the Ecosilence is available in two sizes: the Power Pack 400 and 700 and operates at as high as 18,700 psi.
Aquajet's compact Aqua Skid power pack measures 8.5 feet by 5.9 feet by 5.5 feet (2.6 metres by 1.8 metres by 1.7 metres) and provides the same performance and basic functions as the containerized packs, just in a smaller footprint. The compact high-pressure unit is designed for installation on a truck, trailer or local container, which is ideal for contractors or operations with space restrictions, such as plants or factories. Operating at 43,500 psi, this power pack offers contractors a fast and easy way to upgrade an outdated high-pressure unit, plus, the Aqua Skid can be used in areas where metal enclosing – such as the exterior of the standard power pack or Ecosilence – is not necessary or possible.
Aquajet's power pack series requires fuel and water to operate. Each is equipped with the REVO Control System, which displays the necessary information to control and monitor the power pack. An optional extension of that system is the REVO Remote Control System, which allows for operation away from the power pack. Each Aqua Pack comes standard with a Volvo engine. Customers can opt for an engine from a different manufacturer, if necessary.
Additionally, the hydrodemolition machine's remote control can be seamlessly paired to the pump unit. This feature allows the operator to turn the flow on and off and control the flow of the high-pressure water as well as operate the robot from one remote. In the case of an emergency, the operator can completely shut down and depressurize both units from the emergency stop button on the remote, the robot or the power pack.
For added safety, an engine shutoff option on the remote allows for quick shutdown in the field, depressurizing the pump and pressure hose and reducing engine rpm to a low idle.