Fighting gravity: the challenges of placing concrete high up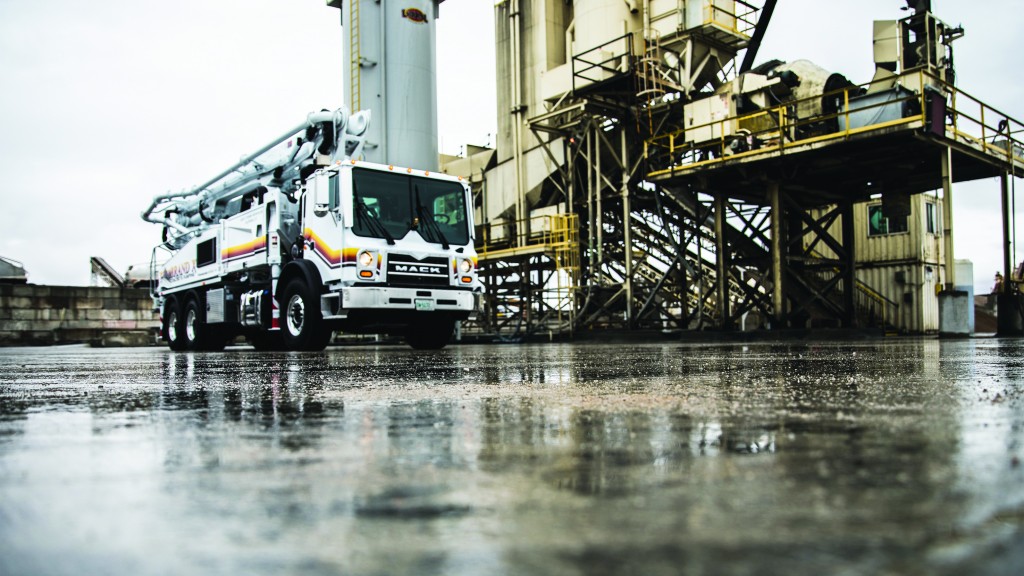 Working with concrete has many challenges, such as getting the right temperature, getting the right mix, getting the concrete to the jobsite on time and getting the concrete from the machine to the site of placement.

"All concrete contractors have to deal with the challenges of time, temperature, mix and access, but contractors that need to place concrete high up are subject to numerous other challenges," says Stuart Galloway, president, Canadian Concrete Expo.
From the ground up
When working at ground level a ready-mix truck is all you need.

"Mack trucks are ideal for concrete work, as they offer a number of features tailored to the concrete industry," says Roy Horton, director of product strategy, Mack Trucks. "Mack's lighter-weight 11-litre MP7 offers up to 425 horsepower and 1,560 lb.-ft. and is a popular choice in concrete mixer applications. The Mack Granite and TerraPro models are built on a chassis that is engineered specifically for demanding vocational applications."

The chute of a mixer truck starts about three metres up and gravity moves the concrete from the mixer exit to the placement area. That means that a few metres from the rear of the truck, the concrete reaches ground level. As a result, mixer trucks can't place concrete far away or higher up than the truck.

Contractors that need to increase the distance between the mixer exit and the placement area - or who are working on a jobsite where the placement area is higher than the mixer truck - will sometimes use a conveyor belt to move the concrete from the chute of the mixer truck to the placement area. These conveyor belts are designed to attach to the truck and run power off its PTO.

With a conveyor belt, contractors can increase the height of concrete placement from just above ground level to about two storeys. If contractors need to place concrete higher up than that, they need to use another method.

Concrete boom pumps
Concrete boom pumps are used to pour concrete at great distances from the machines. The machines are comprised of a large truck; a multi-section, unfolding boom; and a pump (or two).

The length of the boom tells you the size of the machine. "KCP Pumps' 37-metre-boom machine, for example, is a smaller unit with a smaller footprint. It is ideal for house foundations, where there is not a lot of space on the jobsite, but they're also not reaching very far," says Jason Almeida, manager, Almeida Concrete Pumping. "When you get into commercial buildings or high-rising, then you will need a 52- or 60-metre boom, so you can reach farther into the building."

The first major added challenge for placing concrete on high-rises is that the mix is heavier.

"When building a single-family house, contractors place a concrete footing and a foundation on which a wooden structure will be built. Since wood doesn't weigh that much, only a lighter mix is required," says Galloway. "When building a 100-storey-tall building, the foundation has to support the entire weight of that building, so a much heavier concrete is needed."

"We see contractors use a mix with a psi [pounds per square inch] of about 3,500 for single-family housing and a mix with a psi of about 14,000 for [large-scale projects]," says Almeida. "That 14,000-psi mix is a lot harder to push, bogs down the engine and makes the pump struggle. To move a heavier mix, you need a bigger pump, which requires more power."

Concrete's psi is a measure of its compressive strength. In order to move heavier mixes, KCP Pumps' larger pump units usually come equipped with two pumps instead of just one. They range from 1,000 psi to almost 1,400 psi. (Boom pumps' psi refers to their pushing power.) The larger units are also built on a larger chassis. KCP Pumps' larger units have a Mack MRU 613, which has a 425-hp engine.

"A 52-metre [boom] has a bigger chassis and a bigger truck, more wheels, more suspension and more power on the hydraulics so you can move more concrete faster, as well as move heavier mixes," says Almeida.

The second major challenge of working with concrete on high rises is gravity.

"Things that contractors can get away with on a ground-level project, they don't get away with on a high-rise," says Almeida. "There is an incredible amount of back pressure. Every stroke forward, the concrete wants to fall backward. The higher you go, the more the concrete wants to fall, so the pump is constantly struggling to keep the flow of the concrete in a forward direction."

Also, on high-rise concrete placements, the issue of time has even greater consequences.

"Once you are in the process of placing concrete on a high-rise project, there is no down time. There is no Plan B. There is no rescheduling. You can't wait for decisions to be made. You have just the one plan and you have to keep going with it," adds Almeida.

Although designed primarily for reach, KCP Pumps' largest machine - the KCP 70ZS5170HP - features a 70-metre boom and can place concrete up 21 storeys. For concrete that needs to be placed higher than that a crane should be considered.
Cranes
Weight is a big factor when craning concrete.

"Although tower cranes are very efficient at what they do, they don't have large capacities when it comes to tonnage," says Galloway. "This weight restriction also means that you are constricted to working in a smaller radius, since the crane's lifting power diminishes the farther out you go from the tower of the crane."

The weight of a bucket of concrete (also called a skip) is often the heaviest load to be craned so, sometimes, companies have to use a larger-sized crane on a project to lift the skip. This can mean using a tower crane instead of a city crane.

Smaller cranes, such as city cranes, are self-erecting and only need an engineer's report that certifies that the ground underneath and around the crane's working area is solid and stable before it can be erected.

To assemble a larger crane, a mobile crane is used to mount it in a concrete sub-structure.

Craning up concrete also increases the time it takes to place the concrete since the labourers have to wait for the empty skip to descend potentially dozens of storeys and then return again.

"Lowering the bucket to the mixers below and then hoisting it up again can take five minutes on a 20- to 30-storey building," says Galloway.

Also, contractors tend not to fill the skip all the way to avoid spillage, so they are not getting a full load on each lift.
Craning concrete has additional safety challenges.

Lifting a bucket of liquid or loose materials will move differently than lifting a solid block. The centre of gravity of a bucket containing concrete will shift. Operators need to slow down and be smoother on the controls when craning concrete versus craning a pallet or a solid object. They also have to be more careful when choosing a lift path so that the concrete isn't lifted over people.

Labourers pouring concrete on the top floor are working under a suspended load. There is the potential to be pinned between the bucket and a wall or some other obtrusion or for the bucket to land on their boots.

"From reach to fighting gravity to pumping power to the extra time needed to complete the work, there are many challenges to placing concrete high up," says Galloway. "Once you know the circumstances of your pour, you can choose the equipment you need for safe and efficient high up concrete placement."

Article submitted by the Canadian Concrete Expo, January 22-23, 2020, Toronto, Canada. CanadianConcreteExpo.com.