LOOSE-N-IT 4-in-1 lubricant now available from LUBE-A-BOOM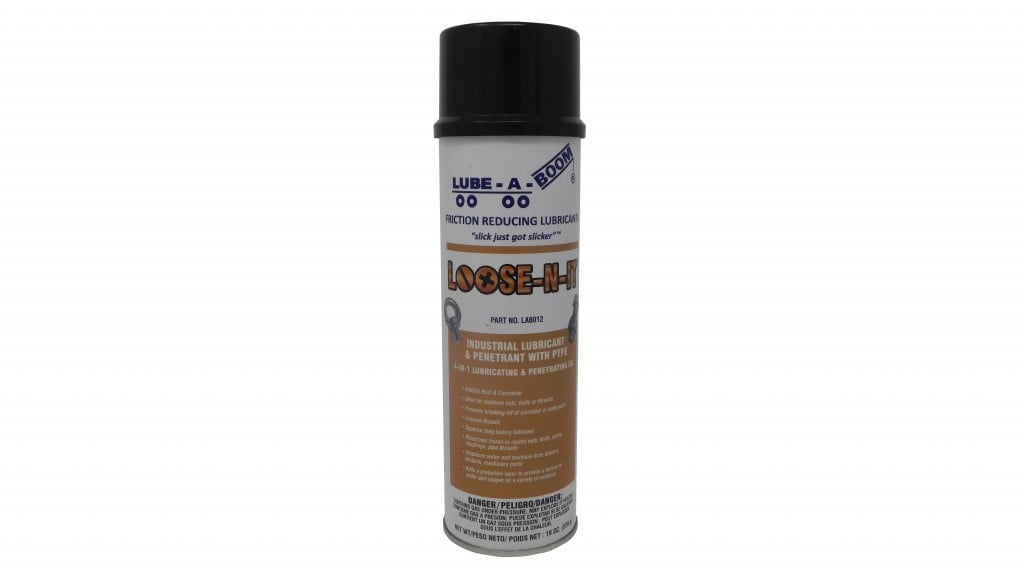 The LUBE-A-BOOM team is proud to introduce LOOSE-N-IT. Customer service and satisfaction is LUBE-A-BOOM's top priority, along with providing dealers superior lubrication products. After speaking with several industry leaders, a lubrication niche not being adequately satisfied by competing brands was identified: a product that allows technicians and parts managers to quickly remove old, stripped, and/or rusty bolts from equipment. The LUBE-A-BOOM team found that many times these crucial bolts and screws had become so worn and stripped that removing them was a time-consuming process. To alleviate this service-related pressure point, LUBE-A-BOOM set to work to develop a product that could easily be used in the field to assist in the removal of old and worn bolts. Thus, the LOOSE-N-IT product came to fruition.
LOOSE-N-IT is a 4-in-1 industrial lubricant and penetrant containing PTFE. With safety a top priority, parts managers will tell you that inspecting bolts and screws on equipment is important, and it is equally important to keep these bolts and screws lubricated and replaced when they become worn. LOOSE-N-IT is the perfect product to satisfy those needs.
LOOSE-N-IT's specially blended formula provides users a 4-in-1 solution for service-related needs. Specifically, LOOSE-N-IT penetrates old bolts and screws, lubricates, displaces moisture, and resists corrosion. LOOSE-N-IT inhibits rust and corrosion by adding a protective layer that creates a barrier to protect against water and oxygen infiltration, while at the same time, displaces water from electrical contact points and machinery parts.
LOOSE-N-IT provides important safety properties for crane and equipment users. It is critical to inspect the bolts holding pieces of equipment together, such as the bolts holding together tower crane joints. These pieces generally consist of a bolt, nut, and washer which need to be protected from the elements and replaced if worn and corroded. LOOSE-N-IT will provide inspectors the ability to extend the life of these critical pieces by keeping them rust free and helps inspectors remove these pieces when they inevitably become worn and need to be replaced. Safety is critical, and LOOSE-N-IT is another tool your arsenal to help keep equipment running longer and safer.
LOOSE-N-IT can be used on a wide variety of equipment and can serve a variety of industries including, but not limited to, construction, mechanical and factory, truck lines, delivery services, transit systems, and machine shops. LOOSE-N-IT is made in the USA and conforms to Military Specifications MIL-C-23411 for corrosion prevention.
LOOSE-N-IT will be the first product in the LUBE-A-BOOM Toolbox Series. The Toolbox Series features specially packaged products in 5 oz. cans rather than larger cans for smaller jobs or for contractors on the go. Look for more updates as we continue to improve our packaging to fit every customer's needs.
More from Equipment Maintenance
The all-new CASE TR340B compact track loader — operating at 90 horsepower with a 3,400-pound rated operating capacity — is the most powerful radial-lift CTL in the CASE lineup. Its all-new 8-inch LCD display improves on industry-leading CASE visibility with a new backup camera that is viewable in both forward and reverse operation. The display also showcases critical operating information and "trip" details. All-new electro-hydraulic controls, managed through the display, make it easier than ever for operators to dial CASE CTLs into specific application demands. All new cab controls and joysticks make the new TR340B easy to own and operate.
Industries such as construction, mining, energy, utilities and forestry, face many challenges when it comes to tracking assets and employees. Equipment often has to be transferred between locations, or monitored while it is dormant during off seasons. Lone workers may have to travel long distances or visit multiple sites during the course of their activities. And, all of this is further complicated today with shifting supply chains and economic realities putting further strain on the bottom line.