Refine Projects uses Nureva products in mission to transform construction industry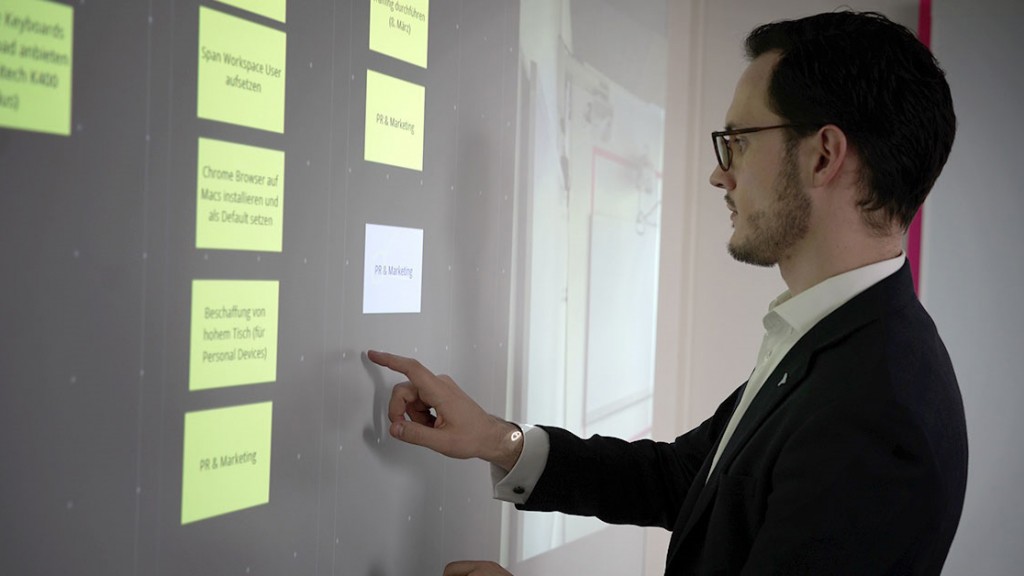 Nureva Inc., an award-winning collaboration-solutions company, has announced that Refine Projects, a lean construction consulting firm in Europe, is using Nureva products to help effectively collaborate with clients worldwide. The mission at Refine Projects, headquartered in Stuttgart, Germany, is to transform the construction industry with new and radical lean consulting approaches, and Nureva products were chosen to enable this. A dual Nureva Wall system, Span Workspace and the HDL300 audio conferencing system are being used in a new Refine Future Lab, also known as the Digital Obeya Room, where daily scrums, client kick-off meetings, strategic planning sessions and lean construction workshops take place.
After being introduced to the Nureva visual collaboration solution at Stanford University's Center for Integrated Facility Engineering, the team at Refine Projects knew it was the solution they needed to transform the way they engaged with their growing client base in China, Australia, the United States, Portugal, Dubai, India, across Europe and beyond. The HDL300 system provided the added benefit of solving the issue of poor audio quality impacting meeting productivity when remote participants were involved. Meetings no longer take place with project teams sitting around a laptop in an audio conference session that rarely worked. Today, teams in the Refine Future Lab stand up at the Nureva Wall to visualize ideas and explore solutions while collaborating in real time with their colleagues and clients in other locations.
"Nureva products will make a huge impact on the consultancy approaches we deliver to clients worldwide," said professor, Dr Claus Nesensohn, Refine Projects founder and CEO. "Our clients no longer have to fly around the world for a two-day meeting, and we can truly collaborate naturally, while optimizing projects from our home bases. This will undoubtedly increase productivity, accelerate processes and improve quality of life for our clients."
"It's very exciting to see how Refine Projects is using Nureva's full solution to transform the way it works with clients around the globe," said Nancy Knowlton, Nureva's CEO. "We believe our products are an ideal fit for enabling the breakthrough business impacts they're looking for."
About the Nureva visual collaboration solution
The Nureva visual collaboration solution combines Span Workspace with one or more Nureva Wall WM408i systems. It is designed to support highly collaborative activities that benefit from visualizing and interacting with information on a large surface, including structured processes such as lean, agile and consulting. Span Workspace provides an expansive cloud-based digital canvas that can be tailored to suit virtually any collaborative activity. It draws upon familiar, simple and flexible tools including sticky notes, sketches, images, templates and screen sharing.
Participants contribute and interact with the content using their personal devices, whether a computer, tablet or smartphone, or directly on the large-scale Nureva Wall or other interactive display. The Nureva Wall transforms collaborative spaces by creating large, ultrawide interactive surfaces that turn walls into expansive digital workspaces with high-performance multitouch and inking capabilities. The Nureva Wall is optimized for use with Span Workspace and can incorporate users' preferred applications, including Microsoft Office, Adobe products and AutoCAD software. For more information, visit the visual collaboration section on the Nureva website.
About the HDL300 audio conferencing system
The HDL300 audio conferencing system resolves the frustrating and persistent issue of poor audio pickup, especially in dynamic environments where participants move around the room. At the core of the HDL300 system is Nureva's breakthrough Microphone Mist technology, which places thousands of virtual microphones throughout a space to pick up sound from any location to ensure that everyone is clearly heard regardless of where they are in the room or the direction they are facing. Users also have the option to limit the audio pickup to a specific zone within a space, such as the front of the room, making it ideal for corporate presentation scenarios and lecture capture in higher education.
The system uses sophisticated algorithms to simultaneously process sound from all virtual microphones to provide remote participants with a high-quality listening experience, enabled by continuous autocalibration, simultaneous echo cancellation, position-based automatic gain control and sound masking. When combined with the Nureva Wall visual collaboration solution or other interactive display, the HDL300 system can also be used as the primary source for audio and video playback. The HDL300 system is designed to work with Microsoft Teams, Skype for Business, Zoom, BlueJeans, Cisco Spark, Cisco WebEx, GoToMeeting, Pexip Infinity Connect and other common UC&C applications.