Technology, changing approaches to buying push aggregates industry in new directions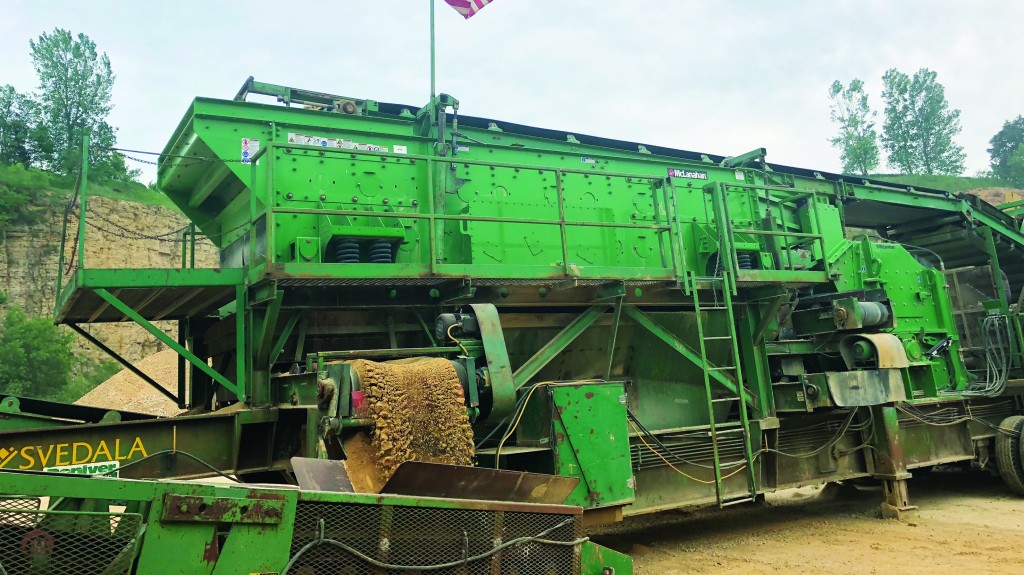 As the general manager of aggregate equipment manufacturer McLanahan, Mark Krause has seen a lot of change in the industry as a whole. Advances in technology are making significant inroads into aggregates, and that, combined with desire for more mobility from customers and a drive to draw new, younger professionals to the industry is what Krause sees shaping the market in coming years.

Just as the broader consumer market is being pressed by technology and new buying methods, so is the aggregates industry, Krause said during an interview at AGG1 2019. Customers want more choice and faster response, something Krause referred to as the Amazon Effect. The ability to search for information on any particular purchase, compare it to the available options, and make purchases from a single touchscreen is changing the way that people make purchases; that desire is starting to bleed over into the equipment market as well.

"People are saying that they want all of the information they can get and all of the comparisons at hand. . . and when they order they want to use one click and it comes – and they need it now," Krause said.

Logistical challenges to meeting demand
For an industry that builds and sells plenty of custom pieces of equipment, there is quite a logistical challenge to meeting that demand, especially the need for faster response that has become a growing part of purchasing. That may require a new approach to the way in which manufacturers serve their customers – and how they relate to their dealership networks.

"No two things are the same – they may have the same components, but the structure of the system is different or the height has to change. That makes it hard to handle this Amazon effect; if the customer is just buying a screen, you could maybe see it work," Krause said.

Aggregates dealers and sales reps, such as those in McLanahan's network, tend to be more technical and work to customize sales depending on the customers' needs, so it's difficult for them to adapt to immediate demands, Krause noted.

One way in which McLanahan may try to approach the Amazon effect and its demand for rapid response is to create modular components for its plants. A company that offers modular systems to swap in and out of aggregates plants can potentially get those parts to the customer faster and at a lower cost.

For the dealers, a centralized sales inventory on McLanahan's parts may shift how they serve their customers, to some extent, Krause said.

"From their standpoint, they're seeing that their money will be in the service side, and parts for local support, and they will be looking to us to have those components available for sale," he described. "Rather than putting a bunch of stuff in their yard that they have to go sell, that screen module will be in our inventory and the dealer network will have it at their disposal. They can take their money and put more parts in their warehouse or more service trucks on the road."

McLanahan is trying that approach out in some parts of the U.S., and Krause suspects that concept will likely be picked up through the industry as a whole.

More movement wanted
Equipment mobility is another area in which the industry is moving, Krause suggested. More customers are looking for smaller mobile plants to handle multiple jobsites these days, rather than relying on the big stationary equipment that has been a mainstay of the industry previously.

"There are still some plants that are doing 4,000 tons an hour, and there always will be, but now if you're a producer you want to have an asset that you can move easily to the next location, and that is flexible enough it can handle what needs to be done there," Krause said. "Capital is limited for everyone, so if I can take that capital and move a piece from here and a piece from there – I don't see that trend changing any time soon."

McLanahan has been expanding its holdings on the portable side of the industry, including the purchase of Anaconda Equipment in early 2019. Initially a partnership allowing McLanahan to market Anaconda's mobile tracked equipment, the purchase brings new expertise into McLanahan's engineering team as well as more mobile options to the dealers.

Flexibility for retrofits
One way that McLanahan has adopted the need for flexibility is with the new H-Series Max Screen introduced at AGG1. The triple-shaft horizontal screen line increases operation efficiency by offering a screen with more accurate particle sizing. Easy adjustment of speed, stroke and angle allows the operator to dial in the exact screening action to best fit the application. It is also designed to allow easy retrofitting onto many screens currently on the market, reducing replacement costs.

McLanahan also showcased a growing line of its modular equipment, including Ultra Sand Plants and Ultra Fines Recovery units that are easy to set up and easy to configure for a variety of applications.

A final aspect of the aggregates market that Krause expects to see a focus on in the near future is a continuing problem for many markets: the need for people.

"It's not so much finding engineers, it's the people who want to work on equipment – diesel engine mechanics, people splicing conveyor belts and so on," he said.

The aggregates industry needs to focus on that employment gap, which Krause said is also reflected on the agricultural side of McLanahan's business; associations need to form partnerships with the educational sector to encourage training in those areas.

"Can we work with the technical colleges? They did it originally for the auto industry. . . can we work with the technical schools and come up with some kind of track that gets people into this industry? I don't know, but we're going to have to work at it," he said.