HOTSTART heating solution chases off cold weather
Heating solutions solve starting issues, cut down emissions and lower costs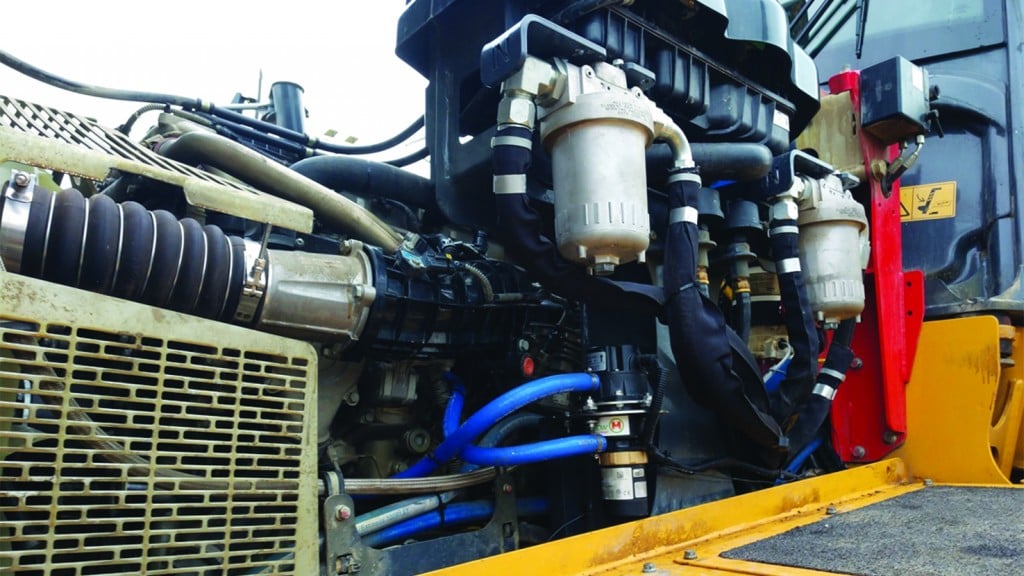 Construction sites in many parts of North America face cold weather on a regular basis, which often leaves contractors dealing with cold starts – very cold, when you consider Canadian winters. Cold machinery means more idling, more maintenance and more pressure on the bottom line.
Today, contractors who deal with cold weather are warming to the idea of heating solutions ranging from external options to block heaters that allow them to get their machines running faster and with less fuel use and emissions. The options available to owners are steadily growing, and the systems that can be heated have expanded as well.

The best approach to equipment heating depends on the location and operation in question, which can define just what machine operations need to be kept warm to ensure quality operation.

"When we see equipment that may be in a mine site that shuts down for maintenance in a very cold climate, the operator can't just get right in, service the equipment and start moving it, because the fluids are too cold – it's actually harmful to the hydraulic system," described Jason Cook, market manager for machinery with HOTSTART, a manufacturer of heating systems for heavy equipment.

Lubricant manufacturers have taken these colder temperature needs into consideration with oil blends for Arctic climates, but even those blends need to be heated to allow for easier operation, Cook said. With cooler temperatures creeping further south into the continent there's a growing need for heating options to help keep contractors on heavy equipment, oil field and other sites running.

When the temperature is dropping 10, 20 or more degrees below zero, the job gets even more difficult. Without the assistance of an independent heating system, machines can suffer from serious issues, Cook noted.

Experience in range of markets
HOTSTART, based in eastern Washington State, has been manufacturing heating systems since 1942, serving markets from backup power generation to construction to railway and marine. It works both with OEMs and aftermarket buyers looking to protect their equipment from cold temperatures; the company offers systems as simple as an engine block heater up to combinations that can warm coolant, hydraulics and engine oil as needed.

"In our 77 years as a business, we have grown from a simple in-block heater solution to external heaters for gensets, hydraulic heating, oil heating and other critical fluid heating for machinery and heavy-duty equipment," described Leslie Czernik, marketing communications specialist. "We have six established industries that we work with. . . marine, railroad, heavy equipment, generator, oil and gas, and truck/bus; we also have an emerging market to provide heating and cooling solutions to the clean energy market, specifically around thermal management of batteries being used in energy storage applications."

In the case of heavy equipment, owners may get a machine with some OEM level HOTSTART heating options, but there are a number of situations in which they require something more.

"Sometimes the customer gets that supplied from the OEM, or in other cases they call us directly when they see a need for a more robust heating solution – maybe the equipment was located in another climate previously, and they move it to a new jobsite in a more Arctic climate," he said. "We can provide whole packaged solutions, meaning heaters as well as controls, and all of the harness and cabling that goes into powering those heaters. In some cases, it may just be individual heaters, an in-block heater, a thermosiphon heater or immersion element."

When it comes to retrofitting machines with new heating systems, Cook said that HOTSTART generally starts with a general evaluation of where the equipment will work to determine the best approach to meeting its heating needs, which may involve a visit to the customer's site prior to any purchases being made.

"In some situations it is a case of saying 'I will try to provide this customer as much knowledge as I can in the beginning prior to us installing anything, or selling the heaters,'" Cook noted. "We really try to educate them on best practices and what to look out for when they're installing the equipment."

Deciding what kind of heating to use on a particular piece of equipment hinges on a number of factors. Cook noted that there are some basic questions that can start the process off and help keep costs down when purchasing heating equipment.

"Say we have a customer who may be in a warmer climate – maybe it's temperate and they experience all four seasons; it doesn't have as harsh a winter," Cook said. "I would probably look at it and ask 'what is the lowest ambient temperature you will see?' If it's not really severe I'd probably suggest they could get by with coolant heat and maybe engine oil heating."

HOTSTART can provide cartridge-style immersion heating for oil pan heating, which would be good for less cold regions; for Arctic regions they may require more options, such as a forced circulation system for coolant and multiple immersion elements for the hydraulic tank along with a suction manifold heater to help ensure the main hydraulic fluid reservoir is warm and ready. Immersion style heaters may work for smaller amounts of oil, but if the system contains a larger capacity of oil the company may suggest a forced circulation system.

"Forced circulation is a more efficient way of heating the fluid – we're not just installing one immersion element in a tank and then having to wait longer to heat that same volume of fluid," Cook said. "Plus we get the benefit of circulating the fluid. This helps reduce hot spots in the application and provides more even heating throughout the system."

All in all, heating systems are a good way to protect equipment and prevent potential maintenance issues, while improving efficiency and reducing emissions, Cook noted.

"When heating equipment with HOTSTART heaters, there's less downtime to wait for the equipment to heat up, less wear and tear on critical components, reduced operating costs from unnecessary idling and quicker operational starts when you have cold weather impacting your operation," he said. "In most cases we see a reduction in NOx from diesel engines when the engine is heated. . . if an engine isn't at the correct operating temperature we see things like the emission system or catalyst systems not being ready, and operators experience harder starts. If the engine can't come online and come up to power quickly and be heated to where it needs to be, then it will have to idle, wait and warm up – you're burning more fuel, creating more wear and tear, consuming more oil and polluting the air around you with diesel emissions (white smoke) from the unburned fuel."