How virtual reality can make your jobsite safer
Simulated scenarios have real-world impact on jobsite safety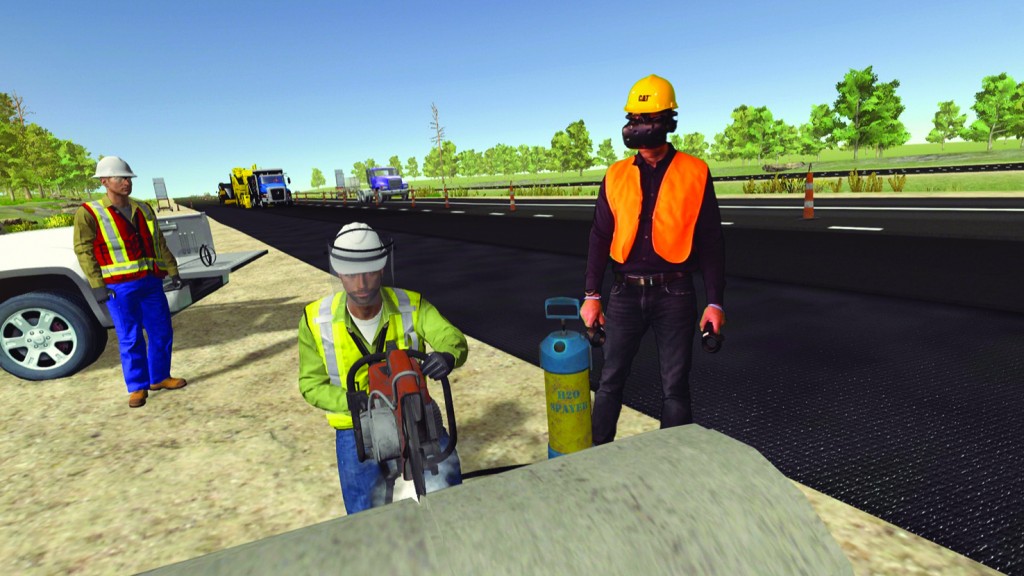 While training simulators are nothing new, advances in technology are making them more versatile, realistic and collaborative than ever. Whether it's through online collaboration with instructors and other trainees half a world away, or through experiencing a realistic, immersive environment through a headset, simulators are a safe, cost-efficient way to level up employees' skills for the jobsite. Here are some of the latest introductions in VR training.
Cat Safety VR module for paving
Caterpillar Safety Services has developed Cat Safety VR, a new virtual reality (VR) safety training module. Customized for paving applications, the new VR safety training solution immerses the trainee into a virtual four-lane rural highway construction site, where the employee learns to interact with coworkers and identify hazards in a safe and controlled environment.

Road construction jobsites are full of hazards and distractions that create risks for employees, especially new workers. In-depth training related to specific road construction hazards, the importance of following proper procedures and effective communication among workers can help to reduce safety incidents at the jobsite.

"Given the industries we serve and the hazards workers face in those industries, having a safe alternative to real-world training is important. As the workforce evolves generationally, so does the way in which training is delivered. VR is an engaging learning experience for all, and numerous studies have shown memory retention to be higher with VR than through more traditional training methods," says Zach Knoop, Caterpillar Safety Services general manager. "We developed this safety training module for one of our long-time customers, who is a world leader in the construction and maintenance of transport infrastructure. However, the program can be adapted to meet the needs of specific customers, industries and applications."

The new Cat Safety VR comes complete with everything a company needs to conduct the safety module. The kit includes a gaming laptop preloaded to run the program, HTC VIVE virtual reality headset system (including hand controls), mount stand kit and transport case. Cat Safety VR is mobile, so users can easily transport the kit anywhere to conduct training with employees.

Once they have put on the VR headset, the trainee is immersed in the virtual four-lane highway project for a site flyover and a pre-shift "huddle" with coworkers. A series of five scenarios then plays out during the training session, which is designed to show employees the many potential hazards associated with paving a highway adjacent to live traffic.

After receiving instructions from the foreman, the user advances to the taper to inspect and install traffic control devices, which helps employees to focus when encountered by unpredictable traffic travelling at a high rate of speed. Module scenarios at the paving train help the user to identify and negotiate blind spots, safely navigate around and between equipment, and improve communication with workers. As the module progresses, another setting features an excavator and coworker using a concrete saw to teach the importance of always wearing the proper personal protective equipment (PPE).

Each decision made offers positive reinforcement for the correct action or a memorable negative consequence for an unsafe choice. The training module concludes with a daily wrap-up to reinforce the positive lessons learned and stress that no production "emergency" at the jobsite is worth risking the safety of the worker or anyone else. Total program run time is approximately 20 to 30 minutes per session.

"Cat Safety VR helps the trainee learn how to interact with coworkers, other contractors and the equipment, all in a safe and controlled environment," comments Justin Ganschow, Caterpillar Safety Services business development manager. "For both new and experienced employees, VR is an effective and memorable experience to support the company's overall safety training program and advances the safety culture."
CM Labs Crane Signaller Training Station
The Signaller Training Station is a simulation-based solution. Designed to work in conjunction with CM Labs' Vortex Trainer and Advantage simulators, the Signaller Training Station allows trainers to simultaneously engage multiple students in a single exercise. While one apprentice operates a virtual crane via the Vortex simulator, another uses the Signaller Training Station to provide guidance.

The trainee signaller can move around a realistically simulated worksite to inspect the lifting area, identify potential hazards, gain a clear view of all site activity, and provide hand signals to direct the crane operator via webcam and picture-in-picture display.

Together, trainees either fail as a team or succeed as a team. The result, says CM Labs, is new operators that are simply better prepared for any worksite, as they are learning critical skills before engaging with real cranes.

"From job planning to after-action review, collaborative learning builds effective teams," said Lisa Barbieri, CM Labs' VP marketing. "CM Labs' new cooperative signaller station allows novice operators to train for effective teamwork and communications in a realistic and wholly risk-free environment."

Embedding the trainee signaller in a working simulation increases trainee engagement and motivation, she adds, making this an extremely effective platform to learn correct signaller and load positioning, proper hand signals, optimal lines of sight, and safe direction of lift operations.

Additionally, instructors can monitor the entire operation via an Instructor Operating Station that provides scoring and reporting capabilities, as well as the ability to introduce challenges such as equipment malfunctions or weather events, at any time.

The Signaller Training Station is designed for use with all CM Labs crane operator training packs, including the flat-top and luffing tower cranes, rough-terrain mobile crane and crawler crane.

CM Labs' signaller station not only reduces training costs by having team members train in tandem, reducing demands on instructors – it also makes it possible for organizations to train operators in ways that may be too risky or expensive to replicate in real life.
John Deere launches next generation of construction simulators
John Deere is rolling out new construction simulators – further bridging the gap between the classroom and jobsite. The modular update outfits the new John Deere simulators to one of six machine types: backhoe, crawler dozer, excavator, wheel loader, joystick-controlled motor grader and fingertip control motor grader.

"The next generation of John Deere simulators builds on a state-of-the-art technology that teaches machine controls, hand-eye coordination, safe operation, and operator technique," said Jon Goodney, manager learning technology, John Deere Construction & Forestry. "Simulators offer cost-effective and efficient operator training in a risk-free environment, while avoiding wear and tear on the equipment. It's a win-win for organizations looking to get the next generation of operators ready for the jobsite."

Based on actual John Deere equipment, the updated simulators feature swappable controls that allow for quick interchange of joysticks and foot pedals to multiple machine types.

The state-of-the-art software boasts highly detailed, realistic virtual environments designed to cover basic and advanced operator duties through multiple jobsite tasks. A performance function provides metrics to measure student progress, helping build proficiency and confidence.

The updated backhoe, excavator, and motor grader simulators are available this spring, while the crawler dozer and wheel loader will be available in the summer.

The new simulators can be coupled with the free online training available through John Deere University, offering a well-rounded operator training package.
Serious Labs Serious:XR collaborative worksite platform
The new Extended Reality (XR) collaborative worksite platform is designed to train and assess remote workers for plant, industrial and other types of worksite operations. The Serious:XR platform allows trainees to conduct practical and emergency operations in a safe environment, while building and assessing employee safety, efficiency and proficiency.
"Safety and competency are crucial for any worksite, but logistics, time and resources often make training a challenge," said Wade Carson, Director of Business Development, Serious Labs. "Collaborative VR training overcomes the obstacles of assessing practical, hands-on experience for today's global workforce."

The XR platform allows multiple users to collaborate remotely from anywhere in the world with other team members, trainers and subject matter experts in a simulated virtual environment. By using a VR kit which includes a corded headset, gaming laptop and internet connection, the user is immersed in a virtual world.

"Serious:XR removes physical boundaries," said Carson. "It doesn't matter if you are in Milan or Minsk, you can be in the same digital environment and collaborate in a shared virtual workspace."

Serious Labs' extensive team of VR designers have created customizable modelled environment training modules for jobsites in a variety of industries including construction, energy, plant facilities and utilities. Trainees and instructors can communicate, interact and certify in the collaborative VR environment. Experiential learning has been shown to lead to greater comprehension and retention, and the safe training environment allows the user to learn from mistakes without risk of injury or damage.

"The environment is so real looking that you forget it isn't real," said Carson. "Because you can immerse yourself that way, the virtual platform offers directly transferrable practical experience. In essence, you learn by doing."

The Serious: XR platform will be available globally in Q4 2019.