New controls and operator features for Komatsu motor grader
Low-effort control levers, steering wheel and steering lever, plus larger, more comfortable cab offer a significant improvement in operator comfort and visibility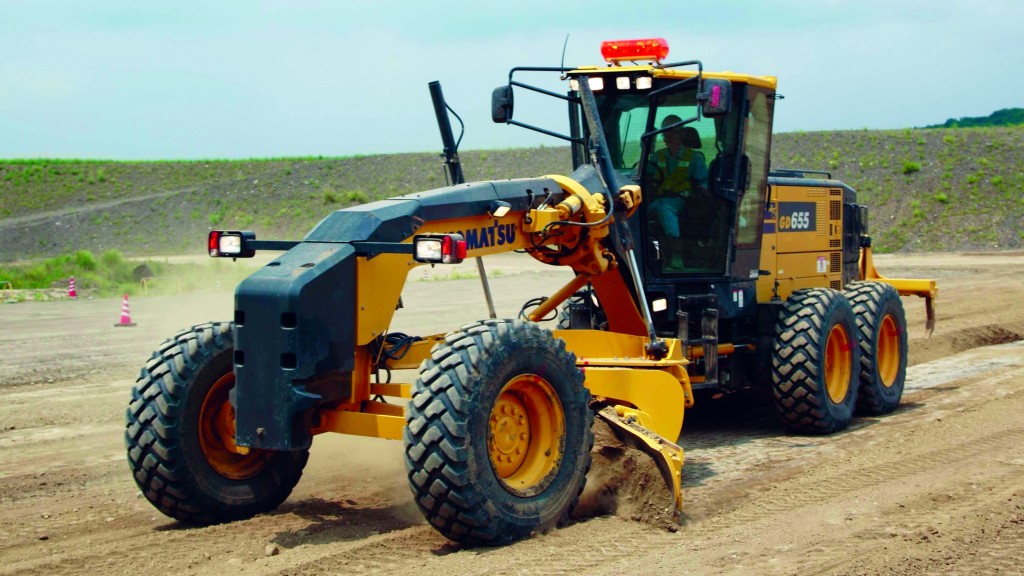 Equipped with an EPA Tier 4 Final certified emissions regulations-compliant engine, the new GD655-7 motor grader from Komatsu will be sold concurrently with the current GD655-6 model to offer customers additional choices to meet their needs.
"The GD655-7 provides operators with an all new, ergonomic working environment and the new spacious cab allows more room for operators working long days," said Bruce Boebel, senior product manager, Komatsu America.

"Operators will appreciate the new low-effort equipment and steering levers, new transmission controls and articulation stop-at-centre feature. Collectively, they significantly reduce operator fatigue," Boebel said.

Cab and control upgrades
A number of enhancements have been made on the GD655-7, starting right from the operator's hands. A new, slightly smaller but "right-sized" steering wheel is designed to provide more visibility and give the operator more room in the cab – a convenient addition for long roading sessions with the blade up. A new steering lever allows the operator to keep their hands on the low-effort, work equipment levers and make small steering adjustments, while operating without needing to turn the steering wheel.

New multi-position adjustable arm rests and LH/RH consoles have power raise/lower and mechanical fore/aft adjustments to precisely adjust to operator preferences.

A new stop-at-centre articulation feature simplifies operation. A new high-capacity air-suspension seat reduces in-cab vibrations, and an operator presence monitoring system alerts the operator if they leave the seat before the controls are properly locked out.

Under the hood, the grader's power comes from the 218-hp EPA Tier 4 Final–certified SAA6D107E-3 engine. Komatsu's two-mode, three-stage Variable Horsepower Control (VHPC) allows the selection of the appropriate mode, economy or power, to match operating parameters to application requirements for optimal fuel savings.

The Komatsu Diesel Particulate Filter (KDPF) and other aftertreatment components are designed to work in conjunction with the engine for efficiency and long life. More than 98 percent of KDPF regeneration is performed passively, with no action required of the operator and no interference with machine operation.

Improvements to the power train include a new transmission shift lever with finger-operated forward-neutral-reverse switch; this simplifies operation and dramatically reduces required hand movement. Komatsu's power shift transmission, designed and built specifically for Komatsu graders, provides on-the-go, full power shifting, as well as inching capability and automatic shifting in the higher ranges.

Dual-mode transmission adds benefits
A dual-mode transmission (eight forward, four reverse) allows operators to benefit from the high travel speeds and reduced fuel consumption of a direct drive, as well as the increased tractive effort and control of a torque converter. An inching pedal gives the operator precise control of machine movement. A full locking differential provides the traction required in the most severe operating conditions.

The pioneering KOMTRAX system and monitor provides machine metrics, including KDPF status and DEF-level data, fuel consumption, plus performance information collected and sorted by operator ID.

The GD655-7 comes with a wide range of standard features. It is grade control and Topcon 3D-MC plug-and-play ready with no aftermarket valve required.

Two five-section hydraulic control valves are standard, enabling the addition of attachments, and are strategically located to improve forward visibility. The closed-centre Load Sensing (CLSS) hydraulic system, with variable displacement pump, supplies flow and pressure only when required, resulting in less heat and lower fuel consumption.

Blade lift accumulators absorb shocks when the moldboard hits immovable objects. The grader features a circle slip clutch for accidental contact with hidden objects with the moldboard. Greaseless circle wear plates ensure long life.

The grader is equipped with a seven-inch full-colour high-resolution monitor with Ecology Guidance, and also has a separate full-colour rearview monitoring system.

Komatsu has designed the GD655-7 with serviceability in mind. A reversible, variable speed hydraulic fan blows out dust accumulation in the cooler. The machine is equipped with completely sealed and adjustment-free hydraulically actuated wet disc brakes. Fuel and DEF fills are accessible from ground level, as are engine fills and drains.

All Komatsu GD655-7 units come with Komatsu CARE. Komatsu CARE provides scheduled factory maintenance for the first 2,000 hours or three years including a 50-point inspection at each service, and two complimentary KDPF exchanges in the first five years.
Related Articles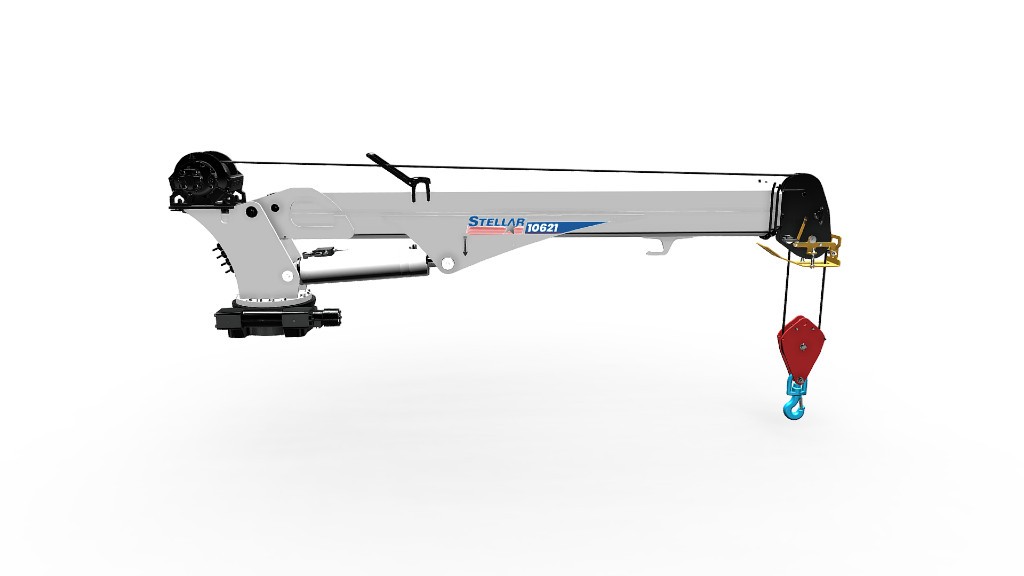 Six new Stellar telescopic service cranes feature redesigned booms and radio remote controls