How technology is boosting cold milling productivity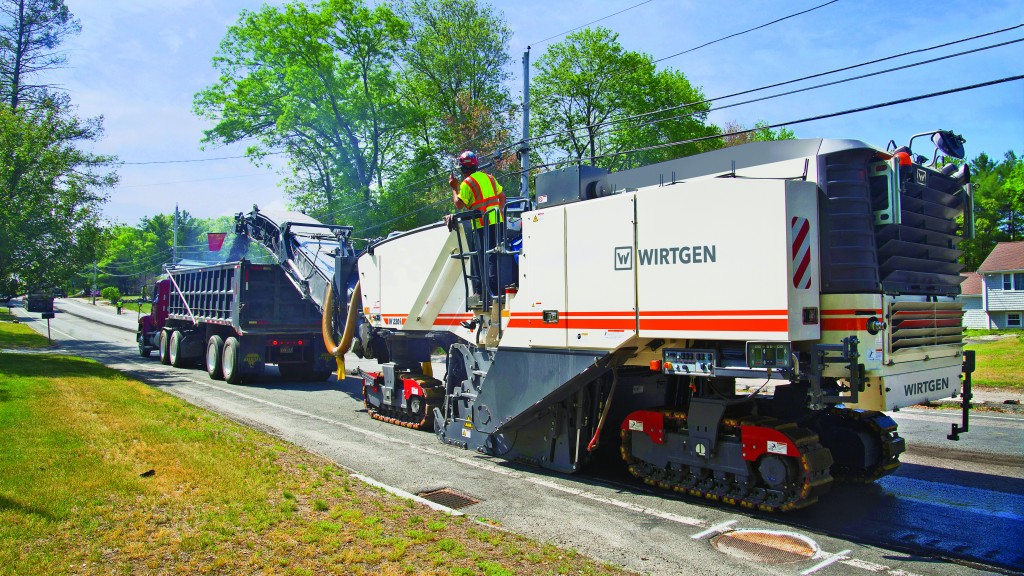 Asphalt milling, asphalt grinding and asphalt planing describe the same process by which weathered, oxidized asphalt pavement is removed from a driving surface in varying depths, as specified, done in advance of a fresh asphalt overlay or pavement preservation treatment.
There are powerful environmental advantages to asphalt milling. The product of asphalt milling - reclaimed asphalt pavement (RAP) - is removed and stockpiled, prior to processing into engineered aggregates that are specified for future asphalt mixes.

Instead of sending the RAP to the landfill - as was the case a few decades earlier - reuse of RAP utilizes existing aggregates that have already been surveyed, acquired, permitted, shot, crushed, screened and stockpiled.

Use of RAP preserves virgin aggregates for more critical applications, conserving quarry reserves. RAP also contains residual asphalt which substitutes for virgin asphalt binder in varying amounts, also saving natural resources. Costs to taxpayers are reduced while natural resources are conserved.

Not too long ago, the milling process was considered a necessary evil, in which the paving contractor was forced to mill from time to time to correct a curb line, or scarify a bridge deck.

In the 1970s, asphalt mills were simply drums mounted on motor graders. The first dedicated milling machine in the United States was developed in 1974.

It was derived from a rear load dirt trimmer that had a conical tooth drum installed in lieu of a spade tooth drum, to cut both concrete and asphalt.

In Europe "hot" milling was started in the early 1970s by Wirtgen GmbH, in which asphalt was preheated ahead of the milling process. Then, after preheating, the milling machine would cut the softened, heated asphalt.

In the mid-1970s, Wirtgen began the transition to cold milling, and in 1978 adapted carbide tools for mining to cold milling, which launched the modern era. In 1979 the Wirtgen 2200 C on three tracks was introduced, followed in 1980 by the 2600 C, the first track-mounted large cold milling machine with a milling width of up to 2.6 metres, or 8.5 feet. In 1984 the 2000 VC was introduced, the first cold milling machine with front-loading conveyor.

A machine that would cut 50 mm (2 inches) in the 1980s at 9 metres per minute (30 fpm) has been replaced by one that can cut up to, and over, 30.5 metres per minute (100 fpm) today.
Thirty years ago, you would mill for an hour or two, then have to work on the machine for an hour. Today's machines are much more reliable, and downtime is minimal.

Early-on cold mills were equipped with hydraulic sensors. Although those systems were very reliable, today's milling - with its need to establish a super-smooth substrate for super-smooth HMA pavements - requires a more sophisticated system. Today you can read out dual grade, grade-and-slope, stringline sensing, averaging, laser-reference, and GPS coordinates. One ground man could easily control the grade from either side of the machine, compared to always having two ground men in the past.

Today, contractors seek versatility of machine application to leverage productivity and profitability. Added machine flexibility and utilization means more dollars and higher profits. The most significant technology advance has been the new ability to use one machine for multiple applications.

For example, today you can buy a machine on which a contractor can quickly change cutter patterns, from perhaps a 16 mm (5/8-inch) spacing to a 6.35 mm (1/4-inch) spacing to fit particular jobsite requirements. You can also fit smaller cutter widths into the same unit to cut a smaller-width cut instead of having to acquire or rent a whole new machine to do that width.

Tips for productive milling
The right machine is essential to a profitable milling project, but there are other elements of a project that will boost productivity. Here are a few of my observations:

• Keep crew and cold mill together. It's important that an owner keep his crew with a machine as long as he can. It's not a good idea to send the crew back to the union hall at the end of the year, and get a new operator and crew the next year that has to be trained all over again on that machine.

When crews stay on a machine month after month, year after year, they understand it, they know what to do on the machine to keep it up and running, they have memory and records of any issues or problems with the machine. Having new crews all the time is not good for a milling operation. The best crews are those that have been with the machine for the life of the machine.

• Truck management. Beyond the cold mill itself, effective truck management will boost productivity of a milling operation. Operators need to be smart when it comes to managing trucks. Today's machines have high productivity, and if you don't have the right number of trucks for that that machine to feed and keep it running steady, you will be inefficient. The milling operation should actually mill and load trucks at least 40 to 45 minutes out of the hour.

Therefore the operator needs to balance the trucks, pace himself a bit, and keep the machine running steady. That's instead of running the machine wide open, then waiting 15 to 30 minutes for trucks to return.

It makes no difference if the trucks are owned by the milling company, or provided by the prime contractor. Instead it's a communications issue. The operator needs to meet and communicate with the prime contractor, giving him an idea of how productive his cold mill is, and based on that, weigh out the number of trucks that will be needed.

• Consistency of speed is also important. The more consistent a machine's speed, the better off the operator will be. It doesn't make sense to run at full speed, slow down and stop, change trucks, and run at full speed again. That changes the milling pattern significantly; you are better off running at a slower, more consistent speed, as it will result in a lot more precise pattern or texture of cut, and that will benefit the paving operation.

• Water on the fly. Another way of keeping the machine moving is adding water, used to cool the drum and suppress dust, "on-the-fly," without stopping. While the mill moves forward, a water truck moves parallel with the machine, filling its water tank.
Better cutting tools
Wirtgen's market position in cold milling machines is based on its core competence in cutting technology. This covers everything from low-wear cutting tools and the various toolholder systems, all the way to complete milling drums of diverse designs.

All components are specifically tailored to fit the milling machine in which they are used. In addition to the comprehensive range of standard and optional milling drums, Wirtgen offers its customers the design and manufacture of special, customized milling drums.
One example is the new PCD milling tools introduced at World of Asphalt 2019. PCD (polycrystalline diamond) is a highly sophisticated, synthetically manufactured, strong mass of carbon and carbide. The PCD tip consists of differing layers: a concentrate of diamond particles in the upper layer, the interlayers and a tungsten carbide substrate.

PCD cutting tools are particularly suitable for surface layer rehabilitation thanks to their up-to-date tool geometry and material. The very slight lengthwise wear ensures optimum evenness over the milled surface and consistently high machine feed. Depending on the application, PCD milling tools are a useful addition to the existing pick range featuring conventional carbide tips.

Wirtgen FCS light (Flexible Cutter System) allows for the rapid, easy exchange of same-width milling drums, typically in less than two hours. One machine can be used for a broad range of applications with minimal downtime when exchanging drums.

Wirtgen FCS light flexibility is uniquely suited for PCD tool technology as conventional carbide tools may be more economical for some applications while PCD tools may be more economical for others. Wirtgen FCS light provides opportunity for contractors to have the best of both worlds in one machine.
Machines that perform
Beyond the cutting tools, other advanced milling technologies are organic to the machine itself.
Via new microprocessor-controlled enhancements to machine control systems, Wirtgen's WIDRIVE machine management system handles many tasks for the operator in automatic process chains, making it easy to learn how to operate and control Wirtgen mills.

On some mills an optional camera system with two or six cameras is also available to monitor up to six working areas, like the rear of the machine or view into truck hopper, on the control display. A built-in tonnage calculator is available.

Wirtgen mills incorporate the Level Pro and Level Pro Plus system, Wirtgen's existing automatic leveling system which is highly user-friendly - designed for the milling crew - and regulates the pre-set milling depth and actual readout electronically.

Those leveling systems are instrumental in Wirtgen's exclusive Parallel-to-Surface (PTS) system, which provides precise compliance with working depth, automatically aligning equipped mills parallel to the road surface, ensuring simple, accurate operation of the machine in demanding profiling jobs.

PTS also assists the operator in positioning the machine in the milled cut to initiate the milling process. In automatic mode, the system takes care of all the steps that the operator would otherwise need to select manually, one after another.

With PTS, the operator activates the leveling system at the flick of a switch, and all four crawler track units of the large milling machine are lowered simultaneously at high speed. When the milling drum unit reaches the surface to be milled, the lowering speed is reduced and the milling drum slowly penetrates the material down to the set depth. The automatic process helps to prevent excessive cutting tool wear or even tool failure when milling starts.

Level Pro and Level Pro Plus also are integral to Wirtgen's Intelligent Speed Control system, which incorporates an electronic flow divider that makes the four tracks work in harmony when turning a radius, making for a smoother cut via electronic track control.

The "wasp waist" frame of these cold mills puts the operator in a safe position, with an excellent line of sight to the machine cut edge. This design narrows the machine's midsection at the critical viewing area on both the left and right sides.

Other innovations include sophisticated joystick steering, and LED indicators for communicating with truck drivers.

Managing fuel consumption
Today, three selectable drum speeds allow the operator to apply the maximum productive effort and reduce tooth consumption at the same time. Engine rpm varies with machine application loads to reduce fuel consumption. Extra-wide drum widths are available; the W 250i can cut at widths from 2200 mm (7.2 feet) for conventional milling to 4400 mm (14.4 feet) for full-lane milling.

The W 210i and W 250i Dual Motor Concept is the ultimate in "more power, less fuel" technology. The operator can select between one motor and two motors, depending on the type and hardness of the material cut, and only run one motor when not milling during transport, or walking the machine in or out of the cut. This can give up to 18 to 20 percent savings in annual fuel consumption.

For decades, fuel costs have driven innovations in cold mills. Today manufacturers are working on ways to get more power with less fuel. Use of tomorrow's machines will result in a cleaner application than in the past. Machines will be safer to operate, more environmentally friendly, and even more reliable than now.

Tom Chastain is applications specialist with Wirtgen America Inc.