Volvo CE inaugurates $100 million North American expansion
First US-built wheel loaders roll off new assembly line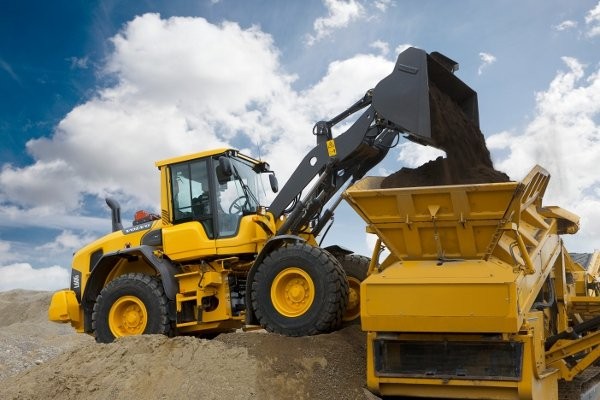 On March 21, 2013, Volvo Construction Equipment (Volvo CE) cut the ribbon on its $100 million expansion program at its Shippensburg, Pennsylvania, facility. In addition to being the official opening of the new headquarters building for the Americas, the event also marked the start of wheel loader production at the company's North American base in Shippensburg.
Joining Volvo CE President Pat Olney at the inauguration ceremony were United States Federal Highway Administrator Victor Mendez, Pennsylvania Department of Community and Economic Development Secretary Alan Walker and Swedish Ambassador to the United States Jonas Hafström, along with 1,000 employees and many other distinguished guests.
Volvo says the investment affirms their long-term confidence in the North American market, which the company called the 2nd largest in the world, and consolidates its North American operations onto one site. The opening of the new Silver LEED certified building in Shippensburg (one of only four manufacturing facilities in the U.S. with this designation) marks the culmination of $130 million in investment in North America over the last five years and the successful relocation of the Volvo CE sales office from Asheville, North Carolina to Pennsylvania.
"This should serve as a very clear signal that Volvo CE is committed to this market and in a better position than ever before to offer our customers products that are made by Americans, for Americans," said Volvo CE President Pat Olney. "Longer term, building machines closer to our customers will have a positive impact for U.S.-based suppliers, who will gain more business; for customers, who will enjoy shorter lead times; and for Volvo CE, which will be less exposed to currency swings."
Wheel loader production at Shippensburg will initially start for the L60-L90 range of loaders, which range in operating weight from 12,000 kg (26,455 pounds) to 15,310 kg (33,753 pounds), with power from 120 kW (161 hp) @ 1,400 rpm to 129kW (173 hp) @ 1,400 rpm, and bucket volume from 1.9 to 7 cubic metres (2.5 to 9.2 cubic yards). All models are Tier 4i engine compliant, and feature higher torque, horsepower and breakout force compared to previous models. The plant assembly line is currently up and running, with capacity for six units per day, with eventual capacity increasing to 12 per day.
"These machines are in high demand in North America," said Sean Glennon, VP of operations at the Shippensburg facility. "The investment we make in these smaller models will allow us to eventually launch into the bigger machines and meet a wider scope of customer needs."
At the event's press conference, Mr. Olney emphasized their global strategy towards localized production which will help the company become more flexible and responsive to its customers in all regions, including Russia, China, India and Brazil. As part of the $100 M investment in the U.S, Volvo CE also announced future plans to open a customer centre in the area, in 2014. The new Americas headquarters in Pennsylvania, along with operations in Brazil, will serve the North and Latin American business of Volvo Construction Equipment.
Volvo is one of the construction equipment manufacturing industry's longest operating companies, with 2012 marking 180 years of production. The Shippensburg facility itself has been committed to producing construction equipment for nearly 40 years. Volvo CE acquired the business from Ingersoll Rand in April 2007. A $30 million, 200,000 square foot expansion was completed in June 2010 and included a new assembly hall and materials building. The office expansion, which opened in March, adds an additional 36,000 square feet, and two smaller production buildings, opening in April, will provide a further 37,000 square feet, bringing the total size of the expanded facility to 650,000 square feet.
Today, the site employs more than 1,000 employees from nearly 20 countries, together working in operations, technology, sales & marketing, and customer support. In addition to wheel loaders, the Shippensburg facility also makes more than 50 models of road machinery, including soil and asphalt compactors, motor graders, pavers, screeds, and milling machines. Future plans include the manufacture of the company's entire range of equipment out of Shippensburg.
Mr. Olney confirmed that despite the prediction of a broadly flat market during 2013, Volvo Construction Equipment (Volvo CE) views North America as a home "core" market and an important one for the future. He outlined the importance of the company's global investment strategy, one that has resulted in more than $600 million of investments in recent years.
"The North American market has been challenging for a number of years but last year saw an improvement over the year before," Mr. Olney said. "While we feel the economic climate points towards a flat development in the short term, we also see an upside going forward. The investment we are unveiling today is a sign of our long-term confidence in North America and our commitment to the market here."
During the event's press conference, Mr. Olney also asserted the company's support for recent statements from the administration in Washington and various members of Congress in favor of various governmental initiatives that have been launched recently to promote long-term funding for infrastructure projects in the U.S.