Know what utility products can do for you
In addition to utility vehicles, there's also a utility work machine option for contractors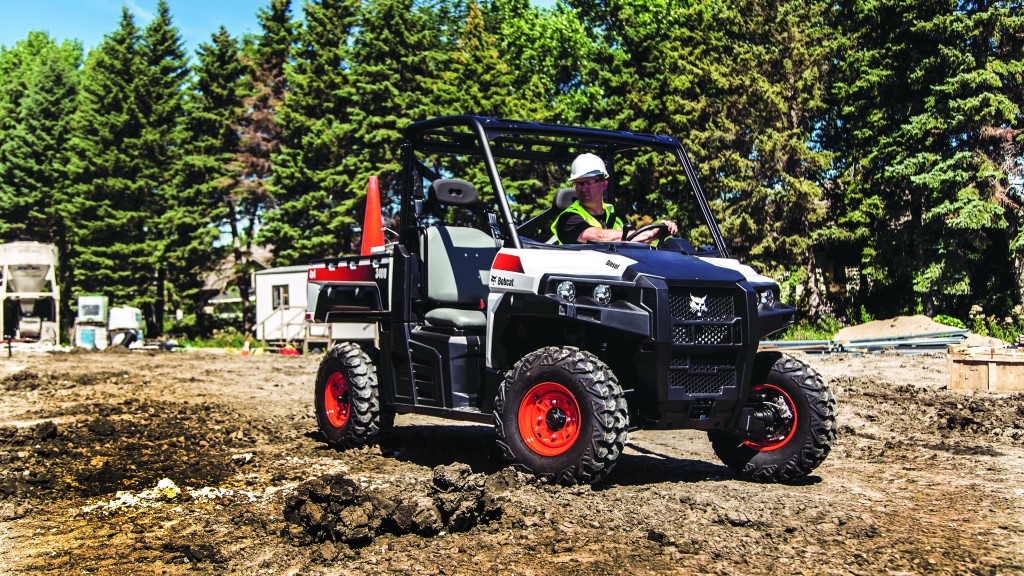 It's not uncommon to see compact loaders and compact excavators in a contractor's equipment fleet. As utility products become more versatile with the addition of attachment capabilities, an increasing number of contractors are taking a second look at these machines to increase their jobsite productivity.
User-friendly
Utility products have long been popular machines for people in many different market segments. They are an ideal machine to transport people, tools and materials. A big part of utility products' appeal is that they're user-friendly. Automotive features such as a steering wheel, foot accelerator and foot brake make it an easy transition for just about anyone to operate a utility vehicle.

And when compared to ATVs, utility products – like utility vehicles – are able to carry and tow more weight. For example, the average two-passenger utility vehicle weighs just over 1,600 pounds and can carry up to 1,250 pounds of cargo while travelling up to 35 mph. To help satisfy customers' demands, manufacturers have introduced several varieties of utility products. Contractors can choose from 4x4 two-passenger utility vehicles or 4x4 four- and six-passenger utility vehicles. Multi-passenger utility vehicles could be used as a compact alternative to larger pickup trucks on jobsites.

In addition to utility vehicles, there's also a utility work machine option for contractors. These machines are ideal for contractors who need all the functionality of a utility vehicle, but more muscle and power. A utility work machine is larger than a utility vehicle, weighing a little less than 6,000 pounds, and it has a cargo capacity between 1,500 to 4,200 pounds. A utility work machine can also do more with the utilization of more than 40 front-mounted attachments.

Utility work machines provide exceptional maneuverability for contractors working in confined areas. With the press of a button, operators can switch from front-wheel steer into all-wheel steer mode. Four steerable axles provide a tighter turning radius of 17.5 feet, which is better than a compact tractor, utility vehicle or pickup truck. All-wheel steer also minimizes tire wear while working on asphalt or concrete, and it protects sensitive surfaces such as grass or turf.

If you're a contractor who already owns a utility vehicle, it's not hard to transform it into your jobsite's new workhorse. Different drive modes help operators best match the conditions to the vehicle. There are also several winch-accessory and front- or rear-receiver hitch kits available on the market for utility vehicles. These kits make it relatively easy for owners to connect push-, pull- and lift-type attachments.

For construction, two main attachments are buckets and pallet forks. Other popular ones are a snow blade and mower, says Chris Austinson, utility vehicle and utility work machine product specialist for Bobcat Company.
Attachments add versatility
So how do you know if utility vehicle and utility work machine attachments are right for you? And if they are, how do you decide which attachments to purchase? First, Austinson suggests that contractors determine how they'll use their utility products and the types of jobs they want it to take on. As with any equipment purchase, the efficiency or productivity that the attachment provides should outweigh its cost.

For many contractors who place an attachment on their utility product for the first time, safety becomes an even greater concern. Austinson advises utility product owners to always be aware of what's around them when operating the machine with an attachment. And as always, they should wear their seat belts and familiarize themselves with vehicle and attachment owner's manuals.

In the coming years, Austinson says people shouldn't be surprised if they see more upgrades to utility products. As customers demand more power and versatility from what was once known as a "recreational" vehicle, manufacturers will answer the call. They may never take the place of a compact utility loader or skid-steer loader but gone are the days when they were only expected to transport people and things.
Company info
Related products