Teamup on the tracks: Mecalac and Pettibone partnership produces railroad excavator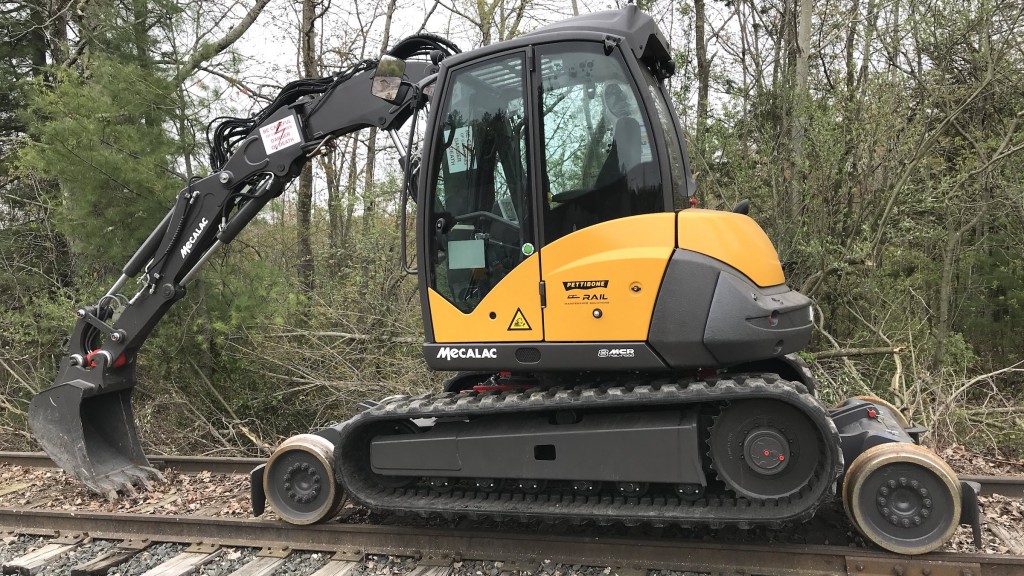 Pettibone, manufacturer of the Speed Swing rail maintenance crane, has partnered with Mecalac to provide sales and service support in North America for the Mecalac 8MCR Rail-Road, a compact crawler excavator that is purpose built with factory-installed hi-rails for railway maintenance and service work.
In addition to digging, the 8MCR Rail-Road excavator is also designed to provide outstanding lifting and handling functions for its size class with appropriate attachments. For instance, the machine can lift 6,600 pounds at 8.2 feet from the centre of the rails or 2,200 pounds at 14.8 feet in a full 360-degree radius.
The Mecalac machine can also be used as a skid steer, but with the unique capability of 360-degree rotation that allows material to be moved anywhere it's needed while the unit stays firmly on the track. Its versatility allows it to be equipped with several attachments typically only used with larger machines, such as a railway clamshell or ballast tamping head.
Designed for exceptional efficiency, the 8MCR Rail-Road boasts higher speeds than other rail-operated excavators, moving up to 14.3 mph on rail and 6.2 mph with tires on the ground. With no counterweight in the rear field of vision, the excavator provides the operator with natural 360-degree visibility. The unit is powered by a 75-hp Deutz Tier 4 diesel engine.
Unlike many converted machines on the market, the 8MCR Rail-Road has a 3-piece boom with integrated offset that is specially designed for rail jobs. In particular, it maintains excellent boom movement and load capacity when reaching out far or when working very close to the machine. The unit also offers swing and height limitation systems that allow the operator to control maximum swing and boom movement. This makes it an advantageous solution for working in tunnels or other tight spaces.
The patented 3-piece boom design provides extraordinary weight distribution by moving on a wide angle while moving forward and backwards on the machine. Additionally, the arm cylinder is located under the boom rather than on top of it, providing more efficiency for both loading and lifting capabilities. Featuring unique boom kinematics, the unit can reach well below grade while maintaining a level plane for lifting forks, allowing it to safely handle loads even when working from an elevated track.
"We are very excited to work with our partners at Pettibone to offer the 8MCR Rail-Road to the North American rail market," said Bruno Chaleon, special application manager for Mecalac. "Pettibone has a well-deserved reputation for providing exceptional service and support, and we look forward to a successful long-term relationship."
"Mecalac and Pettibone are family-owned companies that share similar values and goals," said Kyle Rubin, director of sales and marketing for Pettibone. "Much like the ongoing development that has gone into our industry-original Speed Swing, Mecalac prides itself on innovating products that match true customer needs on the jobsite – and this purpose-built rail excavator does exactly that. It's a great fit for Pettibone as we aim to deliver new rail solutions to our customers."
Company info
Related products