Innovation, improvements added to 2020 GMC Sierra 1500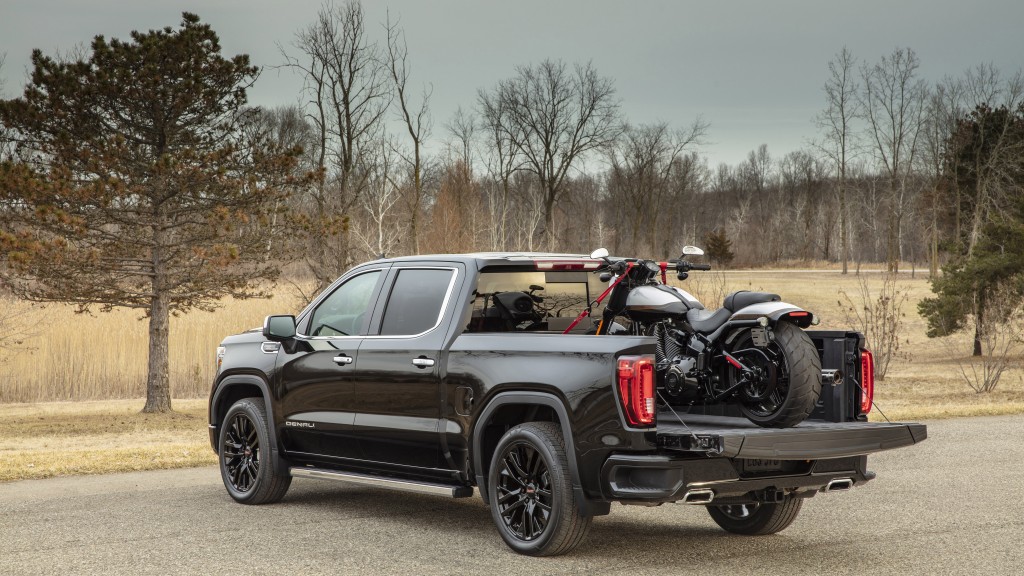 GMC is taking premium to the next level with all new availability for a carbon fibre bed, 3.0L Duramax turbo-diesel and 10 speed automatic transmission, plus additional technology like Adaptive Cruise Control - Camera to elevate the ownership experience in the 2020 Sierra 1500. The updates add to a robust portfolio of technologies that deliver an innovative and premium ownership experience.
"The Sierra is delivering the tech customers want in the light-duty truck market, and the 2020 model demonstrates that Professional Grade means never slowing down," said Duncan Aldred, vice president of Global GMC. "In just its first year on the market, the 2019 Sierra introduced the available, industry-first MultiPro tailgate. The truck's 2020 updates show how the Sierra continues to raise the bar year in and year out."
The Sierra 1500's updates include the following:
Available Enhanced ProGrade Trailering features a segment-first transparent trailer view, originally introduced on the soon-to-launch 2020 Sierra HD, with a segment-leading 15 total available camera views.
Available Adaptive Cruise Control - Camera.
3.0L Duramax turbo-diesel and the CarbonPro Editions with the carbon fibre bed.
10-speed automatic transmission availability expands to 5.3L V-8 models (SLT, AT4 and Denali models with 4WD).
New trailer tow mirrors are available as a free-flow option.
8-inch-diagonal infotainment system now capable of supporting SiriusXM with 360L (if equipped).
Towing technology
The GMC Sierra already features an innovative suite of towing technologies that enable an exceptional light-duty towing experience. For 2020, the Sierra 1500 will be available with the upgraded ProGrade Trailering System introduced earlier this year on the 2020 Sierra HD. The updated system brings more camera views and in-vehicle Trailering App enhancements designed to simplify and streamline the trailering process.
The ProGrade Trailering System now features an available class-leading 15 unique camera views, including a segment-first transparent trailer view to help optimize the driver's view around the truck and compatible trailers to provide added confidence when towing. New for 2020, the available transparent trailer view uses the tailgate-mounted camera and an available accessory camera mounted on the rear of the trailer. The resulting display helps the driver to virtually see through the trailer, benefiting drivers when navigating parking lots, merging into traffic and making tight turns.
The in-vehicle Trailering App has updated features and enhanced mobile integration for 2020. Owners will now be able to create and edit trailer profiles through the myGMC mobile app and load them into their Sierra, saving time when hooking up for the first time. Owners will also have the option of making a trailer profile shareable for easy transfer of trailer specs. The in-vehicle Trailering App will now also send maintenance reminders and trailer mileage information to an owner's phone, available for viewing through the myGMC mobile app.
Also new for 2020, the Sierra 1500 will feature available smart trailer technology designed to allow access to select features of the iN∙Command Control System from ASA Electronics through the myGMC mobile app, either on compatible Android and iOS smartphones or on the vehicle's infotainment system via Apple CarPlay or Android Auto compatibility. Depending on how a compatibly equipped trailer is configured, owners of the 2020 Sierra 1500 may be able to turn on the trailer's air conditioning or water heater, check water and holding tank levels, or monitor fuel levels on trailers equipped with generators — all before arriving at their destination.
Technology enhancements
For 2020, the Sierra also receives Adaptive Cruise Control - Camera available on SLT, AT4 and Denali trim levels. The system features a single high-mounted camera behind the rearview mirror and can bring the Sierra to a complete stop.
The 2020 Sierra is also capable of supporting SiriusXM's next generation audio entertainment platform. Available SiriusXM with 360L combines satellite and streaming to deliver more channels and choices than before, giving drivers and their passengers more control over what they listen to and when, and improving listeners' ability to discover more great content across SiriusXM.
Propulsion system advancements
New for 2020, the 10-speed automatic transmission is now offered with the 5.3LV-8 with Dynamic Fuel Management. The 5.3L V-8 and 10-speed automatic pairing will be standard on the Sierra Denali and Sierra AT4 and available on all four-wheel drive Sierras with the SLE trim level and above. The 10-speed automatic has more gears for more ratios, giving Sierra refined performance and outstanding shift quality.
The previously announced available 3.0L Duramax inline-six turbo-diesel engine will pair with the 10-speed automatic as well, bringing class-leading horsepower and torque figures. The 3.0L Duramax produces an SAE-certified 277 horsepower and 624 Nm (460 lb-ft) of torque.
Beyond delivering class-leading figures, the inherently balanced nature of an inline-six engine also delivers remarkable on-road refinement, perfect for Sierra Denali owners who expect Professional Grade refinement in every aspect of their truck.
The 3.0L Duramax delivers the maximum 624 Nm (460 lb-ft) of torque at just 1500 rpm, perfectly suiting the engine for off-road use in the Sierra AT4. That amount of torque at such a low engine speed — and the truck's driving range — adds another level of capability to the Sierra's most off-road-focused package ever.
The 3.0L Duramax will be available on Denali, AT4, SLT, Elevation and SLE models.
Continued technological excellence
The Sierra continues to offer a multitude of innovative features, including:
World's first MultiPro Tailgate­ - The most innovative pickup tailgate ever, with six unique functions and positions offering enhanced second-tier loading and load-stop solutions, a standing workstation and easy access to items in the box.
GMC-exclusive CarbonPro Pickup Box - The industry's first carbon fiber pickup box, developed to increase durability, efficiency and functionality while offering best-in-class dent, scratch and corrosion resistance.
Multi-Colour Head-Up Display - This segment-first Head-Up Display projects key, customizable vehicle data on the windshield on a 15-inch-diagonal display.
Rear Camera Mirror - The segment-first Rear Camera Mirror offers an available dual-function interior rearview mirror with a camera view display that provides a wide view unobstructed by common visual obstructions like occupants or cargo. This next generation system features the ability to tilt or zoom the view.
The 2020 Sierra Denali features an Adaptive Ride Control suspension system designed to provide premium driving refinement with exceptional responsiveness. It provides continuous ride damping by employing sophisticated sensors to monitor road conditions and chassis responses in real time, enabling adjustments to active dampers every two milliseconds.