Key crane introductions from bauma 2019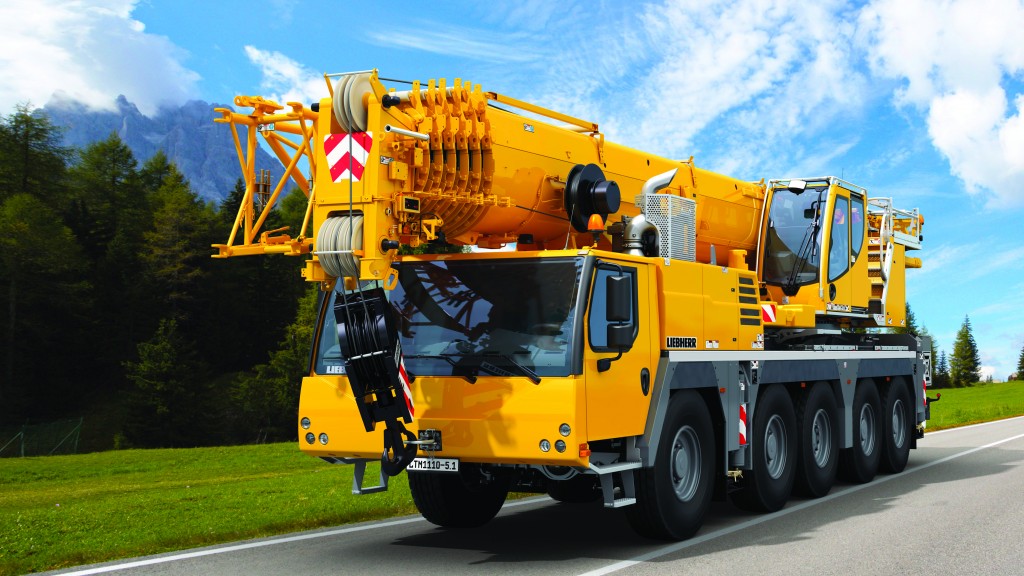 There were many key introductions from big players in the crane segment at bauma 2019. Here are a few of the highlights.

Liebherr mobile crane
Liebherr's LTM 1110-5.1 is a 110-tonne mobile crane with a 60-metre telescopic boom and is designed for variable axle loads.

This five-axle crane achieves axle loads of 12 tonnes with 13.1 tonnes of ballast, but can also be driven with a gross weight of less than 48 tonnes with a maximum axle load of 10 tonnes. With its maximum ballast of 28.7 tonnes, it remains below an axle load of 15.5 tonnes. A quick-change system for the ballast slabs ensures maximum flexibility for modifications. The variable support base VarioBase delivers particularly high load capacities with its widened rear supports. Liebherr calls it VarioBase Plus.

Although the new LTM 1110-5.1 has a lightweight construction that achieves a gross weight of 48 tonnes with axle loads of less than 10 tonnes, its 60-metre telescopic boom and maximum ballast of just 28.7 tonnes enable it to rival the performance of similar mobile cranes on the market. Even in countries where mobile cranes with a 12-tonne axle load are permitted on the roads, crane operators have for some time been demanding cranes which can be driven with 10 tonnes per axle by simply removing the ballast. This version delivers major benefits for road licensing and route approval procedures.

The ability to carry up to 13.1 tonnes of counterweights with an axle weight of 12 tonnes on a 5-axle crane means that operators can complete the vast majority of crane jobs at low cost without having to transport additional ballast. The rear supports have a double-stage design and achieve a support width of 8.3 metres, 1.3 metres wider than the front supports. This increases the capacity over the rear supports even more. Liebherr calls the combination of the trapezoidal and variable support base VarioBase Plus.

With a length of 60 metres, the telescopic boom on the LTM 1110-5.1 is one of the longest in its crane class. In addition, a 10.8- to 19-metre folding jib is available which, as an option, can also be adjusted hydraulically between 0 and 40 degrees. Two 7-metre lattice sections can also be installed to extend the telescopic boom to achieve the maximum hook height. This means that the new 110-tonne mobile crane achieves the same system length as the LTM 1130-5.1. A 2.9-metre erection jib and a runner, which can be swung to the side, round off the equipment list.

A six-cylinder Liebherr diesel engine in the undercarriage offers 400 kW / 544 bhp and torque of 2,516 Nm. The engine meets Stage V emissions requirements and can be built to comply with Tier 4 Final requirements for North America.

The new ZF-TraXon gearbox is used to transmit power to the crane's axles. As with its predecessor, the AS-Tronic, the 12 gears are changed automatically. ECOdrive is a new feature and Hillstart Aid makes starting on gradients easier.

Liebherr has continued its single-engine strategy on the new crane with a mechanical driving unit for the superstructure. This reduces weight from the predecessor models, allowing for a longer boom and more ballast with an axle load of 12 tonnes.
ECOmode for crane operations reduces fuel consumption and noise.

Grove rough-terrain cranes
Grove showed two new rough-terrain models at bauma. The GRT8100 has a 100-t capacity and 47-m five-section main boom which provides better reach and greater versatility. The crane also features the Manitowoc Crane Control System (CCS) with its user-friendly interface. Other features include a tilting cab and impressive load charts.

With a full complement of boom extension and insert options, the GRT8100 has reach of 77 metres. Both 10- and 17-metre manual and hydraulic offsettable extensions are available as well as a heavy-duty 3-metre jib that can be offset to 40 degrees.

The GRT655L is a smaller, 51-tonne-capacity crane. It has a 43-metre, five-section boom, which the company says gives it a reach advantage of 8 metres over the closest-competing model. This longer boom gives it a maximum working radius of 36 metres and an 80 percent greater chart capacity than competing cranes at that radius. Grove also offers a regular boom version of the crane, the GRT655, with a total main boom length of 34.8 metres.
Terex rough-terrain crane
The Terex RT 100US (RT 90 in Europe) rough-terrain model offers a five-section, fully hydraulic boom that extends to 47 metres. A 17-metre bi-fold jib further enhances the reach and versatility of the crane. Maximum capacity is 95 tons. Designed for easy operation, the Terex RT 100US features a control system with integrated diagnostics, a new ergonomic cab design with an 18-degree tilt and an easy-to-access flat deck for safety, superior usability and comfort.

The Terex RT 100US crane also features four steering modes, including two-wheel, four-wheel, crab and independent rear axle steering.

It has a narrow width of just 3 metres and a removable counterweight, which allows it to be trailered without weight and width restrictions in most situations.

Tadano rough-terrain crane
The GR-1200XL has a maximum lifting capacity of 120 tons (110 tonnes) and features a 183.7-foot-long (56-metre) boom.

The GR-1200XL has the largest maximum lifting capacity in Tadano's rough-terrain crane product line. Its strong yet light, high-tensile steel, rounded boom features a single telescopic cylinder. It gives the crane a 184.0-foot (56.1 metre) lifting height and 150.0-foot (45.7-metre) load radius. Its jib provides additional reach, extending the lifting height to 241.4 feet (73.6 metres) with a load radius of 159.0 feet (48.4 metres). The GR-1200XL rig's ease of transport and on-site maneuverability are largely due to its compact carrier size. Overall rig length is 47 feet 5 inches (14,450 mm), but its carrier is just 28 feet 5 inches (8,655 mm) long.

Additional features include HELLO-NET telematics and Tadano's new Smart Chart system. HELLO-NET telematics help customers optimize their operations with real-time monitoring of crane activity, history, position data and maintenance information.
This crane features Tadano's Eco-Mode fuel monitoring system and Positive Control. Eco-Mode reduces fuel consumption while the crane is operated. Positive Control economizes fuel consumption while the crane is on standby.
Demag City crane for use in confined spaces
The AC 45 City is a 3-axle crane that offers compactness and a 45-tonne lifting capacity class. Total length is 8.68 metres, width is 2.55 metres, and height is 3.16 metres. Since the base section of its fully hydraulic main boom is also compact with its length of 7.80 metres, the AC 45 City is also able to work in buildings with a relatively low clearance while still keeping its boom at a steep angle. It has a fully hydraulic 31.2-metre main boom. Configuration flexibility makes it possible to customize the crane perfectly for different job requirements. In addition, the Demag AC 45 City also comes with features such as an axle load indicator, a hook height indicator, cruise control, and cameras for load, hook and hoist monitoring and for backing up. Remote radio control and storage boxes are included as well.
The IC-1 Plus control system determines the crane's lifting capacity for every boom position as a function of the superstructure's slewing angle in real time. This means that the lifting capacity for a specific radius is no longer limited to the lowest value for a pre-calculated 360-degree lifting capacity. Instead, the crane can always take full advantage of the maximum available lifting capacity.

An optional electrohydraulic E-Pack is available which allows the AC 45 to work in crane operation with zero emissions.