The heart of power: an in-depth report on excavators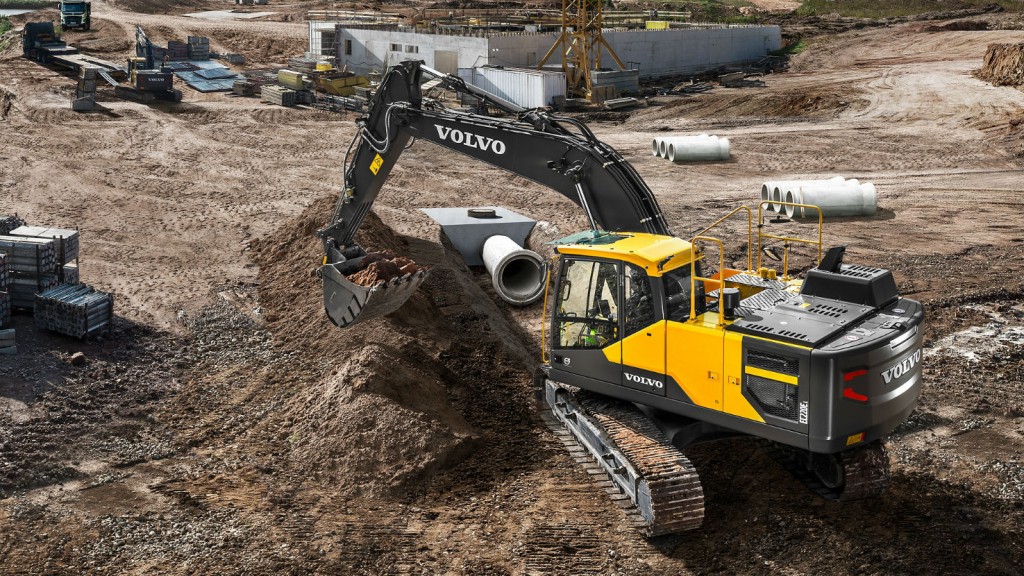 Today's excavators take advantage of improved hydraulics and electronics for everything from increased efficiency to integration of grade control systems.
Excavators are the heart of today's earthmoving projects – they handle the bulk of any contractor's needs when it comes to moving dirt, whether they're digging a trench, a basement or a road bed. Manufacturers have spent the last several years responding to new emissions requirements in Europe and North America by revolutionizing engines and emission reduction systems that have improved efficiency. Now, they have turned their sights onto improvements in what could be considered the heart of the machine: the hydraulic system. Combined with advanced electronics that take efficiency to new heights, these updates are taking excavator capabilities to new heights.
We asked a panel of industry experts to share the latest developments in hydraulic and electronic systems on excavators in the 20- to 50-ton range – and discuss how they help operators and owners save time and money.
Efficiency expanded with hydraulic improvements
Manufacturers put in vast amounts of development work to ensure their machines would meet the demanding Tier 4 Final and European Stage V emissions requirements, but in the process kept in mind how the changes being made to engines and powertrains would affect other systems on their excavators.
"As manufacturers went through the design processes that resulted in Tier 4 Final engine technology, they worked extensively to weigh how additional improvements could be made to complement the changes that were being made to the engines and all systems throughout the machine," said Andrew Dargatz, product marketing manager for Case Construction Equipment.
"We had to ask the question: how can we meet these emissions standards in a practical way, while also giving the owner/operator something more from their machine in terms of performance, efficiency and lower cost of ownership. Hydraulics play a very significant role in that and work together with the continued evolution in electrical systems to really dial in machine performance."
Efficiency is a key word in the description of hydraulics, said Aaron Kleingartner, marketing manager for Doosan Infracore North America. He said that more efficient components are being used in today's hydraulic systems – for example, an upgraded main work valve, pump or motor in a track. Over time, those enhanced components help improve the overall capacities of the excavator.
"More recently, additional new technology has allowed components to be more optimized. For example, better feedback from the controls allows the operator to be more precise. Another example would be work modes that allow the operator to match the mode to the task to ensure only the required power and fuel are used to complete the task," Kleingartner said.
George Lumpkins, product development and general manager of marketing for Kobelco USA, said that the improvements that have been made in excavator hydraulics are almost mind-boggling, thanks to the variety of technology developed to help drive these systems.
"Not only can excavators now monitor and closely match engine power to hydraulic power, but they can also tailor the hydraulic flow for precision control and better fuel efficiency with two pumps. Contractors in North America are more frequently viewing excavators not just as bucket or digging machines, but as versatile tool carriers," Lumpkins said. "Hydraulic thumbs, couplers, shears, hammers, grapples and other attachments can increase machine versatility and flexibility to tackle a wide variety of jobs that bring in additional revenue."
Hydraulic cylinders and motors remain the most efficient way to transmit power on excavators, compared to electric or mechanical actuators, according to Sejong Ko, Volvo Construction Equipment excavators product manager.
Ko said that the integration of hydraulic control with an electrically controlled system makes the hydraulics even more efficient while saving energy. Paired with electronically controlled engines, efficiency can be maximized.
"At Volvo we have many years of designing and building hydraulic components, as well as engines, to build excavators with full electric/electronic control on both the engine and hydraulic system. One of the key benefits of this system is an in-cab monitor that stores hydraulic settings for up to 20 attachments. This is ideal for customers who need to frequently switch out their attachments with various flow and pressure setups. The response of an attachment can also be selected to best match the attachment. For example, the swing response speed of the rotator can be smoother with a mode selection so the operator can operate the attachment more precisely," Ko said. "The benefits, however, extend well beyond attachments. For example, Volvo's unique ECO mode optimizes the hydraulic system to reduce flow and pressure losses, resulting in improved fuel efficiency without any loss of performance in most operating conditions."
Link-Belt excavators have taken advantage of electronic control and, being directly fitted to the engine flywheel, reduce engine horsepower loss while allowing more responsive operations, according to LBX Company product specialist Rob Dulaney. "Hydraulic power can now be delivered more precisely when and where it's needed in the job cycle. At the same time, hydraulic flows in noncritical areas of the system are reduced. The end result is better breakout force, smoother operation and faster machine response time, with the additional benefit of moving more dirt per gallon of fuel."
Komatsu excavators have also focused on the relationship between the engine and hydraulic pumps, with the goal of balancing the pump output for efficient multifunction operation, said senior product manager Kurt Moncini.
"The focus on engine and pump control logic helps us achieve the highest production levels possible, while minimizing fuel consumption. Recent new controller logic for the midsize excavator line and up yielded significant improvements to cycle speed and performance," Moncini related. "Current hydraulic systems can now 'feel' machine operation and provide direct operator feedback with recommendations for how to improve operation."

For some manufacturers, more pumps mean more efficiency for their machines. John Deere has recently released its 345G, which uses a three-pump hydraulic system that Jonathan Spendlove, product marketing manager, excavators with John Deere, said has an advantage over two-pump machines, providing more hydraulic flow. "The multifunctioning on this excavator is phenomenal, and its swing and cycle times are fast. This is important because it can allow operators to do more in a shorter amount of time. Over time, this adds up to extra bids and more money for our customers."
Increased efficiency, durability and reliability are key reasons why Hitachi has introduced the ZX345USLC-6 reduced-tail swing excavator featuring the TRIAS II three-pump hydraulic system, which the company says provides multifunctioning performance and some of the fastest cycle times in the industry.
Spendlove, who also acts as product marketing manager, excavators for Hitachi, noted that the system provides more flow, which leads to many benefits.

"When demanded, the third pump supplies additional hydraulic oil to the swing circuit without stealing oil and speed from other functions. This hydraulic system enables an operator to maximize productivity without sacrificing fuel economy. When you're talking about hydraulics, it's important to consider what the system delivers. First, an improved hydraulic system delivers multi-function power for attachments. Owners should also consider the faster cycle time, and how more work completed helps their bottom line. Then, they shouldn't forget the benefit of improved fuel economy," he said.

For Caterpillar users, new hydraulics bring a number of benefits, including the ability to change up control systems to meet the operator's needs, as well as improved maintenance efficiency.

"The new hydraulic systems also offer users the ability to customize joystick settings to best match their individual preferences. Examples include input lever response rates, operating patterns, and configurable shortcut buttons on the joysticks. These examples help make the operator more comfortable, productive and efficient on the jobsite," said Cat product specialist Brian Stellbrink.

"New hydraulic systems are also having a positive impact on lowering maintenance costs. With our Cat 330 we have been able to reduce maintenance costs up to 20 percent compared to our previous generation. Some key contributors to help lower these costs include eliminating and extending the service intervals of hydraulic filters, along with less overall hydraulic oil in the system."
Connecting systems electronically
As Volvo's Ko points out, upgraded hydraulics are an important development for excavators, but when they are tied together with improvements to electronics they can take machines to another level. The company's electro-hydraulic (EH) system manages pressure and flow as it is needed, allowing its machines to move the boom, arm, tracks and swing joint at the same time when an attachment is in use.
"With EH control, the machine can calculate and provide the best distribution of hydraulic power between the actuators and attachment. Operators can adjust and set a priority for the attachment," Ko said.

The EH system and main control valve take advantage of intelligent technology to manage on-demand flow and cut losses in the hydraulic circuit, Ko noted, which increases controllability, shortens cycle times, increases digging capacity and improves fuel efficiency. "The Volvo electro-hydraulic system is made up of multiple functions including a summation system that combines the flow of both hydraulic pumps to ensure quick cycle times and high productivity. Boom priority gives priority to the boom operation for faster raising when loading or performing deep excavations, arm priority gives priority to the arm operation for faster cycle times in levelling and for increased bucket filling when digging, and swing priority gives priority to swing functions for faster simultaneous operations. The hydraulic regeneration system prevents cavitation and provides flow to other movements during simultaneous operations for maximum productivity, and boom and arm holding valves prevent the digging equipment from creeping."

Electro-hydraulic systems that combine electronic intelligence and efficient hydraulics make a big difference for owners in numerous ways, Stellbrink said. Cat's next-generation excavators provide examples of how this pairing can benefit owners.

"With our Cat 320 we were able to reduce fuel consumption up to 25 percent compared to our previous generation. These significant savings are made possible through a combination of low engine speed driving large hydraulic pumps with a highly intelligent electro-hydraulic main valve. These components work in unison to offer maximum performance while lowering fuel consumption," Stellbrink noted.

Updated electronics allow for owners and operators to manage the machine and its systems more efficiently and reduce fuel consumption, according to Doosan's Kleingartner. "For example, the Smart Power Control (SPC) feature in Doosan excavators controls the engine, the fuel delivery from the engine and the engine rpm. Matching the engine and the hydraulic pump to optimize the system improves operator productivity. SPC allows the excavator to take over and adjust the engine rpms to adjust the machine's needs versus providing full rpm or power all the time. Each of the four power modes will function with SPC engaged or disengaged, however SPC only is active in the digging work mode.

"The whole system is designed to make sure that every piece maximizes its efficiency and productivity so that the system as a whole really works together," he added.

Kobelco machines also have the ability to manage many functions; varying hydraulic flow, making pressure adjustments, and adapting responses to individual job conditions and the attachments being used are all possible, as are setting operator preferences, according to Lumpkins.
"Another new update to the electronics available is modern Engine Speed Sensing (ESS) which increases efficiency in modern hydraulics by providing engine power where and when it is needed; couple this with variable displacement pumps, which can take the engine up to full power with one individual pump, and performance is again increased," he described. "The addition of electronic proportional auxiliary circuits, which allow the operator to see flow and pressure levels from the operator's cab, are also common. Independent rotation circuits for rotating shears or tilt buckets are available for modern excavators as well."

For Dargatz, that interconnection between the systems provides the key benefits that have been included in Case's recent machines in the 20- to 50-ton range: speed, responsiveness, smooth operation and efficiency.
"Each excavator in this span features a new, electronically controlled hydraulic pump, a larger control valve and multiple sensors. These new features matched up with the Case Intelligent Hydraulic System – a series of four integrated control systems – give the operator the best combination of the excavator's power and productivity to minimize wasted energy and increase efficiency. It actively manages hydraulic power throughout the digging cycle movements to maximize speed and efficiency while reducing fuel consumption by minimizing unnecessary hydraulic flow," Dargatz described.

Case combines four systems that make up its Intelligent Hydraulic System: Boom Economy Control, which cuts rpms by using gravity during boom down and swing; Auto Economy Control, which lowers engine rpms to idle when the machine isn't working and shuts down the engine after a specific time; Swing Relief Control, which controls hydraulic power at swing start; and Spool Stroke Control, which adjusts the hydraulic flow based on operator input during dig cycles.

"Using additional improvements to the Spool Stroke Control system, D Series excavators redirect hydraulic fluid at the control valve whenever possible to automatically increase cycle times and efficiency," Dargatz said. "The operator experiences a more productive machine without losing the precision of the machine's controls. That precision is important with excavators, where both lag at the beginning of a swing, and overswing due to a loose machine, can add considerable time and waste to an operator's day, add wear and tear over the life of the machine, as well as added exertion on the part of the operator in overcorrecting."

Another benefit to improved electronics on excavators comes from the growing interest in grade control and guidance, Dargatz added. "It is also the integration of electrical systems and sensors with hydraulic systems and components – as well as just about every other part of the machine – that helps make the rapid evolution of machine control and telematics systems possible. In terms of machine control, this results in more precise work being done more efficiently; and in terms of telematics, it means a greater understanding of machine health and performance over the life of the machine."

Hitachi has introduced its new Solution Linkage, a factory-integrated grade guidance system developed in cooperation with Topcon. Spendlove said the system takes guesswork out of meeting the right grade by monitoring in real-time to ensure jobs can be completed quickly.

"Electronics should make the job easier, which is why full integration is so important. When selected, Solution Linkage is fully integrated into the machine's cab and structures, which helps shield key components such as wire harnesses and sensors from damage. That integration also provides the operator with conveniently placed joysticks to provide effortless control," Spendlove said. "We offer 2D or 3D Solution Linkage grade guidance systems. The 2D system with an optional laser receiver displays the elevation of the cutting edge in relation to a reference plane while the 3D system with Global Navigation Satellite System (GNSS) displays position and elevation with respect to a global reference. System data from both options can be sent to ZXLink for analysis, so the machine's health can be monitored to keep projects up and running."
At the recent bauma exhibition in Germany, Liebherr shared its most recent excavator releases as it rolls out the Generation 8 machines, including several in the 20- to 50-ton range. For the German manufacturer, updates have been focused on improving performance; as part of that effort a new work equipment concept was devised that optimizes the load curve and inertia of the swivelling drive in order to reduce fuel consumption.
Liebherr also shared advances in machine communications with its INTUSI concept. This new concept connects machines to the Internet of Things, and combines an intelligent operating logic with a smart machine intelligence. INTUSI – INTuitive USer Interface – is a new, modern control environment that provides machine operators with a future-focused machine interface that features Liebherr's clear overall logic.
Komatsu is also combining electronics improvements with machine control opportunities; the company recently introduced its fifth Intelligent Machine Control excavator, Moncini noted. The second-generation machine control allows contractors to expand versatility in their applications.
According to Link-Belt's Mulaney, integrating grade control with hydraulics means that the better the hydraulic system, the better the system works. "The Machine Control (MC) system on our Link-Belt 210 X4 uses a hydraulic valve block that controls the boom and bucket to keep the machine on grade to create smooth, flat or sloped surfaces with more precision and ease. The operator is in full control and can override the semi-automatic function at any time."
Cat next-generation machines feature high-performance sensor technology that aids in the use of grade control as well, Stellbrink said. "Front linkage sensors are standard on our new Next Generation excavator models 336, 330, 323 and 320. These standard sensors enable up to 45 percent operator efficiency through the use of standard technologies such as Cat Grade, Cat Grade with Assist, Payload and Lift Assist."
Factory-integrated 2D or 3D grade guidance options are available on John Deere machines as well, along with a Grade Reference Ready option, Spendlove noted; it "enables dealers and customers to choose the grade reference offering that is best for their application and their pocketbook. In some applications – for example underground trenching applications – grade guidance may be sufficient and is available at a far better price point than a full grade control system. The return on investment may be much higher in both the short and long term on such an acquisition."
Related Articles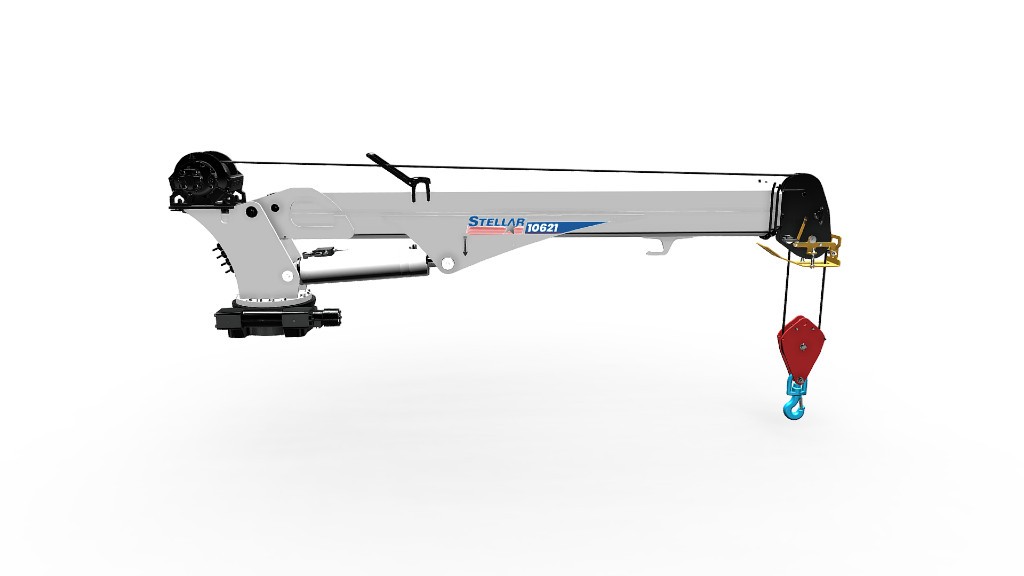 Six new Stellar telescopic service cranes feature redesigned booms and radio remote controls