GOMACO University teaches students about equipment, G+ controls, 3D machine guidance and concrete mix design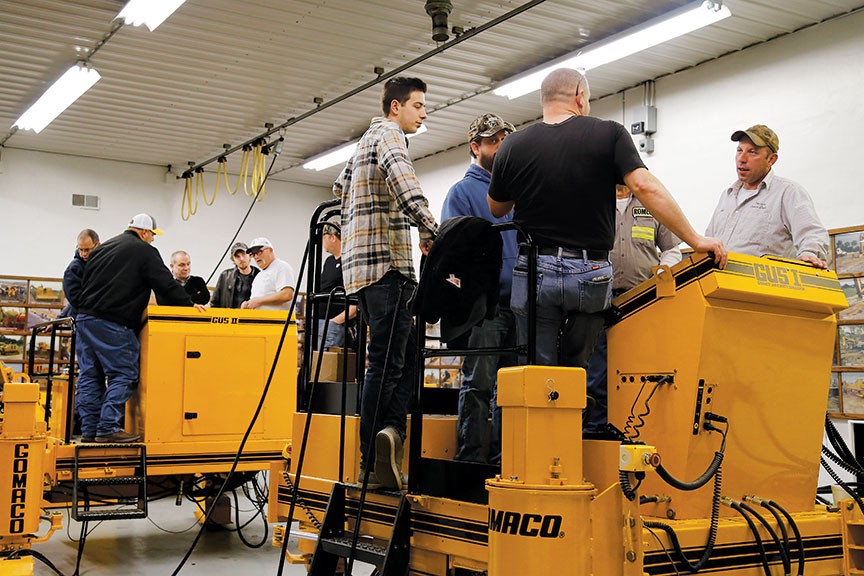 Some 638 concrete paving students travelled to Ida Grove, Iowa, for the 2019 school year at GOMACO University to learn more about their GOMACO equipment, G+ controls, 3D machine guidance systems, and concrete mix design. GOMACO University provides a unique learning experience for their students with both classroom and hands-on in the shop learning opportunities. Classes are led by University instructors with assistance from GOMACO's paving experts in the service department, 3D machine controls, and concrete mix design expert, Dr. Michael Ayers.
"The 2019 season brought several return attendees to GOMACO University," said Rod Schneider, GOMACO University's Director of Training. "The new students, as well as students who have been here for many years, makes for really interesting interaction in the classroom and around the table at lunchtime. Everyone brings their own ideas and questions, and we all learn from each other and the curriculum."
GOMACO University classes run each year from January through April. Each course covers the controls, setup, operation, maintenance and diagnostics of the specific GOMACO machine. Dr. Ayers returned to the University's classroom to teach about his expertise on concrete mix designs. His course focused on the basics of concrete mix designs, along with more advanced topics like cement types and application, aggregates, admixtures, mix optimization for paving applications and troubleshooting.
GOMACO's 3D team of machine control experts were in the classroom and the shop teaching students about the latest developments in 3D paving. Instructors from Topcon, Leica Geosystems and Trimble were also teaching in the 3D courses.
"GOMACO University is an excellent opportunity for our customers to learn about GOMACO equipment and to prepare for the new paving season," Kent Godbersen, vice president of Worldwide Sales and Marketing, said. "Thank you to everyone who travelled to Ida Grove this year to attend a class, and we wish all of you a safe and prosperous 2019 paving season."