Full refresh for Western Star 4700
Safety, driver comfort, electrical system and power are focus for vocational truck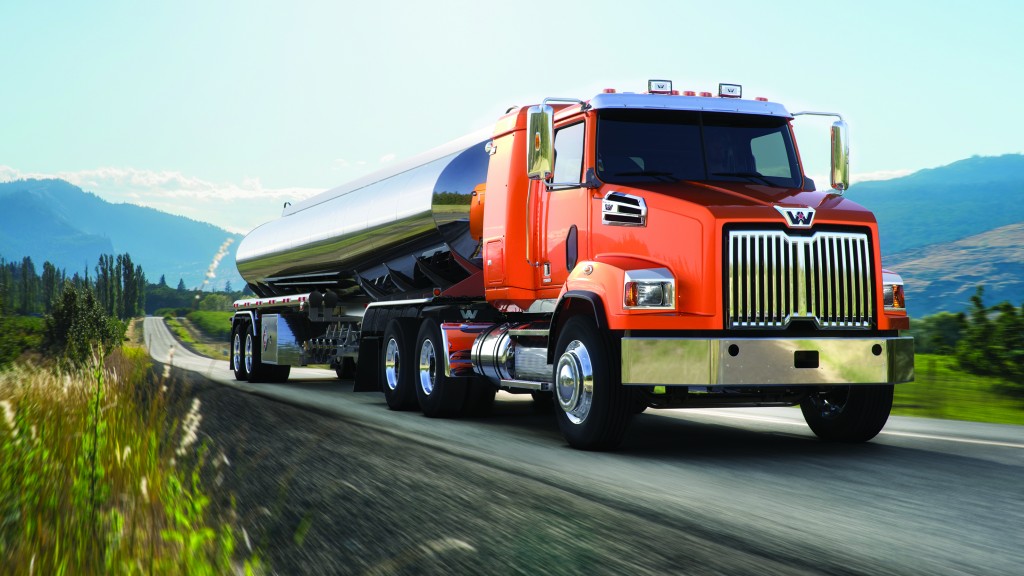 The 4700 has been the workhorse vocational truck of the Western Star line for quite some time, providing customers with power and versatility for whatever their needs might be.
At World of Concrete this past January, Western Star gave the 4700 an update, adding even more to what is already a tough truck. Improvements designed to help bodybuilders, as well as enhance safety and driver experience, are central to the new offerings.
"The 4700 has been out for probably seven or eight years and it has been our most successful model," said product manager Tim Norton. "It was time to do a full refresh and improve in areas that our bodybuilders and customers really find important. We wanted to do some things that would improve safety [and] improve the driver experience with the interior, as well as productivity.
"We really refreshed the interior, including adding new gauges that are much bigger and easier to see. With a new multifunction steering wheel, we have the cruise controls, radio controls and even telephone Bluetooth controls all on the steering wheel," Norton said. "The driver can keep their hands on the wheel and eyes on the road a lot easier."
A new LCD digital display in the dash provides the driver more information, from mileage to fuel economy to diagnostic information, all right within the dash cluster in an easy-to-see spot.
"Previously we had a lot of analog gauges, but we wanted to make sure to give room so we could display a lot more information," Norton said. "The overall look and feel of the interior is much more modern and includes a lot of the features that drivers have come to expect – things they would find in their passenger vehicles."
Bodybuilders will benefit from some significant updates as well, especially with changes to the electrical system, Norton noted.
"We updated the electrical system in the 4700, including adding a third power distribution module. We had a module installed in the back wall of the cab, but we now have this one in place of where the glove box was before," he said. "This gives bodybuilders a lot more power capacity to basically do whatever they want using the truck's existing electrical architecture."
The changes mean that the 4700 offers more connections to give bodybuilders access to the additional power capacity.
"We have interface connections behind the driver's seat, as well as standardized connectors, so bodybuilders know exactly how they can design their harnesses to plug and play with the 4700," Norton described. "We want to make the truck as easy as possible for them to upfit it, and the more capacity we have, the simpler it is to route their functions through our electrical system."
Cummins X12 now available
Under the hood, the 4700 now has a new potential power option with the addition of the Cummins X12 engine to its lineup.
"We're really proud to be offering the X12 – it adds that big power, going up to 500 horsepower and 1,700 foot-pounds of torque," Norton said. "All of that is in a small package – it's by far the lightest engine in its class. I think the next closest in weight is around 150 pounds heavier, so it offers that much more payload capacity – that's important for a lot of 4700 customers."
When it comes to dump trucks, mixers and other roles where hauling power is key, those additional pounds can be a big deal. For other uses, the 4700 continues to offer the Cummins L9 engine on the bottom end for lighter applications up to 380 hp and 1,250 lb.-ft. At the higher end, the Detroit DD13 provides up to 505 hp and 1,850 lb.-ft. of torque for heavier tasks.
Safety has also been improved in the 4700, with a number of technological additions being included through the new updates.
One key addition is the Wabco OnGuardACTIVE system, a radar-based system that offers both collision avoidance and adaptive cruise control.
"The front bumper collision mitigation system is something we've offered on our 5700 on-highway model previously, but we're happy to roll it onto the 4700 now," Norton said.
That system can be paired with the Bendix AutoVue lane departure warning system, which mounts on the windshield.
"That also has the capability to record video as well, so we can not only use it for lane departure warnings but in the event of a collision we can record it, the customer can download an app and pull the video straight from the camera," Norton noted.
Buyers have been more interested in active safety systems like these over the last few years, he said, and it makes sense to add them to the 4700 to aid drivers in vocational uses.
Response to the update at World of Concrete and beyond has been positive, Norton said.
"People are really excited – we had a lot of people stop by the booth and climb all over the truck. We also had an X12 display in the booth, and a lot of people came by to see that too. A lot of customers are looking to be on the leading edge – having a truck with that much payload capacity and those options on the electrical side for upfitting were really popular."
More from Trucking & Transportation
The all-new CASE TR340B compact track loader — operating at 90 horsepower with a 3,400-pound rated operating capacity — is the most powerful radial-lift CTL in the CASE lineup. Its all-new 8-inch LCD display improves on industry-leading CASE visibility with a new backup camera that is viewable in both forward and reverse operation. The display also showcases critical operating information and "trip" details. All-new electro-hydraulic controls, managed through the display, make it easier than ever for operators to dial CASE CTLs into specific application demands. All new cab controls and joysticks make the new TR340B easy to own and operate.
Industries such as construction, mining, energy, utilities and forestry, face many challenges when it comes to tracking assets and employees. Equipment often has to be transferred between locations, or monitored while it is dormant during off seasons. Lone workers may have to travel long distances or visit multiple sites during the course of their activities. And, all of this is further complicated today with shifting supply chains and economic realities putting further strain on the bottom line.