TerraPro cabover concrete pumpers gain benefits from Mack mDRIVE HD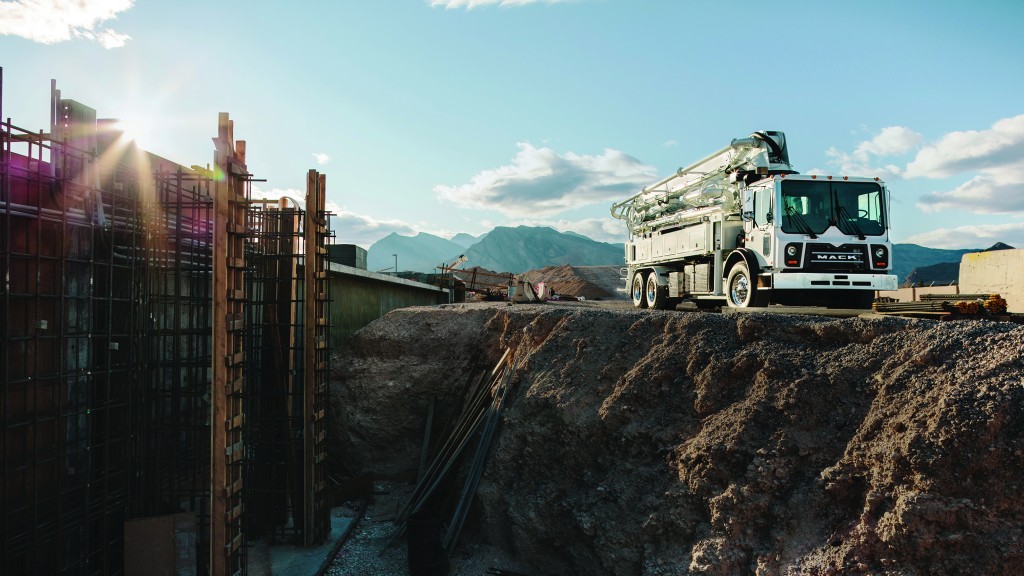 Mack Trucks will offer the Mack mDRIVE HD automated manual transmission (AMT) in Mack TerraPro concrete pumper models, the first time that an AMT has been available in a cabover concrete pumper. The fully integrated 13- and 14-speed mDRIVE HD AMTs give concrete pumper customers improved performance, proven durability and maximized uptime in an easy-to-operate package, the company said.
Mack's mDRIVE HD is based on the proven design of the mDRIVE, which has been standard in Mack highway models since 2014. With ruggedized internal components, including stronger gears and synchros, the mDRIVE HD is built to withstand the frequent shifting often found in construction applications. The 13- and 14-speed variants also feature low-ratio creeper gears, enabling the mDRIVE HD improved startability and ultra-low-speed maneuverability.
"The mDRIVE HD helps increase jobsite safety," said John Walsh, vice president of marketing for Mack Trucks. "Eliminating traditional shifting allows drivers to focus on safely operating their equipment." He added that the mDRIVE HD is the only AMT available with split-shaft PTO functionality.
Instead of taking power from a transmission- or engine-mounted PTO, split-shaft PTOs receive output directly from the transmission, supplying higher torque for large auxiliary equipment, including concrete pumps.
The mDRIVE HD also includes advanced standard features like Rock Free, which allows drivers to free stuck vehicles by rocking the truck back and forth simply by pumping the accelerator, and Auto Neutral, which improves jobsite safety by automatically putting the mDRIVE into neutral when the parking brake is set. Additional features like Grade Gripper, which helps prevent rolling backward on an incline, are also included, as well as MaxBrake, Performance Mode and more.