High level woodyard moving up with SENNEBOGEN 840 R-HD log-handlers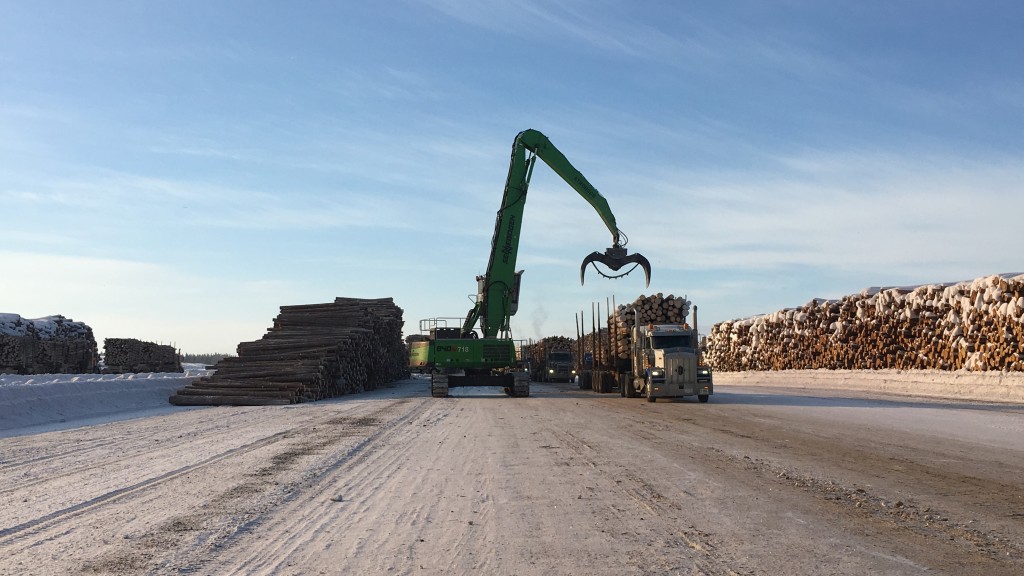 Most woodyards face periodic challenges in having enough space for their inventory. But in the northern reaches of Alberta, the Tolko sawmill in High Level is challenged by both space and time.
According to Gary Ross, the Plant Manager in High Level, his woodyard has about 3 months to receive and stack 6 months' worth of log supply for the mill. The rest of the time, the roads into High Level and the grounds in the yard are in no condition to receive trucks.
Now, there's a new wrinkle to consider.
Ross, who just recently joined the High Level team, now has to implement a significant expansion of the mill's physical plants, as planned by his predecessor, Dave Gillespie. With new projects under construction, the woodyard is not only under a time constraint, it's also losing space to the mill's larger footprint.
Stacking more wood faster
To increase the yard's capacity, Tolko recently upgraded its equipment fleet with four new SENNEBOGEN 840 R-HD log-loaders. At 130,000 lbs., (59,000 kg), these tracked-mounted models are appreciably larger than the SENNEBOGEN models usually seen in log-handling applications. High Level's Maintenance Manager, Peter Fehr, explains, "We needed a larger machine for its lifting capacity and stacking height. This part of the country is on muskeg, so we needed a tracked model to work in the mud in the Spring and Fall. Our yard is soft most of the year."
Along with the productivity of the 840s, the management team looks forward to high reliability and simpler maintenance with the new machines. SENNEBOGEN is known for making extensive use of widely available, industry-standard components for routine hydraulic and electrical service. Ready access and low costs for every-day parts are especially valued in a remote location like High Level, an 8-hour drive north of Edmonton, AB.
Easy does it for managing change
Ross says that his team has been taking its time to adjust to the new equipment. "We've been very deliberate with the transition period," he says. "Even though the new machine may be better, the change to embrace new technology can be hard."

Two of the facilities technicians attended SENNEBOGEN's Training Center in Stanley, NC. before the first unit arrived in early summer. Strongco, SENNEBOGEN's distributor in Alberta, then provided a week of on-site instruction to the Tolko operators. Deirdre Prill, the mill's Log Yard, and Mobile Shop Supervisor notes their goal has been to make the transition from old to new equipment as stress-free as possible. "The operators are still getting comfortable with the SENNEBOGENs. We still have our older equipment in service while they get accustomed to the capabilities of the new grapples and longer reach. Then we can gradually move up the targets for our maximum decking height."
Doing more with less
The High Level mill is one of the five largest lumber producers in Western Canada. The site employs about 320 full-time workers on three shifts to produce over 400mbf of dimensional lumber from locally sourced spruce, pine, and fir.
The mill is expanding and adding processes, which calls for more capacity in the yard and reduces the space available for wood storage. "As we continue to increase the footprint and the capacity of the mill, we have to maximize the volume we have in the yard, especially as we get close to the end of the season," says Ross noting the higher decks also mean less travel distance, and less cost, to feed the mill.

The planned expansions for the facility include a new bio-fueled thermal energy plant which will reduce its need to purchase natural gas for its drying operations, a new continuous dry kiln, and a new wood pelleting mill. The energy plant will be fueled by using bark, residuals and other by-products from the mill and will be equipped with an electrostatic precipitator to minimize air emissions.
"A thing of beauty"
Prill reports that while High Level operators are still getting used to the new machines, the plant has already started see the benefit of the 840s. With the previous loaders, deck heights were averaging 6.5 meters. With their extended reach, operators are currently averaging 7.5-meter heights and moving toward the eventual goal of 9-meter stacks. Increasing these deck heights from 6.5 meters to 9.0 meters will effectively increase the capacity of the available yard space by close to 50%.
"We're getting some positive feedback from the operators as they get used to what the machines can do," says Prill. "They're adapting to the change from levers to joystick controls, and to traveling with the SENNEBOGEN's high-rise cab raised."
"There's a lot of touch and feel in the whole log-handling process," she continues. "We rely heavily on the talent of our operators. They create this harmony with their machine and it's quite a thing of beauty to watch."
Company info
Related products
More from Forestry
The all-new CASE TR340B compact track loader — operating at 90 horsepower with a 3,400-pound rated operating capacity — is the most powerful radial-lift CTL in the CASE lineup. Its all-new 8-inch LCD display improves on industry-leading CASE visibility with a new backup camera that is viewable in both forward and reverse operation. The display also showcases critical operating information and "trip" details. All-new electro-hydraulic controls, managed through the display, make it easier than ever for operators to dial CASE CTLs into specific application demands. All new cab controls and joysticks make the new TR340B easy to own and operate.
Industries such as construction, mining, energy, utilities and forestry, face many challenges when it comes to tracking assets and employees. Equipment often has to be transferred between locations, or monitored while it is dormant during off seasons. Lone workers may have to travel long distances or visit multiple sites during the course of their activities. And, all of this is further complicated today with shifting supply chains and economic realities putting further strain on the bottom line.