Tadano GR-1200XL rough-terrain crane handles high lifting challenges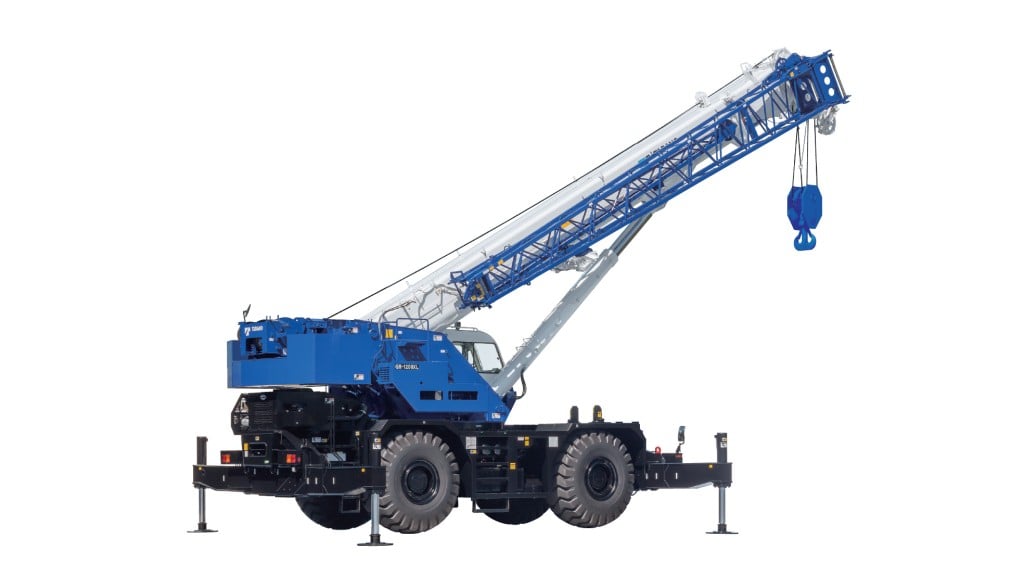 Available to North American customers as the GR-1200XL and to customers outside the North American market as the GR-1100EX, this rig has a maximum lifting capacity of 120 tons (110 tonnes) and features a 183.7-foot-long boom (56 m). The GR-1200XL is now in full production and available to TADANO America clients for sale.
High Performance Under Difficult Conditions
The GR-1200XL was designed with North American industrial energy sites in mind, filling a niche market demand for cranes in the 120-ton class. These sites often require cranes to have high maneuverability, durability, and lifting performance under tough conditions. The 120-ton GR-1200XL gives buyers a rig between the GR-1000XL and the GR-1600XL and meets their needs for a higher reaching rig with longer boom length and larger lifting capacities.
Exemplary Lifting Capacity
The GR-1200XL has the largest maximum lifting capacity in TADANO's rough-terrain crane product line. Its strong yet light, high-tensile steel, rounded boom features a single telescopic cylinder. It gives the crane a 184.0-foot (56.1 m) lifting height and 150.0-foot (45.7 m) load radius. Its jib provides additional reach, extending the lifting height to 241.4 feet (73.6 m) with a load radius of 159.0 feet (48.4 m).
The GR-1200XL rig's ease of transport and onsite maneuverability are largely due to its compact carrier size, with dimensions similar to the TADANO GR-1000XL carrier. Overall rig length is 47 feet 5 inches (14,450 mm), but its carrier is just 28 feet 5 inches (8,655 mm) long.
State-of-the-art Systems
Additional features include HELLO-NET telematics and TADANO's new Smart Chart system. HELLO-NET telematics help customers optimize their operations with real-time monitoring of crane activity, history, position data and maintenance information.
Fuel Consumption Systematically Reduced
The environmentally friendly GR-1200XL comes with both TADANO's state-of-the-art Eco-Mode fuel monitoring system and Positive Control. Eco-Mode reduces fuel consumption while the crane is operated. Positive Control economizes fuel consumption while the crane is on standby.
Company info
Related products
More from Cranes & Lift
The all-new CASE TR340B compact track loader — operating at 90 horsepower with a 3,400-pound rated operating capacity — is the most powerful radial-lift CTL in the CASE lineup. Its all-new 8-inch LCD display improves on industry-leading CASE visibility with a new backup camera that is viewable in both forward and reverse operation. The display also showcases critical operating information and "trip" details. All-new electro-hydraulic controls, managed through the display, make it easier than ever for operators to dial CASE CTLs into specific application demands. All new cab controls and joysticks make the new TR340B easy to own and operate.
Industries such as construction, mining, energy, utilities and forestry, face many challenges when it comes to tracking assets and employees. Equipment often has to be transferred between locations, or monitored while it is dormant during off seasons. Lone workers may have to travel long distances or visit multiple sites during the course of their activities. And, all of this is further complicated today with shifting supply chains and economic realities putting further strain on the bottom line.