Tadano GR-1200XL rough-terrain crane handles high lifting challenges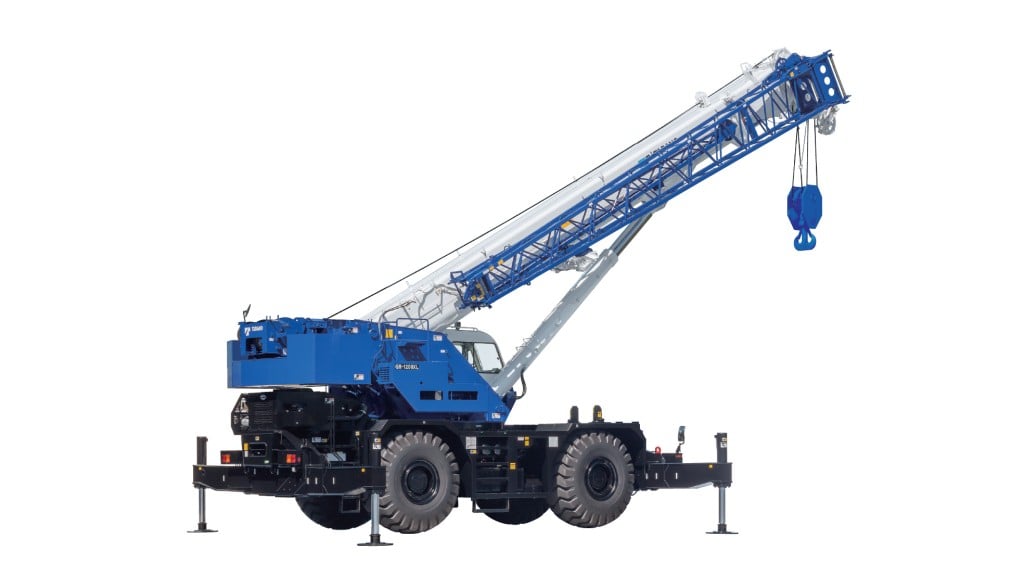 Available to North American customers as the GR-1200XL and to customers outside the North American market as the GR-1100EX, this rig has a maximum lifting capacity of 120 tons (110 tonnes) and features a 183.7-foot-long boom (56 m). The GR-1200XL is now in full production and available to TADANO America clients for sale.
High Performance Under Difficult Conditions
The GR-1200XL was designed with North American industrial energy sites in mind, filling a niche market demand for cranes in the 120-ton class. These sites often require cranes to have high maneuverability, durability, and lifting performance under tough conditions. The 120-ton GR-1200XL gives buyers a rig between the GR-1000XL and the GR-1600XL and meets their needs for a higher reaching rig with longer boom length and larger lifting capacities.
Exemplary Lifting Capacity
The GR-1200XL has the largest maximum lifting capacity in TADANO's rough-terrain crane product line. Its strong yet light, high-tensile steel, rounded boom features a single telescopic cylinder. It gives the crane a 184.0-foot (56.1 m) lifting height and 150.0-foot (45.7 m) load radius. Its jib provides additional reach, extending the lifting height to 241.4 feet (73.6 m) with a load radius of 159.0 feet (48.4 m).
The GR-1200XL rig's ease of transport and onsite maneuverability are largely due to its compact carrier size, with dimensions similar to the TADANO GR-1000XL carrier. Overall rig length is 47 feet 5 inches (14,450 mm), but its carrier is just 28 feet 5 inches (8,655 mm) long.
State-of-the-art Systems
Additional features include HELLO-NET telematics and TADANO's new Smart Chart system. HELLO-NET telematics help customers optimize their operations with real-time monitoring of crane activity, history, position data and maintenance information.
Fuel Consumption Systematically Reduced
The environmentally friendly GR-1200XL comes with both TADANO's state-of-the-art Eco-Mode fuel monitoring system and Positive Control. Eco-Mode reduces fuel consumption while the crane is operated. Positive Control economizes fuel consumption while the crane is on standby.
Company info
Related products