Fume extraction system shortlisted for bauma Innovation Award
Volvo Construction Equipment's extractor for bituminous fumes has been shortlisted for a bauma Innovation Award.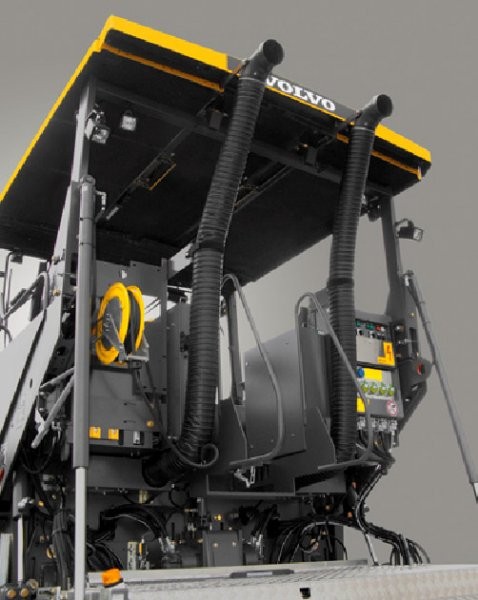 Volvo Construction Equipment's (Volvo CE's) revolutionary extractor for bituminous fumes is one of three finalists in the machinery component category of the bauma Innovation Awards. The system, which is available as an option on Volvo CE's C-Series ABG pavers, introduces a new way of removing fumes from the operator's working environment. The innovative feature improves the working conditions of the operator – who sits directly above the auger channel. By delivering 83% efficiency, the system exceeds the National Institute for Occupational Safety and Health (NIOSH) guidelines which state that 80% of fumes should be captured. Volvo's results have been independently certified by an environmental institute.
Behind the breakthrough
The pioneering system works by using a fume intake, with a fan located directly behind it, on both the left and right hand side of the auger channel. The fan captures and transports the fumes via two tubes to the top of the paver where they are then released. This means that the air in the operator's working environment is significantly cleaner than was previously the case.
Volvo's design is located at the back of the machine and features a very short distance between the intake and the fan – eliminating the need for additional piping and funnelling in the auger channel. This increases efficiency, prevents any loss of power and ensures that there is no effect on the operator's visibility into the auger channel. Because extra power is not needed, smaller fans are used. These can be installed horizontally instead of vertically which offers a smaller, more compact architecture. This also helps to maintain visibility into the auger channel which is vital to ensure consistent material flow and good quality, smooth paving.
Innovative and efficient
During the majority of operating conditions, Volvo's ABG pavers run on smart power which lowers the engine rpm and considerably reduces fuel consumption. The new fume extraction system continues this environmentally friendly and fuel efficient approach and works just as efficiently when the machine is operated in smart power mode as it does when the machine is working in max power mode.
As well as increased efficiency and visibility, another benefit of the Volvo design is reduced noise. The difference in sound between the system being on or off is insignificant – just 0.3 decibels. This means that there is no risk of the system distracting the operator or causing fatigue.
Paving the way
Although there is currently no legislation insisting pavers meet the NIOSH 80% guideline, the Volvo system has been designed to meet demands from customers and operators in certain markets. Due to the modular design of the Volvo system, it can be retrofitted to machines already in the field.