Expanded use of machine control adds efficiency to road construction operations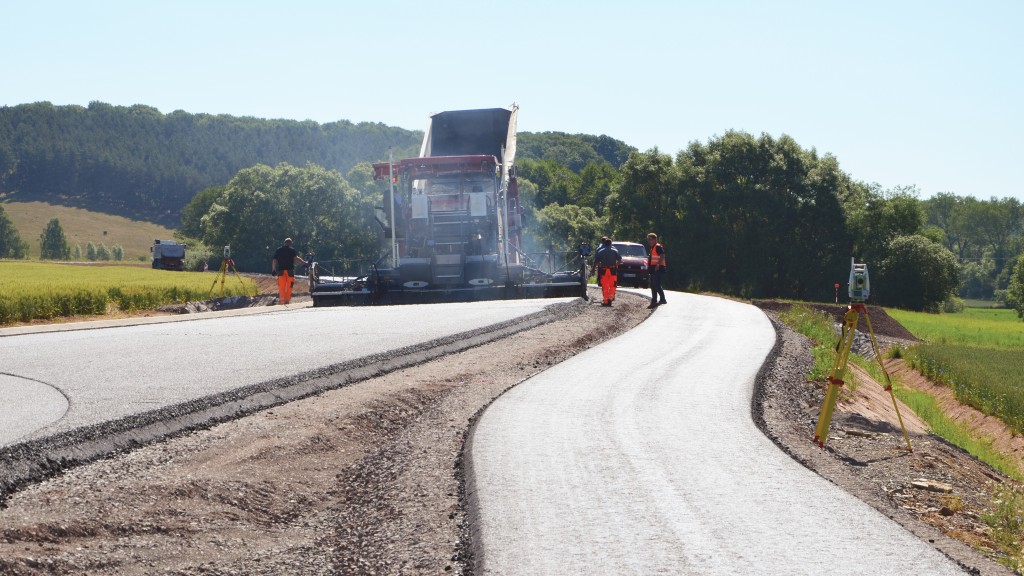 Precision is everything when constructing road surfaces. Tolerances are very tight, ensuring that the surface is smooth for vehicles travelling on it while also providing a long service life.
Traditionally, that precision has come from extensive survey work and constant checks to keep machinery on the right grade for the site, both during construction of the road base and when paving is underway. With the advent of machine control, however, operators have much more direct support in reaching and maintaining grade across the roadbuilding process.
When it comes to road subgrade, there are plenty of challenges for machine operators to face in terms of meeting the grade requirements. In the past, operators of dozers, graders and other machines on the jobsite would have to be in contact with surveyors and others on the ground to track their progress against grade stakes and other measurement indicators.
"Before the introduction of intelligent machine control, there was a really high learning curve for new operators who needed to be able to work efficiently and accurately – you need the skill to rough doze, get close to grade, and then to finish grade. It wasn't uncommon for skilled operators to have to go back and adjust the working surface a tenth or two to get to finish grade," related Sebastian Witkowski, product marketing manager, intelligent machine control for Komatsu. "Working with these kinds of traditional grade-stake type jobsites, having that skill set to read grade stakes and know what to do with the information on them was key."
Compared to many traditional construction sites, the sheer number of grade stakes can be daunting.
"When you think about a one-mile stretch of road, it could have considerably more stakes than, for example, an entire subdivision project when you consider stations, hubs, vertical intersections, and so on," he said. "Just that aspect of removing grade stakes from the process is a huge efficiency benefit for road construction companies, The key to a successful road project is a good subgrade, and the ability to achieve that subgrade accurately, the first time, is key to the success of a good contractor."
Most manufacturers now offer machine control of some sort on their equipment; Komatsu, for example, offers a full lineup of dozers and excavators that take advantage of the company's integrated 3D GNSS intelligent machine control systems.
"Of course there are considerable efficiency and productivity gains when we consider a dozer's ability to spread stone after achieving subgrade. But Komatsu takes that same concept a step further and applies it to its excavators. Think about how intelligent excavators can be used in this application, on road projects where there's considerable cut required, you can send one of our intelligent excavators out that can cut straight to grade without the need of support dozers," Witkowski noted.
An integrated machine also brings with it opportunities for less-experienced operators to work on these challenging jobsites.
"For Komatsu's intelligent dozers, it's just a matter of turning on your automatics and rocking the blade lever forward to engage the automatics. Really, you're operating forward and reverse," Witkowski said. "The beauty of our intelligent machine control is that it's good for both experienced and inexperienced operators alike."
With the ease of use that comes with machine control and the ability to tie into other software systems used throughout the industry, contractors can quickly and easily add intelligent machines to their fleets.
"For many contractors, it's a no-brainer. The efficiency and productivity gains right off the bat are nothing to scoff at," Witkowski said.
Wrapping up wireline for pavers
Once the prep work is done on a road project, the paving equipment moves in – and it, too, can take advantage of technology to get the job done more smoothly. Moving away from traditional techniques has been happening for quite some time in the later stages of construction, noted Kelly Steeves, paving account manager for Leica Geosystems, part of Hexagon. A joint venture with paving equipment manufacturer Wirtgen in the late 1990s kicked off machine control in that sector, he explained.
"The German railway agency had started expanding high-speed rail through Germany. They were cutting through forests, farmland, towns, and going through the countryside, and that required maintenance of the traditional wireline – pavers use sensors to track a wire at a given height and at a given offset," he explained. "You can imagine hundreds and hundreds of kilometres of wireline out there. . . Any time farm animals, wildlife or people bumped the line, that caused the elevation to go out of alignment. That movement put a bump or a dip in the road that was costly to repair."
Leica Geosystems and Wirtgen developed a system that allowed for radio communication between the pavers and total stations on the jobsite; since then, stringless paving has expanded in markets across the globe.
OEMs have recognized the potential and made their machines capable of working with the technology, and it is finding growing share in the market, especially on jobsites that feature restricted space.
"A lot of modern projects involve rehabilitating crumbling infrastructure in big cities where there are buildings and tight restraints, and many more people on the road now than at the time of original construction," he said. "If you can fit a paver into those areas, you can pave with machine control."
Machine control systems for paving take advantage of precise models of the required road surface to guide the paver in its operations.
According to Steeves, the machine responds automatically to guidance from the technology, which drives constant adjustments that keep the surface right where it's supposed to be.
That doesn't mean that contractors don't need to keep good paving practices in mind – they still need to ensure that their surface mix is correct, that trucks are arriving consistently to feed the paver, and so on.
But, the end result when those steps are taken is a clean and smooth paved surface that is done more efficiently.
In Leica Geosystems' case, the iCON machine control platform is an across-the-board approach, one that can be moved from machine to machine and uses various modules depending on the needs of the contractor.
Modules are available for asphalt and concrete paving, as well as for compaction – essentially providing a one-stop shop for machine control.
"Our software is app-based, so it's as easy as using a smartphone – you just swipe to the option you need. It's like a video game with hydraulics," Steeves said. "As the next generation of equipment operators comes into the market, they expect automation and intelligent systems because they grew up with technology. Contractors that want to hire the best talent are adopting machine control at a rapid pace." HEG