Cemen Tech expands ACCU-POUR technology with suite of productivity solutions
AP Office and AP Mobile are cloud-based productivity solutions that provide concrete producers intelligent mixers to help grow and scale their businesses profitably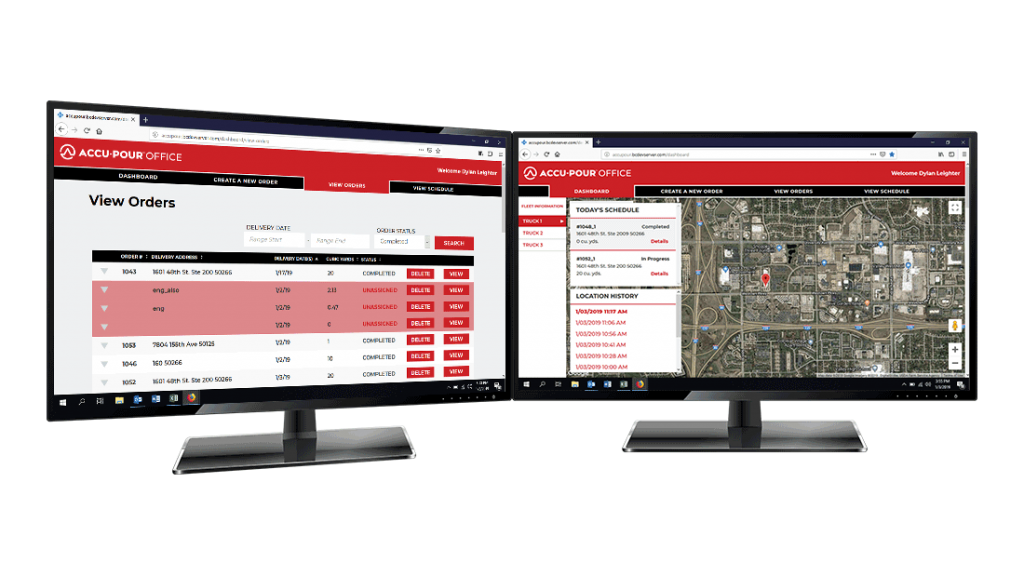 Cemen Tech has introduced AP Office and AP Mobile, a new set of tools in its ACCU-POUR technology suite available for volumetric concrete mixer users. AP Office and AP Mobile are an all-new cloud-based productivity solution that provides users a complete view of their concrete business operations. The ACCU-POUR technology suite is designed to make an impact on operations of all sizes, giving users more control over their business than ever before.
AP Office
AP Office is the front-end solution for scheduling, dispatch and fleet management functions. Utilizing the latest in telematics technology, the software allows business owners to keep track of the status and location of each mixer in their fleet in real time. AP Office also documents and stores all key mixer production statistics, which allows users to make accurate real-time business management decisions.
AP Mobile
Designed for use on a phone, tablet of other mobile device, AP Mobile allows users to wirelessly send and receive production data between AP Office and the mixer, as well as view mixing parameters in real time. Once a pour is complete, final job data syncs automatically with AP Office.
Traditionally, communication with a mobile concrete mixer flowed in one direction – from the unit back to the office typically in paper form. But now, with both AP Office and AP Mobile working jointly in real time, information goes to the unit and then directly back to the office. After an order is placed, dispatch enters the job parameters into AP Office. AP Mobile then receives those parameters and wirelessly sends all information to the mixer. The operator completes the pour, while all production data is automatically sent back to AP Office for analysis.
AP Office also simplifies assignments and orders by allowing users to create one order, then divide it into multiple trucks if needed and still track under one job. With smart scheduling, users know where their fleet is at any time, where they're headed next, and if adjustments are needed before the next job begins.
"This year, Cemen Tech celebrates its 50th year in business, so the timing couldn't be better for us to announce the latest in the ACCU-POUR tech suite to move our industry forward in big steps," says Connor Deering, CEO/President of Cemen Tech. "The continued development of our ACCU-POUR suite with the new AP Office and AP Mobile modules shows our commitment and leadership in developing the most innovative and advanced volumetric concrete production solutions for the industry. AP Office is not limited to only Cemen Tech equipment, it can be used by anyone who owns a volumetric mixer."
Real-time data gathering and reports
Thanks to a nearly endless stream of real-time data, ACCU-POUR acts as a robust business partner day in and day out. This partner presents known and unknown information, allowing you to control and run the business based on current and precise data. But analysis isn't limited to real-time as all data can be custom exported to many popular accounting programs.
More from Concrete Construction
The all-new CASE TR340B compact track loader — operating at 90 horsepower with a 3,400-pound rated operating capacity — is the most powerful radial-lift CTL in the CASE lineup. Its all-new 8-inch LCD display improves on industry-leading CASE visibility with a new backup camera that is viewable in both forward and reverse operation. The display also showcases critical operating information and "trip" details. All-new electro-hydraulic controls, managed through the display, make it easier than ever for operators to dial CASE CTLs into specific application demands. All new cab controls and joysticks make the new TR340B easy to own and operate.
Industries such as construction, mining, energy, utilities and forestry, face many challenges when it comes to tracking assets and employees. Equipment often has to be transferred between locations, or monitored while it is dormant during off seasons. Lone workers may have to travel long distances or visit multiple sites during the course of their activities. And, all of this is further complicated today with shifting supply chains and economic realities putting further strain on the bottom line.