Cab Improvements and Final Tier 4 Engine Highlight Design of John Deere 35G Compact Excavator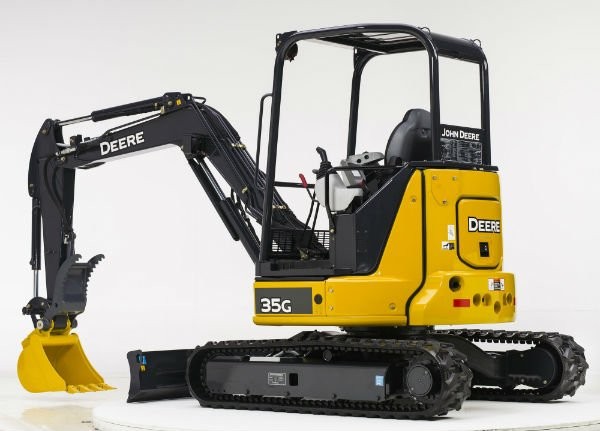 John Deere recently announced the intdroduction of the customer-inspired 35G Compact Excavator. A smaller, nimbler cousin to John Deere's G-Series excavators, the 35G is designed for the rental, commercial/residential building, landscaping, underground and site development markets. The 35G, offers a Final Tier 4 engine, without the need for an after treatment device.
"We paid special attention to cab adjustments and emissions regulations when designing the 35G," said Mark Wall, product marketing manager for excavators, John Deere Construction & Forestry. "The operator's station is now wider and longer than the previous D-Series model, providing improved operator comfort and productivity. In addition, the machine provides increased visibility to work in close quarters comfortably and safely."
The 35G incorporates a 23 hp (17.4 kW), Final Tier 4 diesel engine to power through any job. The FT4 design is based on John Deere's IT4 design that has a track record of exceptional reliability. The 35G features auto-idle that slows engine speed when the pilot-control levers are momentarily released – for reduced fuel consumption and noise.
To increase ease of use and safety, John Deere designed a new door for improved entry and visibility to the left hand side of the machine. The door design also widens the size of the opening for entering the cab. Within the operator station, a new multifunction monitor provides a coolant temperature and fuel gauge, clock, two trip meters, regeneration inhibit, auto shut down control, and machine hours among the many functions.
With a focus on improving uptime, a third service door was added to provide improved access to the cooling core for cleaning purposes. The cores were also positioned side by side rather than being stacked inline to permit easier access. Attachments and options also strengthen the 35G's offerings.
The excavator can be equipped with an optional, hydraulic, adjustable-angle backfill blade that features 25 degrees of adjustment to both the left and right for more efficient trench backfilling. In addition, a standard coupler accommodates a wide variety of available attachments such as hydraulic breakers and augers. Contractors also have the ability to choose the tracks that are best suited for their work. Rubber tracks, steel tracks and steel tracks with rubber pads are all available.