Wirtgen SP 80i Introduced at World of Concrete 2013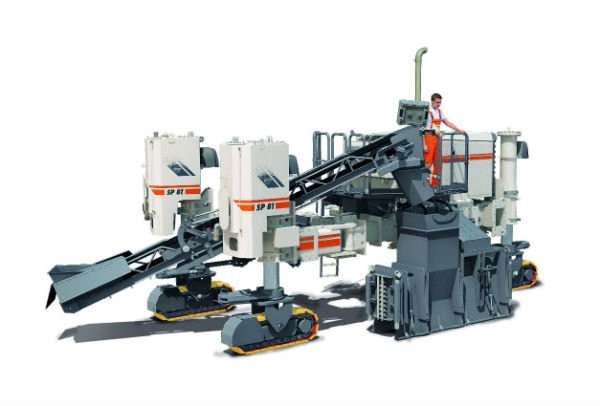 The new Wirtgen SP 80i concrete slipform paver was introduced to North America at World of Concrete 2013, Feb. 5-8 in Las Vegas.
The full-lane-width SP 80i was displayed at World of Concrete 2013 set up for its maximum paving width of 26 ft. wide.
The SP 80i's modular design permits different configurations. The SP 80i can be set up as an offset SP 81i for very large sections, or as an inset paver with two-tracks (SP 82i) or four-tracks (SP 84i) . However, the modular design of the SP 80i platform means any model can be reconfigured into another with the right options.
The "i" designates these pavers as having "intelligent" power and emissions control systems.
The new SP 80i is the world's most versatile, highest production slipform machine. It offers dowel-and-tie bar inserters, finishing beam, super smoother and many other options. It can be controlled either with stringline or stringless.
The benefits of the SP 80i include unprecedented accuracy, which leads to higher production with less hand finishing; utmost machine flexibility to meet changing job site requirements; ease of use with a quick learning curve; and ease of troubleshooting.
Its fully modular inset mold system permits paving of concrete slabs with central crown from 12 to 26 ft. wide. Concrete can be spread by spreading plow or spreading auger. The pavers can use up to 24 electric or hydraulic vibrators.
Its highly flexible offset mold system permits a wide choice of poured-in-place concrete profiles, with standard heights of 7.5 ft. or standard widths of up to 10 ft. Feeding of concrete is via high performance belt conveyor or auger conveyor, with various adjustment options. The offset mold suspension is suitable for mounting on either side of the machine.
Next-generation controls provide superior regulation of machine performance, and the diagnostic system has a standardized interface for quick, targeted service when necessary.
Intelligent steering and control systems make for highly precise concrete paving, and the SP 80i's small turning radius provides excellent maneuverability. Four different steering modes are available: crab, coordinated, back-straight and rotate. The tried-and-tested computer controlled Ackermann steering system is employed for highly precise driving behavior and maximum accuracy.
The SP 80i's Eco-Mode system automatically matches engine output to jobsite performance requirements, ensuring maximum engine efficiency, with reduced diesel fuel consumption and noise levels.
The Wirtgen AutoPilot™ – an innovative stringless control system – can be used with the SP 81i offset machine, as well as with the Wirtgen SP 15 and SP 25 concrete slipform pavers. AutoPilot is a user-friendly, cost-effective control system for poured-in-place concrete profiles, such as curbs, safety barriers or slabs.