GLOBAL RENTAL ALLIANCE COUNTRIES REPRESENT $66 BILLION IN COMBINED RENTAL REVENUE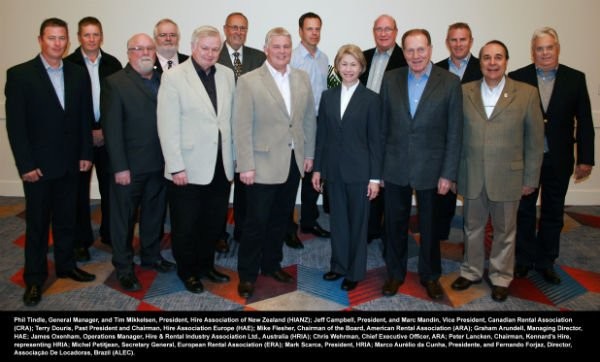 The 11th annual meeting of the Global Rental Alliance (GRA) was held last week at The Rental Show 2013in Las Vegas.
All GRA member associations were present, including: European Rental Association (ERA), Belgium; Hire Association Europe (HAE), U.K.; Hire & Rental Industry Association Ltd. (HRIA), Australia; Hire Industry Association of New Zealand (HIANZ); Associaçào De Locadoras, Brazil (ALEC); Canadian Rental Association (CRA); and American Rental Association (ARA). Representatives included the association officers and/or chief executives/staff.
Agenda items discussed in detail during the full day meeting focused on advancing the success of members of the individual associations and perpetuating the rental concept throughout the world. Current member priorities within the associations were shared. Topics addressed included technological trends in the industry and status of implementation in the associations, safety and regulatory matters, and the GRA International Rental Business Leadership Program. The agenda also included a review of the global survey initiative undertaken by the Global Rental Alliance, with release of a combined rental revenue figure among the GRA associations representing $66 billion.
The meeting included a presentation by John McClelland, ARA Vice President, and Scott Hazelton, Senior Director of IHS Global Insight, on ARA's new initiative, "ARA Equipment Rental Penetration Index™", which provides the industry with a new method of measuring and forecasting equipment rental penetration. The basic concept is to measure the amount of equipment that is rented as a percentage of total construction equipment.
The Global Rental Alliance members will continue to have dialogue on the level of rental penetration within their respective countries. All associations are committed to increasing rental penetration on behalf of their membership through their program work. Considerable discussion was held on current member programs within the associations, with a focus on marketing the rental concept. Information and materials were shared that can be adapted within the respective associations to supplement current programs. Conference dates and programs of the respective associations were reviewed.
The purpose of the Global Rental Alliance is to increase the profile of equipment rental worldwide and to build global understanding of the industry. It is a partnership of rental associations from around the world that meet semi-annually and share information on program initiatives throughout the year. The unity of this group has brought about an increased awareness of overall priorities internationally, adding to the strategic outlook and resources of each rental member association.