Skyjack marks 250,000th sale with search for oldest working scissor lift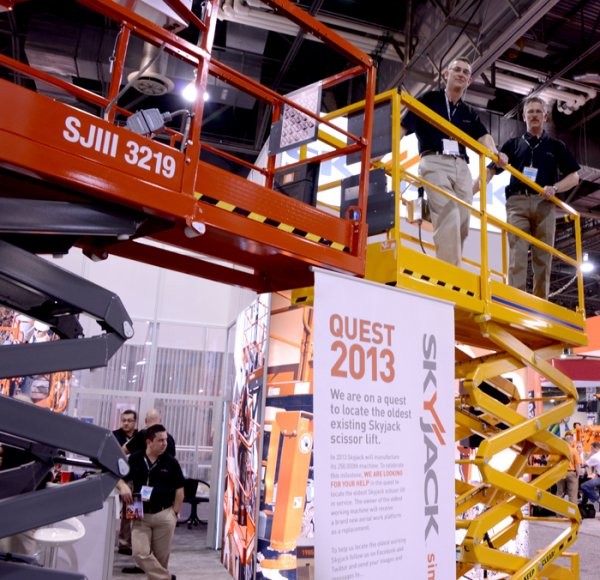 Skyjack, a manufacturer of aerial work platforms, will build its 250,000th unit this year.
To celebrate the achievement, the company has launched a quest to find the oldest working Skyjack scissor lift. The company wants customers to search their fleets and upload details and images of their oldest models to dedicated pages on Facebook and Twitter.
Skyjack announced the search at The Rental Show 2013 in Las Vegas, Nevada, on February 11. Announcing the initiative, Brad Boehler, president of Skyjack, said he expected strong competition for the title of "longest running Skyjack."
"We want to celebrate our future by looking at the successes of our past," he said. "Skyjack scissor lifts are well-known for their reliability and durability, and when I talk to customers I know they're always pleased with the work levels they can achieve over long working lives. That's why our search for the oldest unit will not be easy. There are so many Skyjacks out there, the world over, offering reliable performance, day in and day out, even after decades in the field. We're really looking forward to hearing our customers' stories, and we'll be sharing them as our search develops."
Users of Skyjack scissor lifts are invited to upload images, together with details of their machine (including serial number, year of manufacture and place of purchase) to either:
• @skyjackinc/#skyjackquest2013
Quest 2013 applicants will be accepted until December 31, 2013 or when verification of the oldest serial number has been identified, whichever is the soonest. The company judged to be running the "world's longest running Skyjack" will be presented with a brand new Skyjack scissor platform. Skyjack hopes the search for the oldest running machine will create an online international community of platform users who can share experiences of their long-term ownership of Skyjack machines. It also hopes the campaign will highlight the products' world-renowned reliability, achieved through innovative designs that assure durability, quality and ease of service.