Two giant awards to HİDROMEK's newest excavators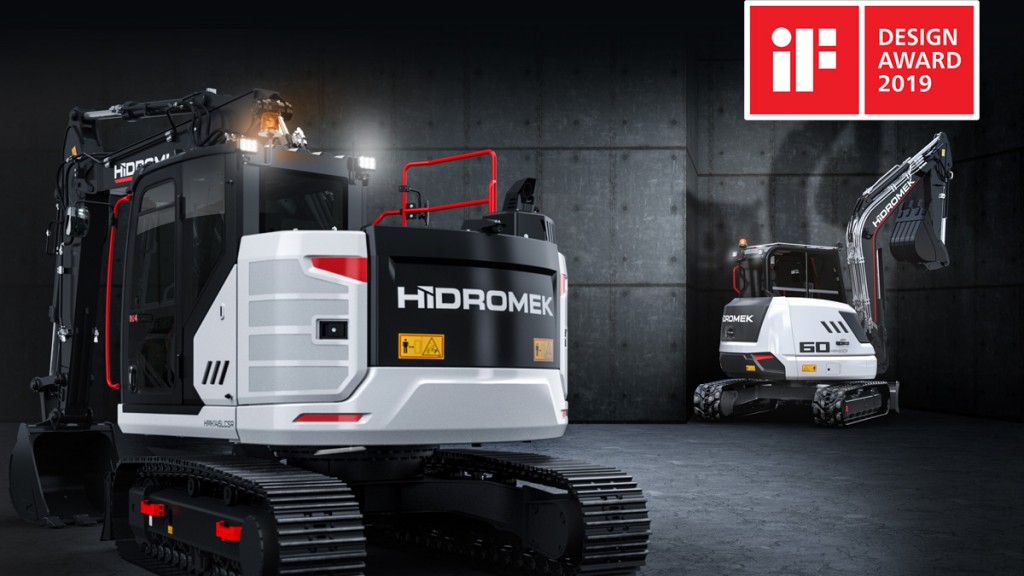 Being among the top 50 manufacturers shaping the global construction machinery sector, Turkish manufacturer HİDROMEK, continues to add new accolades. Having celebrated its 40th foundation anniversary last year, HİDROMEK has been granted two design awards for its excavators called "Two Smart Giants" at the 2019 IF Design Awards. With these awards, the number of national and international design awards won by HİDROMEK rose to 17.
The IF Design Award, held for the 66th time this year, attracts attention as one of the most important design awards in the world. 6,375 entries from 52 countries were made for the IF Design Award 2019 Awards. 67 design experts from all over the world selected the best achieved designs in categories such as product, packaging design and service during the three days. The award- giving ceremony will be held in Munich, Germany on March 15 and the awards will be delivered to the winners.
HİDROMEK DESIGN STUDIO IS ONE OF THE LIMITED NUMBERED VEHICLE DESIGN STUDIOS IN TURKEY
Combining knowledge in R&D with its design power, HİDROMEK has the proud to receive awards from IF Design Award this year as well. HMK 60 CR midi excavator and HMK 145 LC SR short radius crawler excavator, named as Two Smart Giants, were awarded with IF Product Design Award at IF Design Award 2019. The number of IF Design Awards won by HİDROMEK has reached to 5.
HİDROMEK Design Studio Manager Hakan Telisik, stated the following, "With our new and recently-launched machines HMK 60 CR midi excavator and HMK 145 LC SR short radius crawler excavator, we were granted double design awards in the IF Design Award; one of the most prestigious design contest in the world. Receiving these awards after being evaluated by the international design authorities; HİDROMEK, once again demonstrated the quality and innovation of the design of products signed by 'HİDROMEK Design Studio'. HİDROMEK Design Studio is one of the important and limited numbered vehicle design studios in Turkey and the products having the 'HİDROMEK Design' signature on; have 17 international design awards in total."
MINI EXCAVATOR WITH HIGH TONNAGE ERGONOMY
The HMK 60 CR midi excavator, which is one of HİDROMEK's new products that received the IF Product Design Award, attracts attention with its qualifications. With Opera (HIDROMEK Operator Interface), the HMK 60 CR gathers all functions needed when it is operated. The console is located in an ergonomically easily accessible place for the operator, conveniently legible colored TFT info screen and electronic control units which enable the operator to access all information and warnings about the machine easily. Providing top level ergonomics in the cabin with sliding multipurpose holder, a first in its class, and easily moved to the desired direction, HMK 60 CR crawler excavator transfers the ergonomics of heavy class machines to mini excavators. With joystick and console ergonomics at the same level with heavier excavators, HMK 60 CR provides convenient serviceability due to its quick access the hydraulic equipment through its tilting cabin.
OFFICE COMFORT IN CONSTRUCTION MACHINE
Another new product of HİDROMEK; theHMK 145 LC SR crawler excavator, aims to make the operator feel as comfortable and relaxed as in an office. For this purpose, Opera Control System is used to facilitate the easy use of the machine. Having the ergonomics of heavier weight machines, HMK 145 LC SR crawler excavator provides easy access for service and maintenance with its specially positioned air-conditioning and tilting cabin provides quick access to hydraulic equipment which in turn provides serviceability.
While available globally HİDROMEK machines are currently not available in the North American market.