National Crane unveils new Rapid Attach Platform for NBT series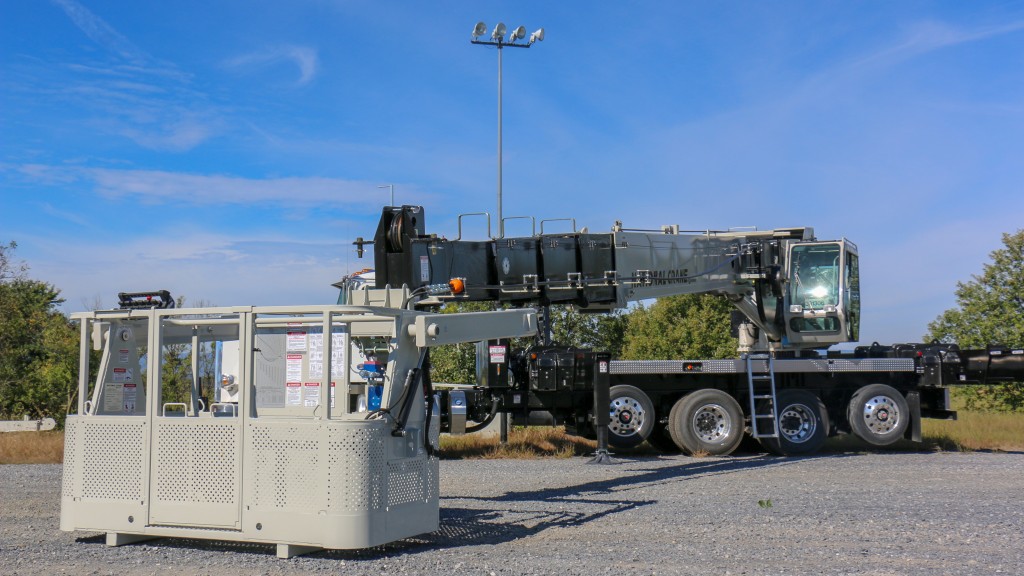 National Crane has announced a new Rapid Attach Platform for its NBT boom truck series previously unveiled at Crane Days 2018. The completely redesigned platform will replace previous iterations and comes in two styles: yoke style (Y-RAP2) and rotating style (R-RAP2). The yoke style is available now and the rotating style will be available this year.
The platform can attach at +/- 15 degrees — unprecedented in the industry for efficient job site installation. It comes in two styles: yoke style (available now) and rotating style (available 2019). The platform is designed for aerial work with utility focused features.
"The creation of the new Rapid Attach Platform was brought about by Voice of the Customer feedback, part of The Manitowoc Way," said Bob Ritter, engineering manager for boom trucks. "Customers asked for a more versatile platform that was quicker and easier to attach. We went back to the drawing board and the idea for a completely new platform design quickly started to take shape."

The two-person, steel, non-insulated, yoke-style platform is extremely efficient to attach thanks to its one pin system and innovative self-centering boom nose adapter. The new platform was also designed for more demanding jobsites and can attach at +/- 15 degrees. It retains a weight limit of 1200 lb for the basket and 500 lb for the jib.
"The ability to quickly attach this platform on uneven ground is unprecedented in the industry," added Ritter. "It will give operators much greater versatility and productivity on the jobsite."
The new platform is perfect for aerial work with many of the NBT series machines due to the design including two utility-focused features: a pressure intensifier option and a remote-control docking station direct from the factory.
The new platform is available for multiple models from National Crane's NBT series, increasing asset utilization for National Crane owners, including the NBT40-1 and NBT50L series, NBT50, NBT55, NTC55 and NBT60.
Company info
Related products
Related Articles
Searching for the best-performing excavator? Your search ends here. We tested the Volvo EC350E and EC380E against a leading competitor in three different tests: trenching, truck loading and lifting capacity at reach. The results show a 20% difference in cost-per-ton, a 15% difference in tons-per-hour and a 12% difference in both operating costs and lifting capacity. See the results and put an end to your search for the best excavator.