Taking technology into the field
Paper plans and project info give way to iPads for large infrastructure contractor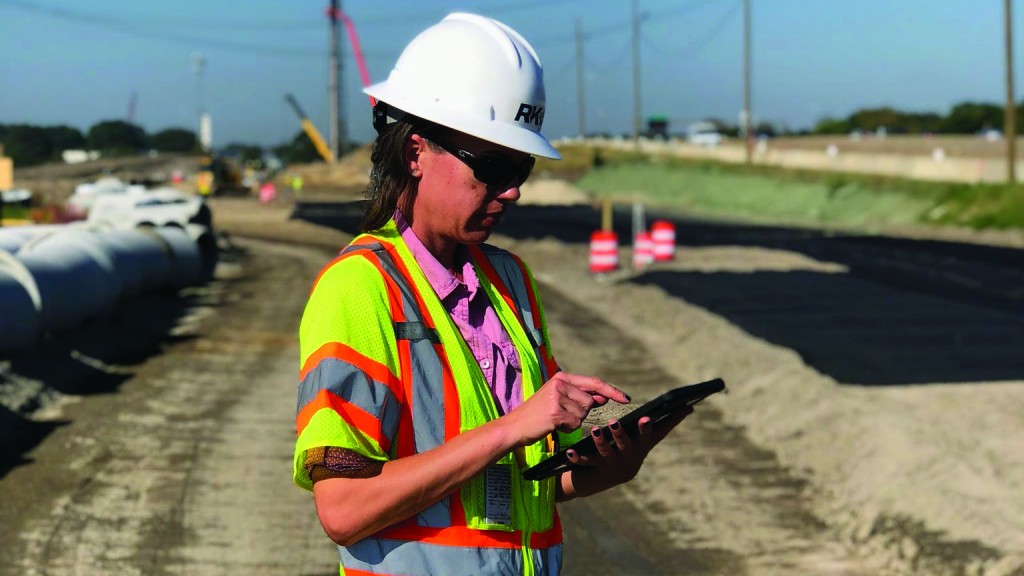 Every construction contractor knows how paper can build up in the office and on the jobsite during work on any particular project. When it comes to a building contract, the requirements are pretty much the same no matter how high the bid, and owners need them all met before they sign the cheque.

All of those requirements can be a hindrance for everyone from the planner to the foreman. Efficient ways of managing information flow at all points in the construction process are essential to success, and the growth of construction software offerings is helping to rein in the piles of paper while smoothing the workflow across the board.

RK&K is a large civil engineering firm on the U.S. east coast, with around 2,000 employees that work on projects in various parts of the United States. It is involved in large construction management and engineering inspection projects that range from million-dollar contracts up into the billions. According to construction manager Ryan Atkins, that wide range of contracts means plenty of complexity in the paperwork.

"We just finished up a $25 million project – it was an interchange reconstruction, raising the clearance height of the bridge and widening it," Atkins said. "If you were dealing purely on paper with a project that size, you're talking probably at least five filing cabinets full of just documentation. Plus, pretty much every project we work on has federal funding involved, and whenever that comes into play your documentation requirements go way up. And, on a $105 million project we're on now, if we were working exclusively on paper you'd easily triple that, if not quadruple it."

While the hard copy of the project plans remains the gold standard for official records, electronic documents are becoming better and more popular for use both by head office and key staff in the field. Growth in mobile computing and connectivity has helped with that changeover, as has the growth in software development companies tackling the construction industry.

For RK&K, a long-standing partner is PlanGrid, a developer of construction productivity software that takes advantage of mobile technology to provide contractors with plans, documents, reports and other tools that can be easily distributed, reviewed and confirmed throughout all stages of the construction process.

"Our firm, in around 2012, purchased iPads for all the senior managers and directors; my director tossed it on my desk and said 'hey, figure out how we can use this,'" Atkins said. "A Google search drew us to PlanGrid, and we've been using it ever since, on every project that I've been on."

Immediate benefits
The benefits of using an effective productivity solution was immediately evident, Atkins noted, as PlanGrid was used to manage the project punch list – the checklist that ensures a job is completed to the owner's satisfaction.

"We had, I think, more than 1,000 punch list items that we had to resolve. The traditional method of doing that was to take photos, log it all in Excel and manually update the photos and the description of the issue and then make sure everybody had the most current copy of your punch list. So PlanGrid was able to step in there and eliminate all that manual process and keep everybody on the same page with closing out the punch list," Atkins said. "On that job the contractor, even though it was near the end of the project and just used for the punch list, he ended up buying a couple of iPads for his foremen, just to be able to stay up to date."

PlanGrid offers many different functions for businesses; for Atkins, the key is making it easier to reference project plans in the field without carting along a filing cabinet of paperwork.

"I still think one of the biggest features is that it's seamless, allowing you to get to your plans quickly," he said. "You can zoom and scale on your plans out in the field – it's a very user-friendly product in that regard, and I think it's one that makes it easily adaptable for field staff that might be hesitant to use new technology."

PlanGrid's functionality allows RK&K to get any changes to the plans distributed quickly and easily, Atkins noted.

"We love the fact that everybody's working off the same set of plans. Revisions, RFIs and submittals can be uploaded and hyperlinked to the plan set so that way when our inspectors or the contractor's foremen are in the field and they've got their iPad, they're seeing these other contract documents that are going to affect the work that they are doing, the changes that have been made from that original bid set," he explained.

Along with managing documentation and monitoring progress, PlanGrid offers solutions for completing reports, team collaboration and administrative oversight as well.

"A big one that I think will play into our work a lot is the forms feature – a big part of what we do as an engineering firm is documenting what is going on day to day. PlanGrid has a feature where we can automate our forms, which gives us more accuracy and quality control in our daily documentation," Atkins noted.

While there is always a learning process when it comes to introducing new products, PlanGrid has proven popular once team members have experienced it first hand, Atkins said.

"I think it's all about getting people familiar enough to see the benefits it brings, and they're on board right after that," he said. "It couldn't be much more user-friendly or straightforward to get your plans and contract documents in someone's hands on an iPad."