New Next Generation Cat 120 motor grader available with choice of steering wheel/lever or joystick controls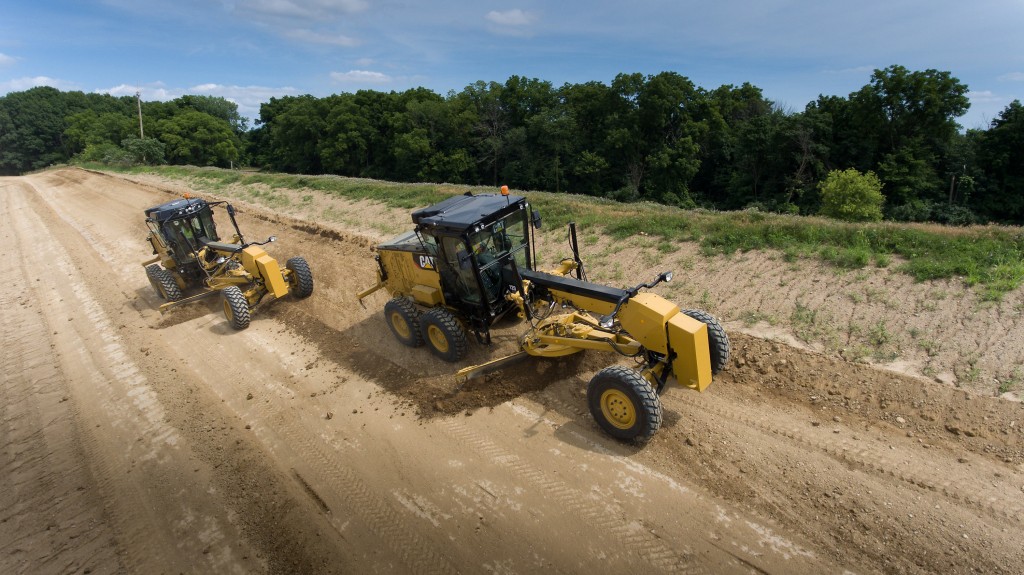 The new Cat 120 Motor Grader offers the options to tailor the machine to customer preferences and applications. The Cat C7.1 engine uses up to 15 percent less fuel when paired with the standard ECO mode. Get unprecedented comfort in the all new cab. New filtration technology saves customers up to 15 percent in maintenance costs. Choose between steering wheel/lever or joystick controls, tandem or all-wheel drive and a range of scalable grade control technologies. The ground-up redesign of the all new cab unveils enhanced visibility with connecting rear windows, seat options, and new information display screen.
Controls
Get the job done with a choice of joysticks or traditional steering wheel and lever controls. With 45 years of refinement, the traditional lever and steering wheel controls are familiar. The control console adjusts to the operator's preference. With the option to integrate automatic grade control switches and buttons on the levers, full control is within arm's reach. Joystick controls reduce hand and arm movement up to 78 percent. Work without the fatigue of added arm movement using joystick controls. Technology options are integrated into the joysticks to make it a seamless motion. The angled joystick cab provides extra blade visibility.
Operator environment
The new cab reveals the innovative connecting rear window design for better visibility, which can be supplemented with the Cat Detect Vision System. The powerful heating and cooling system dehumidifies and pressurizes the cab, while circulating fresh air, sealing out dust, and keeping windows clear. Seat upgrades include air suspension, heated and cooled with air-adjusted side bolsters. View machine information and control Cat GRADE technology on the easy-to-read 10-inch (254 mm) colour monitor or touchscreen monitor.
Maintenance features
New filtration system reduces typical operating expenses up to 15 percent. Extended engine oil, hydraulic, and transmission filter change cycles keep the new 120 motor grader active on the jobsite. Service faster with the filters in a central location. Filters are grouped together for easy access to do preventive maintenance quickly and move on to the next task. The circle drive slip clutch protects the pinion drive and circle teeth from potential damage. Reduce daily greasing requirements and costly repairs to the circle and pinion with the Circle Saver option. The grease fitting is easy to access and maintain. Save up to 20 percent in labour costs with conveniently located wear inserts using the top adjust drawbar circle option for maximum tightness and precision grading.
Productivity and Grade control
Scalable Cat GRADE technologies provide grade control options for customers with different application requirements and budgets – but all aimed at allowing operators to work faster and more accurately for increased productivity. Cat GRADE technologies include Cross Slope, Cross Slope Indicate, Digital Blade Slope Meter, and the Attachment-Ready Option, which integrates with grade control technologies. In addition, the optional Stable Blade system automatically slows the machine if the grade will be adversely affected by machine bounce.
When selecting the all-wheel-drive option, the net power range is 145-189 horsepower (108-141 kW). Standard tandem power range is from 139 to 165 horsepower (104 to 123 kW). The all-wheel-drive system provides a front wheel only creep mode for precise grading. The all-wheel drive option assists with traction and maneuvering in loose material. The increased power handles rough terrain for better productivity. From rippers to blades, expand the versatility of the machine by utilizing a variety of Cat Attachments. Each one is designed to fit the needs for improved performance, safety, and stability. For added operator safety, the standard secondary-steering system automatically activates should main-pump pressure drop.