From mining to minis: SMS Equipment adds Takeuchi line to provide one-stop shop for customers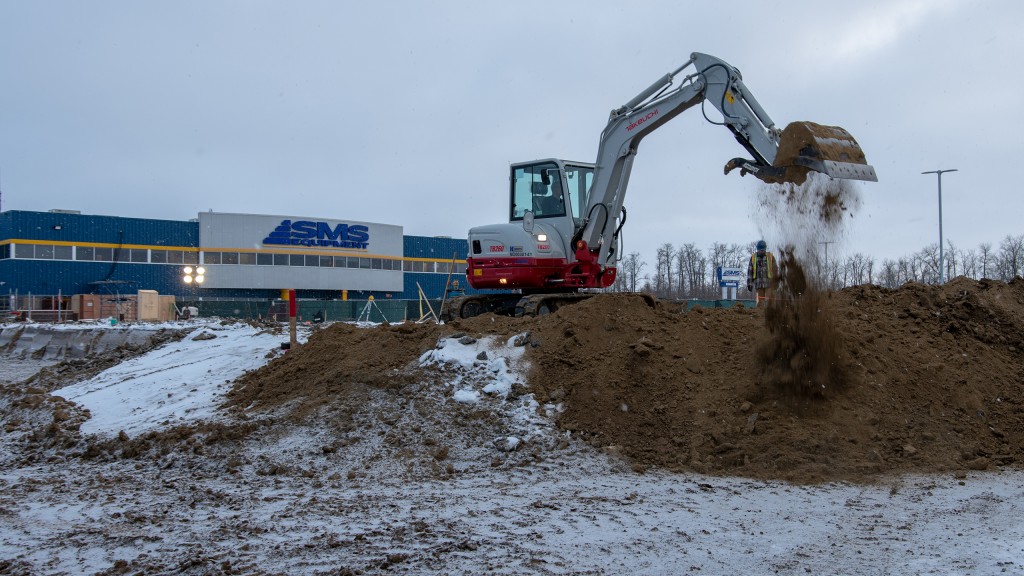 SMS Equipment is best-known in Canada as a supplier of mining and roadbuilding equipment, with flagship offerings from Komatsu and the Wirtgen Group, plus other brands. In September 2018, the company announced that it would be offering a full range of Takeuchi equipment from their locations across Canada and in Alaska.
Chris Hort, vice president of equipment sales at SMS Equipment, said that they had been looking for other products that would complement the Komatsu and Wirtgen primary product lines, as well as open up SMS Equipment to a new range of customers. "About three years ago, we really identified in our rental division, KRents, the need for a light equipment line that complements the products we had," he said.

The Takeuchi products are an ideal fit for homebuilders, municipalities and smaller construction firms that SMS Equipment hasn't traditionally served.

"At that time, we identified Takeuchi as a line that we felt would fit well and we took it on in KRents to start with and operated it for about a year," said Hort. Having the line in the rental fleet gave SMS Equipment the opportunity to check out the quality of the product and get feedback from customers.

Taking on Takeuchi as a full sales and service dealer did pose some challenges and SMS Equipment had to make some adjustments. "Up until recently, SMS Equipment was used to dealing with established customers [of heavy equipment]," said Hort. "Even the way we do our credit [is affected as] this is a different customer buying a track loader or mini excavator."

Unlike the mining business, a customer needs to be able to walk out of the dealership with a machine within a few hours. So, while SMS Equipment officially signed on Takeuchi at the end of June 2018, they have taken their time announcing the partnership and rolling out the products across Canada while their staff has gotten up to speed.

The Takeuchi equipment that SMS Equipment plans to focus on are compact track loaders and mini excavators, which Hort said make up one of the biggest markets for construction equipment in North America.

A feature of Takeuchi machines that appealed to SMS Equipment is telematics. "We're really big into that," said Hort. "Our customers can look at it, and say 'Hey where is my machine today? Is my machine running? Is it overheated? Is Sean running it, doing something bad?' That can all be found on a customer's cellphone." Hort said that telematics are available on the majority of the Takeuchi equipment.

Hort also noted that Takeuchi has a hybrid excavator that will run off of a battery or plugged in – this machine is ideal for working in tunnels without any emissions.

One of their customers is doing expansion work for SMS Equipment's Acheson, Alberta, headquarters and is using Takeuchi equipment on the job. "Right now there are three different subcontractors working on our new addition to SMS Equipment," said Hort. "All three have rented a track loader because they're so [diverse in application]. The thing about these small track loaders and mini excavators is there's a plethora of attachments that are available. So it's the proverbial Swiss Army Knife of the construction industry."

At the Acheson facility, SMS Equipment has a demo area where customers working with sales reps can get a feel for the equipment. They have several Takeuchi machines on-site for testing; customers can set up an appointment with their sales rep and bring their competitive machine to run side-by-side for comparison.

It's this readiness to serve customers that Hort said is key to SMS Equipment's business. SMS Equipment worked in conjunction with trainers from Takeuchi to educate their employees on the machines. SMS Equipment also sent their internal trainers to Takeuchi in Pendergrass, Georgia, to get trained so that they can come back and train SMS Equipment's staff alongside representatives from Takeuchi. Hort said that SMS Equipment plans to eventually have demo days to give more customers the chance to become familiar with the equipment.

According to Hort, taking on Takeuchi has enabled SMS Equipment to become a one-stop shop for customers. "We can now service them from the little guy that just graduated from a wheelbarrow to the guy that wants to move 400 tons of material with an autonomous truck."